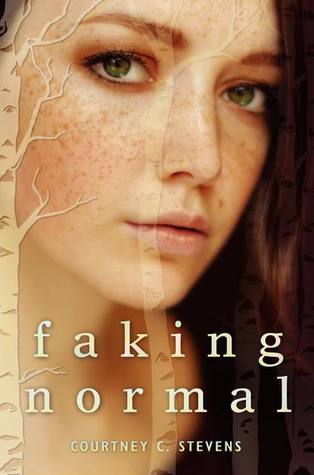 Faking Normal

by Courtney C. Stevens

Published by HarperTeen on February 25th 2014

ARC from Publisher

336 pages

Purchase on

Amazon

・

Fully Booked
Synopsis
An edgy, realistic, and utterly captivating novel from an exciting new voice in teen fiction.

Alexi Littrell hasn't told anyone what happened to her over the summer. Ashamed and embarrassed, she hides in her closet and compulsively scratches the back of her neck, trying to make the outside hurt more than the inside does.

When Bodee Lennox, the quiet and awkward boy next door, comes to live with the Littrells, Alexi discovers an unlikely friend in "the Kool-Aid Kid," who has secrets of his own. As they lean on each other for support, Alexi gives him the strength to deal with his past, and Bodee helps her find the courage to finally face the truth.

A searing, poignant book, Faking Normal is the extraordinary debut novel from an exciting new author-Courtney C. Stevens.
After infinite times of going back and forth through the pages of this book, I'm still not sure what to say except that Faking Normal was completely stunning. It's so hard to describe how and why I love it but I really did fall for this novel, without a doubt. Faking Normal takes on lots of themes but the one I loved the most was learning to free your self.
I never understood life could be so dramatically sectioned, but it can. And is. There is only after. And before.
Alexi is torn up over a horrible secret. She tries to forget it but she can't and it's not like she could tell anyone. Bodee Lennox, with his colourful Kool-Aid hair and his quiet attitude, sees through Alexi. He sees the scratches on her neck, the sadness in her eyes and the hurt she feels. As Bodee stays in Alexi's home, haunted by his own sorrows, the two discover voices of truth through each other.
The first thing that stood out for me in Faking Normal was the writing. Only a chapter in, I already discerned that Courtney C. Stevens' writing was one I could love. It turned out I was right because I found the writing to be so poetic and lyrical. I read her words like my life depended on it. I loved that they were so genuine, emotional and utterly raw.
Right now we're both yard sales of emotions. A penny for pain. A dime for bitterness. A quarter for grief. A dollar for silence. It binds us together, but I don't want him to pay the price for the parts of me that are used and broken.
Aside from the writing, the story itself kept me on my toes. There's something enigmatic about it and while I had my suspicions, I love when a book keeps me curious and baffled until the last parts. Also, the book grapples with lots of heavy issues, namely sexual assault, physical abuse, grief. I loved how Stevens' approached these so delicately and sincerely.
While there's a lot of ugly in the story what with those dark topics, there's also much beauty and it shone through the characters. Bodee, who was my favourite character from the book, made my heart ache so much. He still does. Bodee is quiet and broken, but beneath all that, he has such a beautiful character. He was so so so sweet to the point it broke my heart. From all the book boys I've ever read, he's truly one of a kind.
I know these two weeks have been God walking right into my life like he has flesh and Kool-Aid coloured hair. The gospel according to Bodee Lennox. His safety. His protection. And love.
Unlike Bodee, Alexi, the main character, was not easy to love. She's struggling and she's falling apart. Sometimes it was so hard to connect to her and yet there were moments I felt so much for her. I think the portrayal of her character, as a victim most of all, was interesting. Her attitude was far from ideal but it rang true nonetheless. The whole novel focuses on her facing demons and I thought the development in that area was real inspiring.
It was touching to see Bodee and Alexi finding friendship and trust in each other. They had a heartwarming understanding and they were able to open up to each other. Their relationship had such a great foundation that it was natural for them to fall for each other. I loved that this happened so cautiously- no hurries at all. The romance in Faking Normal is the very definition of slow-burn and it was seriously wonderful to watch.
He's opening a door, but he already knows I won't walk through. The power of Bodee is in the way he reads me, sees through me, and then understands the truth behind the facade.
I think I've made enough hints to make it known that I really really loved this book. Still, I acknowledge that it's a delicate story and not everyone's going to understand. Even so, I found Faking Normal to be an incredibly powerful and moving debut. If you're looking to channel your brave, pick this one up.
Rating: