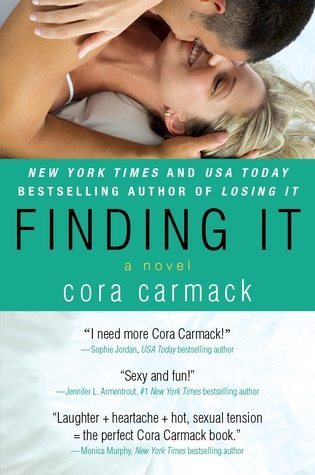 Finding It

by Cora Carmack

Published by William Morrow Paperbacks on October 10th 2013

ARC from Edelweiss

Purchase on

Amazon

・

Fully Booked
Synopsis
Sometimes you have to lose yourself to find where you truly belong...

Most girls would kill to spend months traveling around Europe after college graduation with no responsibility, no parents, and no-limit credit cards. Kelsey Summers is no exception. She's having the time of her life . . . or that's what she keeps telling herself.

It's a lonely business trying to find out who you are, especially when you're afraid you won't like what you discover. No amount of drinking or dancing can chase away Kelsey's loneliness, but maybe Jackson Hunt can. After a few chance meetings, he convinces her to take a journey of adventure instead of alcohol. With each new city and experience, Kelsey's mind becomes a little clearer and her heart a little less hers. Jackson helps her unravel her own dreams and desires. But the more she learns about herself, the more Kelsey realizes how little she knows about Jackson.
Cora Carmack is one of the NA authors that I revere and admire most. I'll read anything by her, as I trust that her writing is one I can take pleasure in. I'll always be fond of her Losing It series for that reason. The first two books, Losing It and Faking It, fascinated me and had me hooked. If you haven't read those, you really ought to. They were equally sexy, hilarious and charming reads. Finding It, the third in the series, was no exception.
Kelsey Summers is a spoiled, rich girl traveling across Europe, in search of fun and spontaneity. Sooner or later, she realizes that sleeping around with foreign boys and drowning herself in liquor isn't the experience of a lifetime she's looking for. Her European vacation seems like a waste until she gets to meet ex-military, Jackson Hunt, who shows her the true meaning of adventure.
Adventures don't happen when you're worried about the future or tied down by the past. They only exist in the now. And they always,always come at the most unexpected time,in the least likely of packages. An adventure is an open window; and an adventurer is the person willing to crawl out on the ledge and leap.
Kelsey is the exact opposite of her shy, soft-spoken best friend, Bliss. She loves to party and likes to do the things she wants, without even thinking about it. But she isn't free- just impulsive and reckless. She's held down by her demons, thus her inability to fully give her trust. Kelsey is petulant and bratty and while that negative behavior can turn off a reader, I actually liked how she is thoroughly aware of her brokenness but just can't seem to move on from it. Being an adult weighs on her so heavily and all she really wants to do is live and do something extraordinary with her life. I loved and connected the most with this side of her, the side that longs for a life-changing escapade. Kelsey's transformation wasn't especially profound but her character development was substantial.
You hear so much about being an adult that you start to feel like you have to become a different person overnight, that growing up means being not you. And you concentrate so hard on living up to the term "adult" that you forget growing up happens by living, not by sheer force of will.
Jackson is a good love interest and will no doubt have readers swooning as we absorb him through Kelsey's eyes. Although there may have been a slight exaggeration of how hot he is, I was fond of the way Kelsey described him. Cora injects her humor in this area so I think the overstatement is forgivable. Jackson and Kelsey, who are immediately attracted to each other, share a romance that is amusing and ravishing at the same time.
However, the book's attempt to be deep, angsty and mysterious fell for me. I can see others enjoying these aspects but because of them, I just wasn't able to fall in love with Finding It as much as I did with the first two books. While I related to Kelsey's desires, I couldn't find myself grasping her issues most of the time. Then, there's the obviousness of Jackson's so-called secret and the story line felt destroyed. Still, as a whole, I liked the book.
We live our lives as if we're at the center of our own universe, but we're just tiny pieces of a shattered whole.
The most outstanding part of Finding It, for me, was the beautiful background of Europe. This story brings the reader to exquisite places- Hungary, Prague, Italy- and makes us yearn for travel. Finding It is inspiring, full of wanderlust and hope- of finding whatever IT is. If you're looking for a good NA novel to start with, I recommend Finding It and the rest of Cora Carmack's books.