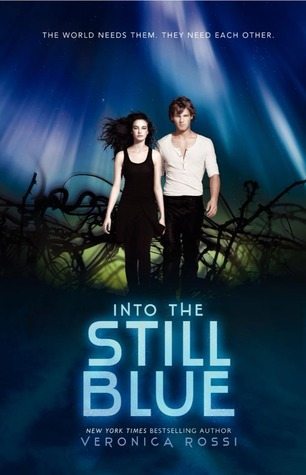 Into the Still Blue

by Veronica Rossi

Book #3, Under The Never Sky

Published by HarperCollins on January 28th 2014

ARC from Publisher

389 pages

Purchase on

Amazon

・

Fully Booked
Synopsis
The race to the Still Blue has reached a stalemate. Aria and Perry are determined to find this last safe haven from the Aether storms before Sable and Hess do—and they are just as determined to stay together.

Within the confines of a cave they're using as a makeshift refuge, they struggle to reconcile their people, Dwellers and Outsiders, who are united only in their hatred of their desperate situation. Meanwhile, time is running out to rescue Cinder, who was abducted by Hess and Sable for his unique abilities. Then Roar arrives in a grief-stricken fury, endangering all with his need for revenge.

Out of options, Perry and Aria assemble an unlikely team for an impossible rescue mission. Cinder isn't just the key to unlocking the Still Blue and their only hope for survival--he's also their friend. And in a dying world, the bonds between people are what matter most.

In this final book in her earth-shattering Under the Never Sky trilogy, Veronica Rossi raises the stakes to their absolute limit and brings her epic love story to an unforgettable close.
No words can describe exactly how amazed I was with Into The Still Blue. Veronica Rossi has written such an exceptional trilogy and wrapped it up so perfectly! Into The Still Blue blew me away- there's no doubt that this last installment is my favourite in the series.
Endings always are bittersweet for me. I don't want to ever say goodbye to all the characters who've become a part of me and who've touched my heart so dearly. Needless to say, I really enjoyed this last hurrah with Aria, Perry and Roar. They're such flamboyant characters, the type that is etched in your mind forever, and I'm so happy to have been a part of their journey- to have seen them rise and thrive.
"I needed to find you."
"I know," he said. "The second I left you, I felt the same way."
In fact, I loved the way most of the characters were molded, how there was so much transformation, and more importantly, so much depth in them. Rossi captures them so perceptively and you really feel strongly about each and every one. For example- I really really hated Sable and wanted to punch him in the face constantly. He was so horrid as an antagonist that you can't help but really cheer on the protagonists to prevail. Also, aside from my fave trio, I became surprisingly fond of Soren and Brooke, as well as most of the Tides. I found myself sharing their conviction to persevere and reach the Still Blue.
Like in the first two books, Into The Still Blue had so much going on. It was action-packed, thrilling and totally intense. You get this feeling that every part is crucial- and that really is how it is. I loved how there was some meticulous strategizing and scheming here and there and also how there was teamwork involved. There was never any dull moment in Into The Still Blue- you'll just get so engrossed that you won't be able to stop reading!
"What I was trying to say," he whispered, "is that I see you in everything. There isn't a word for you that means enough, because you're everything to me."
The best thing about this series though is its escalation. The excitement increases and the feelings heighten with each book. Aria and Perry's relationship has grown so ravishingly and I keep finding myself falling in love with them even more with every turn. Aria and Perry shippers like myself won't be disappointed with the amount of swoon! Also, it is official that my adoration for Roar's character knows no bounds. Best guy-bestfriend in the history of YA ever! I love his and Aria's platonic friendship so much and of course his brother-like bond with Perry.
Into The Still Blue was this top-notch climax and I found myself loving it to bits. While I'm sad that we've reached the end of such a remarkable dystopian series, I am beyond glad that the conclusion was truly astonishing! Veronica Rossi, you rock!