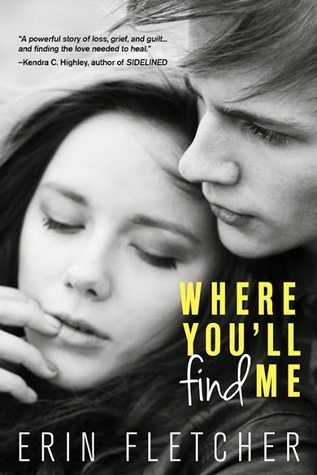 Where You'll Find Me

by Erin Fletcher

Published by Entangled: Teen on January 7th 2014

ARC from Netgalley

211 pages

Purchase on

Amazon
Synopsis
When Hanley Helton discovers a boy living in her garage, she knows she should kick him out. But Nate is too charming to be dangerous. He just needs a place to get away, which Hanley understands. Her own escape methods (vodka, black hair dye, and pretending the past didn't happen) are more traditional, but who is she to judge?

Nate doesn't tell her why he's in her garage, and she doesn't tell him what she's running from. Soon, Hanley's trading her late-night escapades for all-night conversations and stolen kisses. But when Nate's recognized as the missing teen from the news, Hanley isn't sure which is worse: that she's harboring a fugitive, or that she's in love with one.
If I discovered that a guy like Nate was living in my garage, I probably would have rejoiced and let the boy charm me off my pants rather than get freaked out of my mind. Okay, I'm kidding. Sort of.
There's someone in my garage. A guy someone.
Anyway, when a voice from nowhere speaks to Hanley while she's attempting to get away, she's paralyzed and stunned to discover a mysterious boy with bright blue eyes. The right thing to do is alert the cops but Hanley shares a connection with the garage boy- they're both keeping secrets, they're both trying to escape. That as well as the undeniable sparks between Hanley and Nate, bring them closer. Falling for the garage boy is dangerous, but, for once, it feels right.
Where You'll Find Me easily captured my attention- that plot in itself is very intriguing. Recommendations from other bloggers convinced me even more to read this and I found myself really liking the story. Hanley is a very convincing protagonist- I found no difficulty in appreciating her voice. She's a girl who's grief-stricken, she's definitely got some angst, but I found her (and the story's) tone generally light. There was definitely some growth in her character throughout the book and I found it satisfying.
I think sometimes it's easier to pretend to be okay than it is to admit weakness.
Nate is also a good male lead. He's desirable, sweet, caring, and funny. I insta-liked him, if you know what I mean. The guy is also enigmatic and you just get curious what he's running away from. The answer- Nate's dilemma- baffled me because I did not expect it. It also broke my heart and I really felt for Nate. His story is one of blame and guilt and family despairs. Although I liked the way the author handled these, I really wish they  had been explored more.
Speaking of relationships, I think the ones in the book were pretty good. Hanley's relationship with her parents and sister, her friends, and then Nate's with his own family were told well. I especially liked Hanley's friends- who had their own little subplots. I think they were nice background characters. Then, there's Hanley and Nate's relationship which I think went at an acceptable pace. Some might argue that there was instalove but it never crossed my mind while reading. I just really enjoyed the reading experience in general!
"She's got mental tequila."
"Mental tequila?" I ask. "Bravery," she says. "It's a simile."
A story that will make you smile more than once and then make your heart hurt more than just a little bit, Erin Fletcher's debut novel is one worth reading!
Rating: