A year ago today, on June 12 2013, I started my book blog for the simple reason that I loved books and reading. I named my blog Stay Bookish because it was what I wanted my blog to be: a way for me to keep my love for books. That sounds really cheesy, but it's true. And it's exactly what I said on my first ever post, actually!
And now, I'm celebrating my first blogoversary!! I feel really happy and proud that Stay Bookish has grown so much through my first year in book blogging.
So how did my blog start it's journey? I actually started blogging on WordPress(dot)com first, with the same moniker. And then, I finally self-hosted by late august, and switched to dot net. Self-hosting was definitely an accomplishment in my first year, and I'm really glad that I transferred because it has allowed me to fully maximize my blog and customize it as much as I want. So far, I've had three designs on staybookish.net, all done by yours truly! With all the reconstruction my blog had undergone, I think the one I have now is my favorite!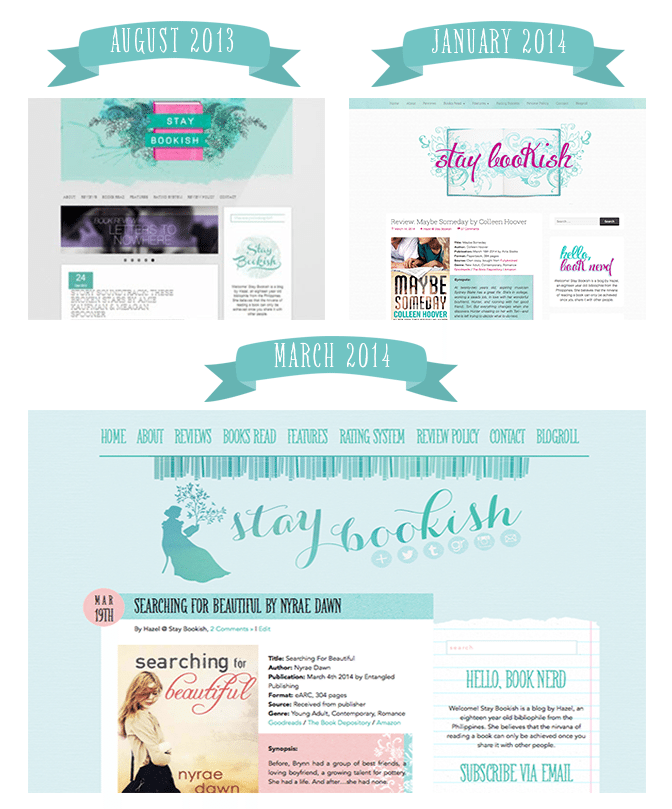 Anyway, aside from my blog designs, Stay Bookish has also changed and improved much content-wise. I originally did just book haul posts and book reviews but I've launched several features over the past year. Swoon Worthy Saturday was the first one! Sadly, I didn't continue with it, but it was much fun to do back then. Original features that are currently running on my blog are: List of Awesome, Little Talks, Story Soundtracks and Novel Portraits! I adore each and everyone of them, especially because they've help my love grow not only for books, but also other things I'm passionate about. With these features, combined with my reviews, recaps, and promos, my blog has had more than 200 posts already!
More importantly, through Stay Bookish, I've had the opportunity, not only to be as bookish as I can be, but to do it with so many others. And I'm really so grateful for that.
First of all, I want to thank all the awesome book bloggers who've inspired me and been such sweethearts through twitter, comments, etc. I'll be posting a list below and in case I missed anyone, know that I adore all of you. Anyway, I've learned so much from you guys, and I've grown as a reader and as a blogger though your help and kind words. Thank you so much!!!!
Awesome bloggers who've inspired me and made me feel so welcome in the bookish community:
Georgie of What She Reads // Nikki of The Paper Sea // Jen of Books And Other Happy Ever Afters // Shelly of Read Sleep Repeat // Alexa of Alexa Loves Books // Emily of Constellation Chronicles // Asti, Kelley & Leanne of Oh The Books // Chiara of Books For A Delicate Eternity // Sana of Artsy Musings // Sandra of Tea Between Books // PBT family ♡
Secondly, I want to thank all the fabulous authors I've had the chance to talk to and collaborate with. You guys are the reason I have awesome books to read and share about on the blog so you deserve a huge thank you!! I also want to thank the publicists and other people in this wonderful bookish industry who've entrusted me to review books and promote authors. Thank you for reaching out to me and allowing me to reach out to you too.
My final thanks goes to my followers and readers, who are seriously lovely!!! I cannot express how much I appreciate every visit, every comment and message from you guys. I never would have had the drive to the book blogger I am now if it weren't for your constant support. Thank you, thank you, thank you!
With that, I wanted to invite you guys to join my blogoversary giveaways- there's one for everyone, and there will be another for my readers in the Philippines (which I will post about during the weekend)! You guys deserve a chance to win books for all the love you've given me!
That's pretty much it for my blogoversary post! Thanks for celebrating with me! Stay Bookish, y'all!