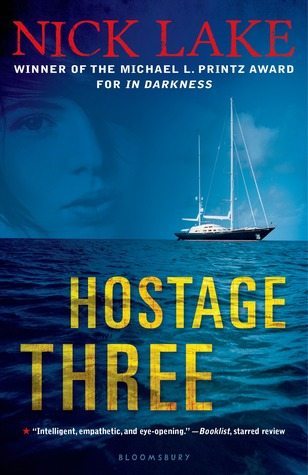 Hostage Three

by Nick Lake

Published by Bloomsbury USA on November 12th 2013

Finished copy from Blog Tour

Purchase on

Fully Booked
Synopsis
The last thing Amy planned to do this summer was sail around the world trapped on a yacht with her father and her stepmother. Really, all she wanted was to fast-forward to October when she'll turn eighteen and take control of her own life.

Aboard the Daisy May, Amy spends time sunbathing, dolphin watching and forgetting the past as everything floats by... until one day in the Gulf of Aden another boat appears. A boat with guns and pirates – the kind that kill.

Immediately, the pirates seize the boat and its human cargo. Hostage One is Amy's father – the most valuable. Hostage Two: her stepmother. And Hostage Three is Amy, who can't believe what's happening. As the ransom brokering plays out, Amy finds herself becoming less afraid, and even stranger still, drawn to one of her captors, a teenage boy who wants desperately to be more than who he has become. Suddenly it becomes brutally clear that the price of life and its value are two very different things...
Hostage Three is very different from the kind of realistic fiction I usually read. A good different. It's exactly what reeled me in to give the book a try, actually. I'm very glad that I did read this one because it opened me up to Nick Lake's writing and to this distinctive story.
While Hostage Three wasn't exactly what I'd call a page-turner, I have to say I found it compelling. After all, it isn't everyday I read a survival story about a girl whose family yacht trip was seized by pirates. Rarely have I read anything related to pirates actually, so I was kind of engrossed with that aspect. I found that it didn't disappoint, as the book shows how and why pirates do their thing. I think what I liked best is the way it showed that a pirate's job is not such a black-and-white matter. That for Somalian pirates or 'coast guards' as they want to call themselves, their job is almost imperative for their survival and that they don't necessarily want to hurt others.
"Because things might be meant to happen. Because order might exist, under the chaos. Because the universe might be playing a tune."
The story also serves as an eye-opener to the conditions in such countries as Somalia, as seen through the pirates we get to meet in Hostage Three. We not only get to know their culture, or at least the Somalian pirates' culture, but we also get to know their outlooks in life- how war and hunger is such a common experience in them. I liked that the story is able to evoke these and while they're hard to wrap one's head around, especially for those of us who've lived such comfortable lives, like Amy, the main character- we are able to grasp and understand the stark contrast between people from poor and rich countries.
Aside from this though, the way the author presented Amy Fields in the first few chapters is also something that made me want to dig deeper into the book. Amy is a 'broken soul' as some would probably call her. She's lost her purpose in life, having stopped playing the violin after her mother died, and she's constantly seeking her busy father's attention. Hostage Three is about her growing as a person, learning to move on from past hurt, as much as it is about her being taken as a hostage. However, even as I read further, I was never able to connect much to Amy and because of that, I felt like I never really saw the depth of her character. To be honest, I found her quite selfish and unreasonable, and while there were some changes near the end, I felt that they were very little.
"I'm here to tell you that if you get broken, it's possible to put yourself back together. I'm here to tell you that if you get lost, it's possible that a light will come, dancing, on the horizon, to lead you home."
A lot of Amy's character development was instigated by her interactions with the people in the yacht, but mostly with Farouz, a young pirate. Amy was easily smitten by him and through their nightly chats, they grow closer. I mostly felt awkward about their relationship. I think the story could have been better if it left out the romance which is unusual since I usually like seeing it in books. However, I'd rather that Hostage Three focused more on Amy's relationship with her mother, father or stepmother instead- not that I'm saying they weren't done well because they were, to some extent. I just feel that these were the more crucial parts of the book. I think, then, I'd have been able to comprehend Amy better.
Nevertheless, I think Hostage Three was a satisfactory read. It took some time for me to get into the book, but there were some pieces of the writing that really stood out and made me like the novel as a whole. I don't think it'll be for everyone, but if that synopsis grabs at you like it did with me, I think giving Hostage Three a try won't hurt.