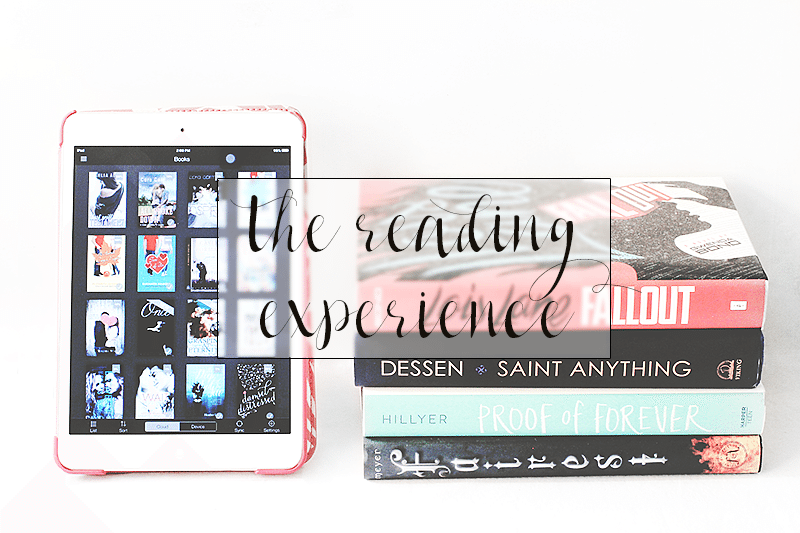 In celebration of School Library Month, I've been asked by MyVoucherCodes to write about my thoughts on ebooks.
I've talked about whether I like ebooks or paperbacks on the blog before and how I saw the pros and cons of each and how I liked both. This much is still true. Lately, however, I find myself preferring physical books than digital ones.
For one, I like buying books at the bookstore. Although the ease of buying an e-book on Amazon with just one click is pretty darn cool, browsing a bookstore is an experience in itself– an enjoyable one at that. I love book shopping and sorting through stacks and shelves for book bargains or any book gems and that's something that cannot be satisfied by purchasing ebooks online.
But onto the actual reading experience. It's a wonderful thing- to hold a book in your hands. Not your iPad or your Kindle or your nook. An actual book. The feel of a glossy or matte cover, the firmness of a hardback or the floppiness of a paperback, the feel of paper when you turn to the next page. It's a tactile experience, not to mention a solitary one.
Unlike reading on app on your phone or tablet where you're tempted to open Twitter or Goodreads to make an update (which I acknowledge is awesome if you like to share how reading is going), if you like to read in solitude, a physical book can allow you that. If someone is threatening to talk to you while reading your paperback novel, by all means, cover your face behind the book.
Ebooks are indisputably convenient, we all know this. Aside from the ease of acquiring them (which if I may point out can also be a bad thing because of the increase of piracy), they're also quite interactive. You can use the dictionary or translator, search for terms and phrases, add bookmarks and notes, take note of your progress and how long it will take you to finish. In comparison, physical reading is an intellectual and kinaesthetic experience. As you read through and manually turn the pages, your mind forms a mental map of the text. I don't know if it's just me but I'm less inclined to suffer book amnesia when I read physical books.
Finally, the feeling of immersion when reading a paperback or a hardcover is transcendent. Yes, I can be immersed when reading an ebook. It's different with physical reading- where in I lose myself between the pages, lose myself in the book completely.
Don't get me wrong- digital reading is great. I still read ebooks, although infrequently nowadays. For those who prefer ebooks, I'm sure you'll be delighted to know that MyVoucherCodes is working a deal with Amazon to get discounts. Watch out for that!
By the way, they've let me host an AMAZING giveaway for you guys! Y'all can win a $60 Amazon voucher! Just enter through the rafflecopter widget below:
Best of luck! Meanwhile, what are your thoughts on ebooks? How does the reading experience of digital vs physical differ for you?