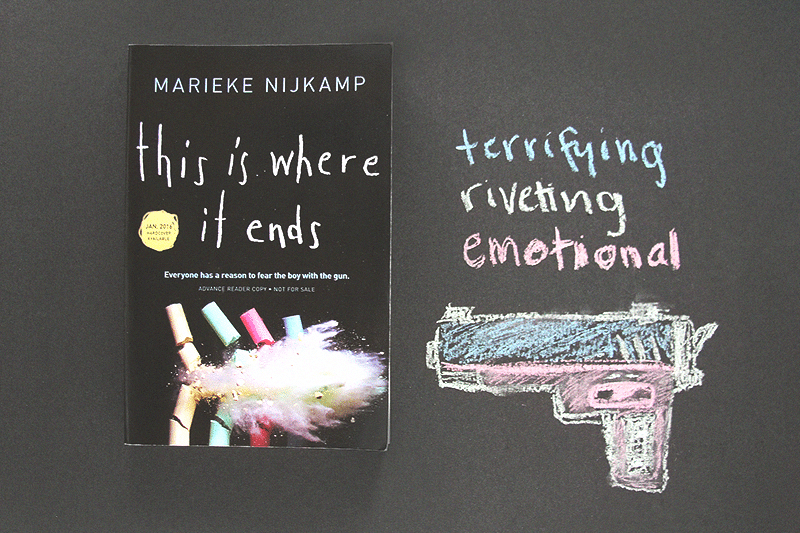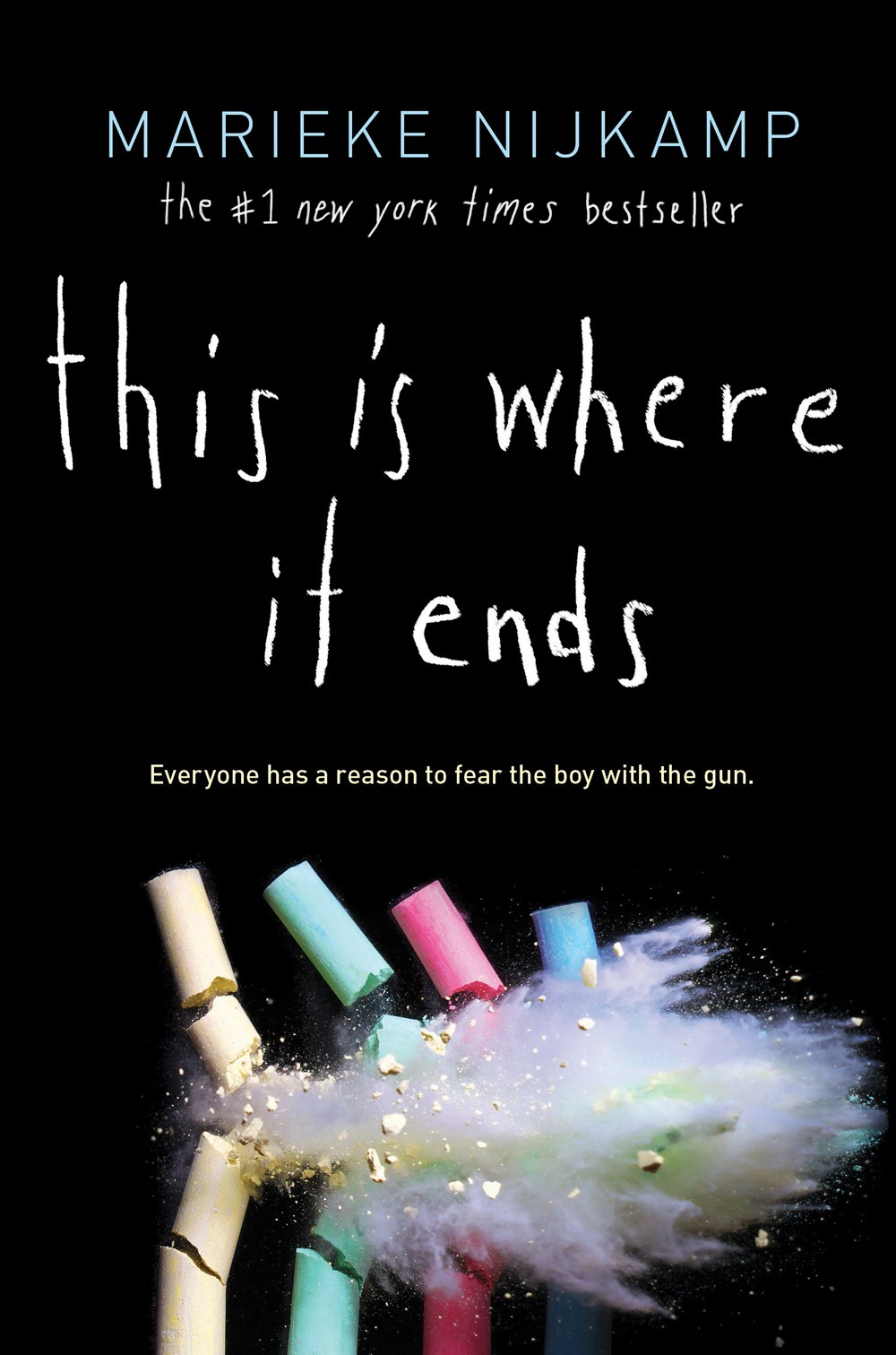 This Is Where It Ends

by Marieke Nijkamp

Published by Sourcebooks Fire on January 5th 2016

ARC from Publisher

292 pages

Purchase on

Amazon

・

Fully Booked
Synopsis
10:00 a.m.
The principal of Opportunity, Alabama's high school finishes her speech, welcoming the entire student body to a new semester and encouraging them to excel and achieve.

10:02
The students get up to leave the auditorium for their next class.

10:03
The auditorium doors won't open.

10:05
Someone starts shooting.

Told over the span of 54 harrowing minutes from four different perspectives, terror reigns as one student's calculated revenge turns into the ultimate game of survival.
When I received a copy of This Is Where It Ends, I was encouraged to write down words to describe the book using the chalk that came with the package. After reading it and devouring this book in a day, three words came to mind.
Terrifying
I'm that person who rarely ever stays tuned to the news. It's not because I don't care about what's happening in the community or in the world- it's because it's honestly too easy to lose faith in humanity when I hear abut them. Every single day there's someone committing crimes, immoralities and just hurting other people. It sucks.
"Death brings life; life brings death."
But I do know about shootings happening in schools, etc. I just don't know the stories behind them, how they happened, and just exactly how traumatizing and scarring they were. That is until this book came along.
To say that This Is Where It Ends felt realistic would be an understatement. With Nijkamp's expert story telling and striking prose, I was right there with the characters when the boy with the gun arrived and locked them up in the auditorium, completely scared to death. The bloodshed was vicious and each bullet shot felt like the wind was being knocked out of me. Fear gripped at me- yet even then I couldn't stop myself from turning pages.
Riveting
A strong point of this one for me was the multiple POV of the people who were connected to the shooter. It worked really well to know this person's motives (although not enough to know what completely drove him to the edge or what he was truly thinking but definitely enough to know that he was broken and not just absolutely evil) as well as know the impact and pain this event and several leading circumstances before it to these victims.
"You can't always keep your loved ones with you. You can't always settle your life in one place. The world was made to change. But as long as you cherish the memories and make new ones along on the way, no matter where you are, you'll always be at home."
The diverse cast of characters, Autumn, Sylv, Tomas and Claire, grew really close to my heart and it broke for each of them. It felt like they've already been through so much- had their own issues to deal with- but now they needed to face this horrifying threat to their very lives.
Also, it was great how prominent sibling relationships were in the book and how well the complexity of these relationships were portrayed. I loved Sylv and Tomas most of all though.
Emotional
This Is Where It Ends was the first book to make me full on bawl in 2016 while and after reading it. It was so fucking heartbreaking. It hurt like a punch in the gut and made a mess of my emotions.
"Together, we'll get out. Together, we'll survive this. Together, we'll be strong enough to face whatever comes our way. This is where it ends."
I'm not sure I can say I loved such a sad painful book but I do love Nijkamp for summoning the courage to write it. I'm sure it was no easy feat. Although the book left me broken and hurt, almost as much as the fact that these stories happen in real life, I'm glad that this book exists in the world to open the eyes of more people.
I would absolutely recommend it to everyone for that alone but I know it's hard to stomach so my advice would be this: pick up This Is Where It Ends with an open mind and a band aid for your heart. You're gonna need them.