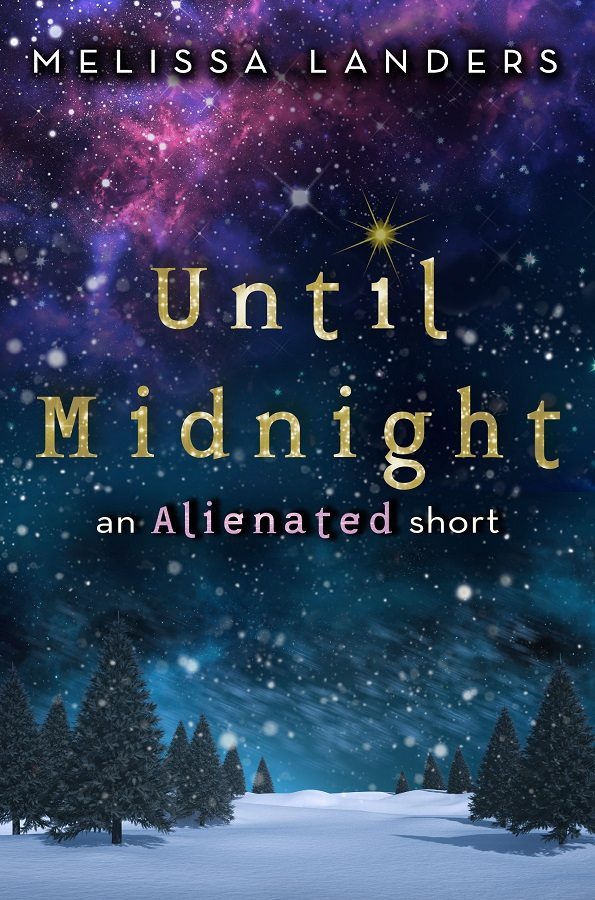 Until Midnight by Melissa Landers
Synopsis:
Cara and Aelyx only have one day to spend together before he returns to earth and she travels to Aelyx's home planet, L'eihr. Homesick and worried about the upcoming year apart, Cara is desperate to make these final hours count. Worst of all, Cara is missing Christmas, stuck on board an alien spaceship. When Aelyx learns that Cara is forgoing her favorite holiday, he tries to recreate Christmas in space by researching traditional earth customs…but a few things get lost in translation.
Add Until Midnight on Goodreads
A Message From The Author:
Happy Holidays, everyone! I'm Melissa Landers, author of the Alienated series, and I have a present for you—a brand new e-short from Disney Hyperion!
UNTIL MIDNIGHT takes place onboard an intergalactic transport, soon after ALIENATED ends and before the sequel INVADED begins. The story details Aelyx and Cara's last day together before he returns to Earth to mend the alliance and she continues to his home planet. It's sweet and romantic, and as a bonus, it includes a four-chapter preview of the sequel, which releases February 3rd.
Oh, and did I mention the best part? IT'S FREE!
You can download UNTIL MIDNIGHT on Kindle, Nook, iBooks, Kobo and Google Play. If you live outside the USA, no worries. I've uploaded the story to Scribd for you. (The only downside is it doesn't include the bonus preview chapters, due to technical reasons from the publisher.)
To celebrate this new release, I'm offering TWO lucky winners an autographed swag pack complete with a personalized bookplate, mini-poster, bookmarks, and stickers—open internationally! Just fill out the rafflecopter form below.
Giveaway:
Best of luck, and happy reading! ♡