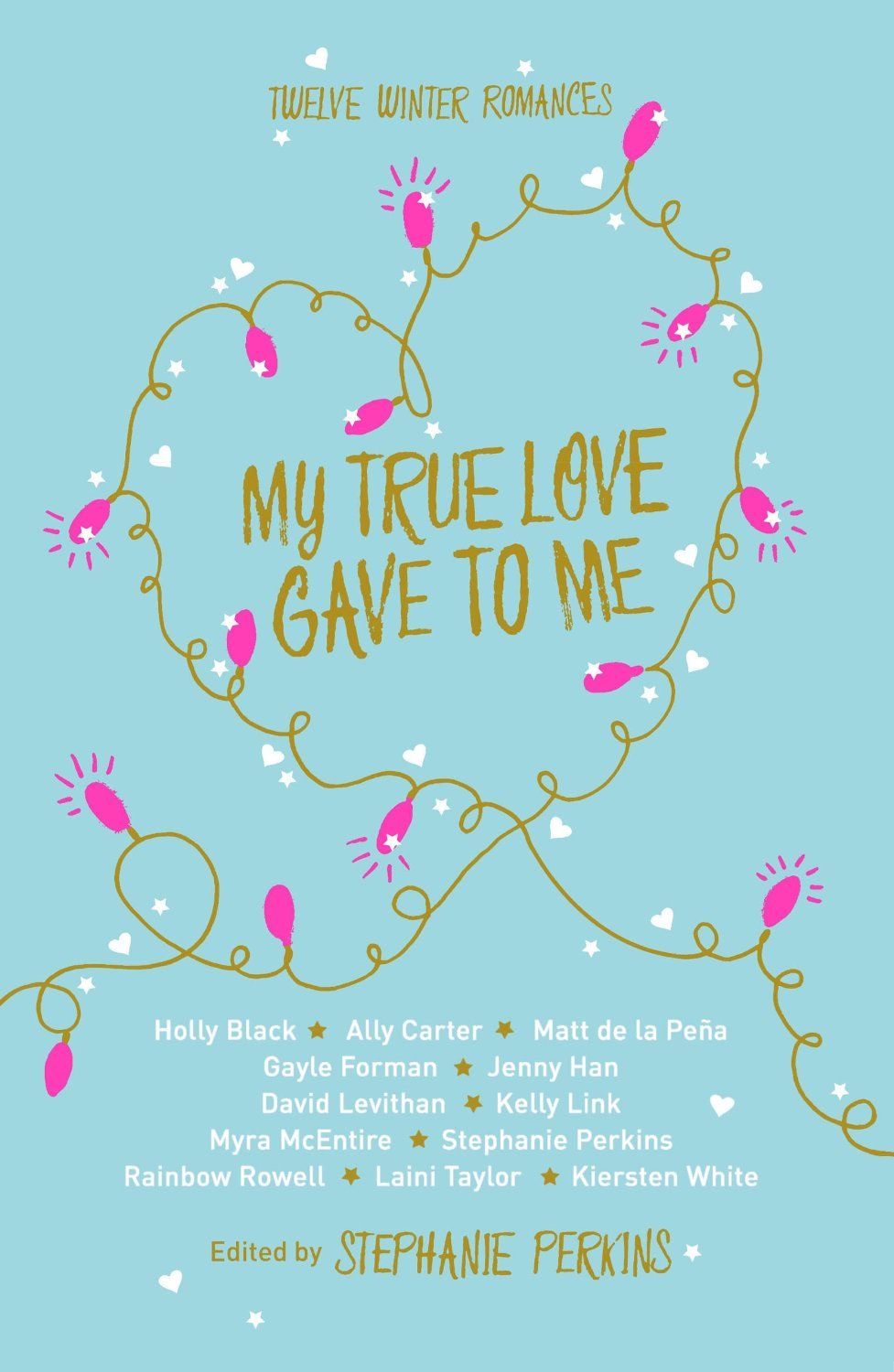 My True Love Gave to Me: Twelve Winter Romances

by Stephanie Perkins, Holly Black, Ally Carter, Matt de la Pena, Gayle Forman, Jenny Han, David Levithan, Kelly Link, Myra McEntire, Rainbow Rowell, Laini Taylor, Kiersten White

Published by Macmillan Children's Books on October 9th 2014

Purchased copy from The Book Depository

355 pages

Purchase on

Fully Booked
Synopsis
On the first day of Christmas, my true love gave to me ...This beautiful collection features twelve gorgeously romantic stories set during the festive period, by some of the most talented and exciting YA authors writing today. The stories are filled with the magic of first love and the magic of the holidays.
Long cold nights are for falling in love. Indeed, they are.
Having read only very few winter holiday YA books, Let It Snow and Dash & Lily's Book Of Dares as the most memorable, I was thrilled to hear about My True Love Gave To Me- a 12 short story anthology of YA winter romances. Not only did the holiday theme entice me, it was also the fact that most of the authors in the anthology were huge favourites of mine (Gayle Forman, David Levithan, Rainbow Rowell, Stephanie Perkins) while the rest were authors I've either read and liked or whose works I was interested in reading some time.
So yes, you could say I was compelled and excited to read My True Love Gave To Me. I read it from Christmas eve day to the day after Christmas, which honestly took longer than expected. While I really liked it overall, the book did have some highs and lows.
Here are my thoughts on each of the short stories:
Midnights by Rainbow Rowell was such a perfect starter. I flew threw through the pages and just loved every bit of it. Not only did it have my favourite kind of romance, the one that starts out as friends, but the chemistry between Mags and Noel was wonderful and charming and swoony.
The Lady and the Fox by Kelly Link was completely frustrating. I did not get the point of the story and was completely irked by the romance. I liked it least of all- scratch that, I didn't like it at all. Honestly, if I could go back in time, I'd just skip this.
Angels in the Snow by Matt De La Peña was a really pleasant surprise. The main character, Shy and his love interest, Haley, had such authentic voices. I really liked how relatable they were and also how they connected with each other. I'd love to read more of Matt De La Pena.
Polaris Is Where You'll Find Me by Jenny Han had elves. The whole concept would have been so fun and interesting if Natty didn't sound so monotonous. The characters felt very flat to me and that pretty much took out my enjoyment of the story. I'm rather disappointed because I usually like Jenny Han's work.
It's A Yuletide Miracle, Charlie Brown by Stephanie Perkins was absolutely freaking adorable. As one of my favourite YA romance authors ever, Stephanie didn't fail to deliver. The banter, the fleshed out characters- her short story made me fall completely in love. I wanted more North and Marigold!
Your Temporary Santa by David Levithan was simple, quirky, honest and thoughtful. I wouldn't expect anything less from David. The story might feel short, abridged and quite underwhelming to others (especially those unacquainted with the author's writing style) but the sentimentality worked for me. And yeay for an LGBT couple!
Krampuslauf by Holly Black was weird. For me it was a mixture of depressing, strange, baffling, a little inspiring, but mostly still weird. Usually, I'd really appreciate the peculiarity of the concept but the story was… did I say weird already?
What The Hell Have You Done, Sophie Roth? by Gayle Forman was awesome. I laughed/giggled some because yeay witty conversations! Loved the romance and really related to Sophie's troubles regarding college. Also, loved how diverse the characters were and how this allowed me to learn a little more about Hanukkah. Also, the ending was just super sweet and lovely.
Beer Buckets and Baby Jesus by Myra McEntire was lighthearted and amusing. Admittedly not outstanding, but not so bad either. Mostly an okay story about redemption and also how to get the girl.
Welcome To Christmas, CA by Kiersten White had me teary-eyed. I wasn't super sold with the romance at first but then it grew on me eventually. I have to say though- the family/home theme and the character growth of Maria was so moving and heart-rending. I totally didn't expect that. I was blindsided and I loved it. Really loved it.
Star of Bethlehem by Ally Carter was likeable. I feel kind of partial about it because it wasn't that striking and was kind of corny when you think about it but it was heartwarming still. The romance could've been better though.
The Girl Who Woke The Dreamer by Laini Taylor was dragging. I'm so going to get a beating for this from Taylor fans but I was kind of bored. The writing is imaginative and vivid and those last lines were pretty stirring but the story didn't engage me so much. I'm a little let down because this was my first time reading Laini Taylor and I really wanted to like her story.
Despite my very mixed opinions on the separate short stories, My True Love Gave To Me was still an enchanting YA winter romance anthology. A lot of the stories were really fantastic and just brilliant and pretty much worth taking a chance, whether you like the rest or not. So if you're looking for some holiday spirit or maybe a cosy romance in the midst of the cold winter, do give this a read!