Okay, guys. Stay Bookish isn't going to suddenly become a love/relationship blog. What's with the obscure post title then, you ask? I'm just trying something new! I'll actually be sharing my thoughts on two books today! Book reviews in actuality, but shorter. I'm not really feeling like reading or writing long reviews anymore so I'm hoping to change things up.
Anyway, today, I'll be sharing two books I thoroughly enjoyed: Biggest Flirts and Better Off Friends! (Now you get the title, huh?)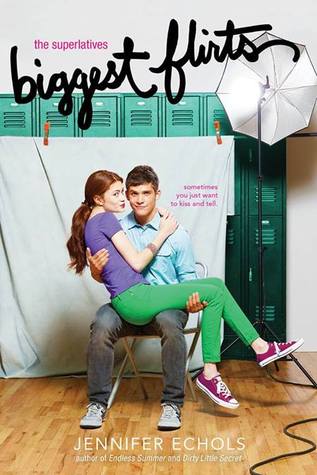 Biggest Flirts

by Jennifer Echols

Book #1, Superlatives

Published by Simon Pulse on May 20th 2014

ARC from Publisher

336 pages

Purchase on

Amazon

・

Fully Booked
Synopsis
Tia just wants to have fun. She's worked hard to earn her reputation as the life of the party, and she's ready for a carefree senior year of hanging out with friends and hooking up with cute boys. And her first order of business? New guy Will. She can't get enough of his Midwestern accent and laidback swagger.

As the sparks start to fly, Will wants to get serious. Tia's seen how caring too much has left her sisters heartbroken, and she isn't interested in commitment. But pushing Will away drives him into the arms of another girl. Tia tells herself it's no big deal…until the yearbook elections are announced. Getting voted Biggest Flirts with Will is, well, awkward. They may just be friends, but their chemistry is beginning to jeopardize Will's new relationship—and causing Tia to reconsider her true feelings. What started as a lighthearted fling is about to get very complicated…
I seriously adored the idea of the Superlatives companion series the first time I heard about it. I was totally excited to read Biggest Flirts, which focused on Tia and Will, high school seniors who meet at a party and basically flirt at first sight, if there's such a thing. They even bag the official title for their yearbook senior superlative! The two, despite their shared tendencies of flirting and casually hooking up, proved to not meet eye-to-eye when it came to one thing: taking their flirtationship one step further.
The quirky thing is- it's Will, the male lead, who wants to get serious. The reversal of roles held some appeal for me, as well as the story's fast-paced-but-fun romance. Will Matthews oozed charm despite being the new guy in town and I liked him (and his abs!) very much. He's vulnerable and introverted, not so comfortable yet with his new schoolmates, having just moved from Minnesota. The quick-developing attraction between him and Tia could have made him feel better about too-hot California, but Tia was hard to pin down.
Tia, Biggest Flirt's main character and female lead, was afraid of commitment. Not just relationship commitment, but any other kind of responsibility really. She goes as far as continually selling herself short (despite the fact that she's actually smart and talented) just so that no one expects anything of her. Tia sure comes off as immature and stubborn but that just made her juvenile and realistic as a teenager. She's not an easy character to like; she gets a little frustrating sometimes. Nevertheless, I enjoyed her vibrant voice, her extroverted personality and her character development. Also, she was a band geek (so was Will!) and band/drum corps was another aspect of the book I liked!
While Tia and Will were definitely interesting, I also was fond of the secondary characters, who had their own subplots that were to be the focus of the next books! Sawyer is probably my favourite and I can't wait to read about him in the third book, Most Likely To Succeed, and also the next book, Perfect Couple, which will be about Harper, one of Tia's BFFs. I just hope that the next books will dig deeper into the characters. Still, Biggest Flirts was delightful, funny and absolutely cute!
'And I wouldn't change my life for her. I've learned that from you. I'm not changing for somebody else, because that person could disappear. The only person to change for is yourself.'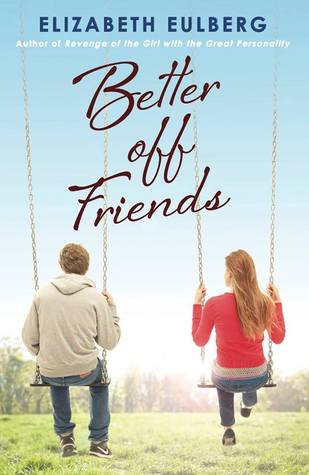 Better Off Friends

by Elizabeth Eulberg

Published by Point on February 25th 2014

Purchased copy from Fully Booked

Purchase on

Amazon

・

Fully Booked
Synopsis
WHEN HARRY MET SALLY . . . for teens, from romantic comedy star Elizabeth Eulberg.

For Macallan and Levi, it was friends at first sight. Everyone says guys and girls can't be just friends, but these two are. They hang out after school, share tons of inside jokes, their families are super close, and Levi even starts dating one of Macallan's friends. They are platonic and happy that way.

Eventually they realize they're best friends -- which wouldn't be so bad if they didn't keep getting in each other's way. Guys won't ask Macallan out because they think she's with Levi, and Levi spends too much time joking around with Macallan, and maybe not enough time with his date. They can't help but wonder . . . are they more than friends or are they better off without making it even more complicated?

From romantic comedy superstar Elizabeth Eulberg comes a fresh, fun examination of a question for the ages: Can guys and girls ever really be just friends? Or are they always one fight away from not speaking again -- and one kiss away from true love?
'Can guys and girls just be friends?' Most people expect guy-girl friendships to somehow turn into a romantic relationship. I admit I'm one of those people. But only because I believe that relationships based on real friendships are the best!
I've probably mentioned it a couple times in old reviews, but just in case you didn't know: I am a total sucker for bestfriend romances. It is my favorite kind of romance. Now, I've been a fan of Elizabeth Eulberg ever since I read her book, The Lonely Hearts Club, because her books always have my favorite kind of stories, ones that makes you giggle to yourself because it's too goddamn adorable. Better Off Friends was the best of both worlds.
In Better Off Friends, we see how Macallan and Levi, the book's protagonists whom we both get point-of-views from, starts off as friends in seventh grade. I loved watching their friendship flourish. Not because I was already rooting for Macallan and Levi then, but because Eulberg depicts their growing bond so strongly. Also, their banter is highly enjoyable- especially the pre-chapter conversations! I, admitted lover of all things fluffy, couldn't quite resist! Seriously, the combination of romance and humour here was incredibly right at the time I was reading it. One sitting was enough to devour such a light-hearted contemporary romance, and that's exactly what I did. Really, if you're feeling a bit down and need a book to make you smile, pick this one up!
'Home isn't necessarily where you sleep at night. It's where you feel like yourself. Where you're most comfortable. Where you don't have to pretend, where you can just be you.'
My short reviews were longer that expected, haha! My ramblings got out of hand. Anyhow, I'll be posting more collective reviews in the future. I hope you'll look forward to them!
Have you read Biggest Flirts or Better Off Friends yet? Will you be reading any of them in the future? What are your thoughts on flirtationships/friendships turning into romances?