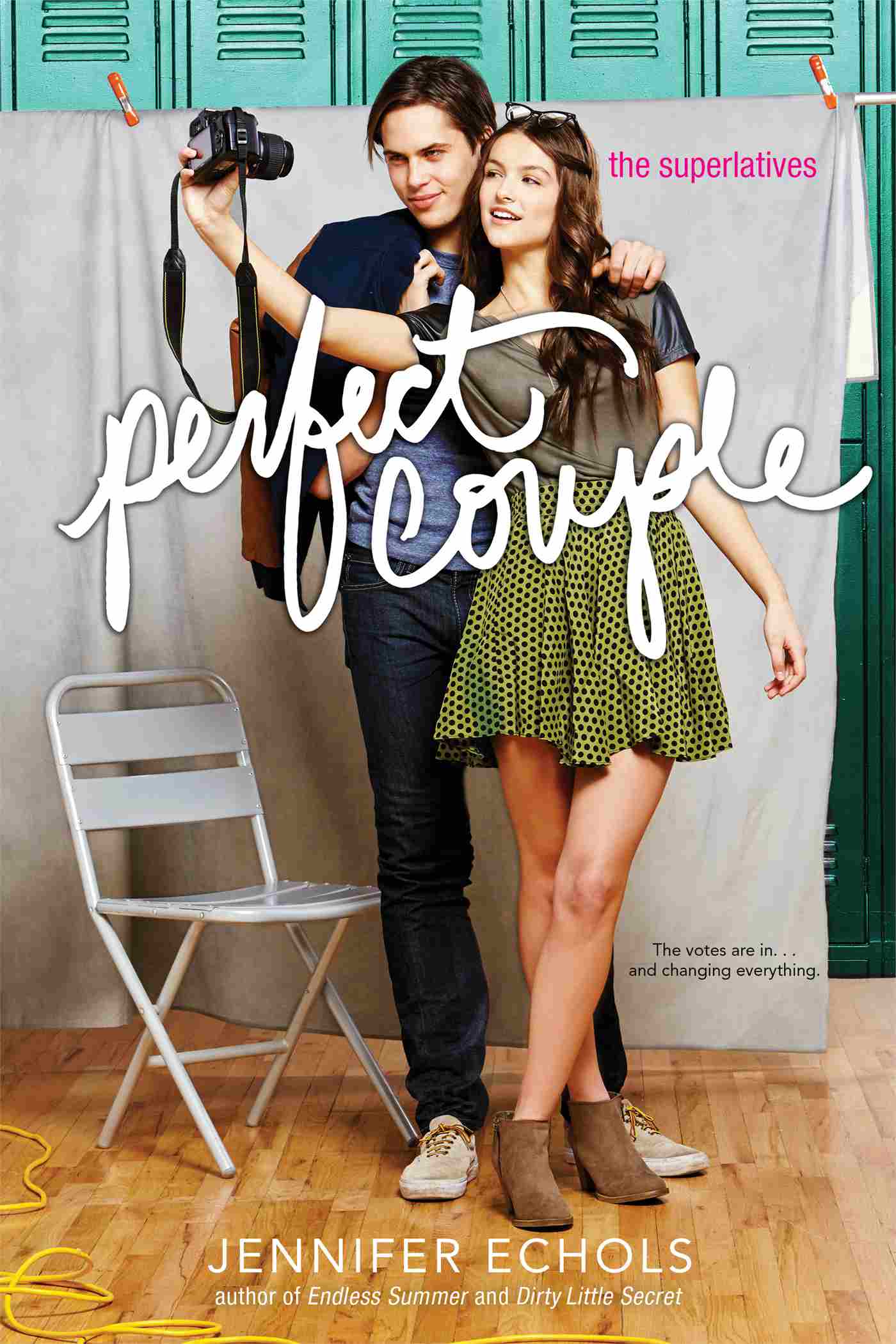 Perfect Couple

by Jennifer Echols

Book #2, Superlatives

Published by Simon Pulse on January 13th 2015

ARC from Blog Tour

336 pages

Purchase on

Amazon

・

Fully Booked
Synopsis
As yearbook photographer, Harper is responsible for those candid moments that make high school memorable. But her own life is anything but picture perfect.

Her parents' bitter divorce left her wondering what a loving relationship looks like. And ever since the senior class voted her and star quarterback Brody "Perfect Couple That Never Was," her friends have been pushing her to ask Brody out.

Brody doesn't lack female admirers, but Harper can't see herself with him. He's confused about the match too. Yet they find themselves drawn together—first by curiosity about why the class paired them, then by an undeniable bond.

The trouble is, though they're attracted to each other, they have a hard time getting along or even communicating well. If they're the perfect couple, this shouldn't be so difficult! Soon it becomes clear their class was wrong, and they throw in the towel. But they feel so changed from making the effort, they can't forget each other. What if this match made in hell is the perfect couple after all?
If someone ever elected me as Perfect Couple That Never Was with one of the hottest, most popular guys in school, I would have been so self-conscious around this person. And that was the case with Harper too, who garnered the superlative with none other than Brody Larson, star quarterback. As they get to know each other a little better, their superlative title starts feeling less like a class prank and more… right.
"The world is beautiful exactly like it is," I said. "You just have to know how to frame it, and bring it into focus."
I knew from reading Biggest Flirts, the first book in the Superlatives series, that Harper was a a kindred spirit. She's introverted, timid, and has a passion for photography. I was so excited to get to know her in Perfect Couple! We get to know her pretty well, in fact, and learn about how she cares too much about how everything looks (a very relatable flaw, I think) and though I connected with her more often than not (most especially when she was in photographer mode), I disconnected when she was making really bad decisions and being quite the pushover. I feel like the story really could have done better off without her asshole boyfriend, Kennedy. That said, Harper's POV still somehow felt genuine and effortless.
"In football, when somebody ask you how you feel, you answer with a sex joke."
On to the love interest, Brody. He's the hot, sexy football jock with a bad dating reputation. I'll admit it was hard for me to see what's underneath, but Brody has his moments. Speaking of, I feel like the book is sprinkled with moments- laugh out loud and swoony ones that ultimately just made me like the book, despite several misgivings.
"I don't know," I spoke up. "If you manage to get somebody's bathing suit off, I think you should gain a yard because that would be pretty difficult and you should get a prize."

"Harper," Brody said over the laughter, "you are my kind of girl. You're on my team, by the way."
My favorite thing about companion series such as this one is seeing more of the rest of the cast and boy, did I adore the character appearances in Perfect Couple. We read about Will and Tia and their now almost serious relationship! We get to read about Kaye too but of course, what I truly loved is reading about my favorite boy, Sawyer 'dammit' De Luca. I loved him in Biggest Flirts, and I don't know if it's just me but I loved him even more here. Seriously, totally, absolutely can't wait for his story.
"I felt like I needed to wear glasses so my face would have something in it. It just looks kind of blank to me, not pretty."

"We all have issues," Sawyer said, almost kindly. I nodded. "But that is the most fucked-up thing I've ever heard. You thought you weren't pretty, so you wore glasses? That's pathological."
In true Jennifer Echols fashion, Perfect Couple turned out to be a fun and sweet read! Those who've read the first book will most likely enjoy this second installment. With that, I'm so looking forward to reading Most Likely To Succeed!
Story Soundtrack (Playlist):
i. "Perfect Two" by Auburn
 Cause you're the one for me
And I'm the one for you
You take the both of us
And we're the perfect two
This one is totally a "Perfect Couple" theme song if the title is any indication. ;)
ii. "Photograph" by Ed Sheeran
We keep this love in a photograph
We made these memories for ourselves
Where our eyes are never closing
Hearts are never broken
And time's forever frozen still
In one of my favourite moments between Brody and Harper, he kisses her in front of entire school body and she knows she'll keep that moment forever, like a mental photograph. If a song could play during that moment, Ed Sheeran's Photograph would be it.
iii. "With You Around" by Yellow Card
Now I look at you and you're still more than I can take
You're like a slow song starting to accelerate
All my life I looked for you
For arms that I could fall into…
And now I wanna chase forever down
With you around
This is totally a cheesefest song but I think it's perfect for when Brody says this to Harper: "I've never felt more comfortable than I do right now, right here, with you. If this was taken from me, I would fight to get it back." And then he compares her to football, which really should have been insulting but then you realize how much this guy loves that sport. So darn cute!
iv. "This Kiss" by Carly Rae Jepsen
We're taking it way too far
But I don't want it to end
This kiss is something I can't resist
Your lips are undeniable
This kiss is something I can't risk
Your heart is unreliable
I happen to like pop songs and this one just had to be on the list. Pretty sure it's the soundtrack to the swoony kissing between Brody and Harper. If you read the book and listen to the song, it's just seriously right on.
v. "Let's Stay Together" by Maroon 5
'Cause you make me feel so brand new
I want to spend my life with you…
Being around you is all I see
Ooh baby, let's, we oughta stay together
One of the reasons why I started to like Brody and Harper was how they made each other feel better, brand new as the song croons.  Also, a lot of the book is spent wondering if the two really are a perfect couple and whether they should stay together and this song right here is the answer.
Giveaway: