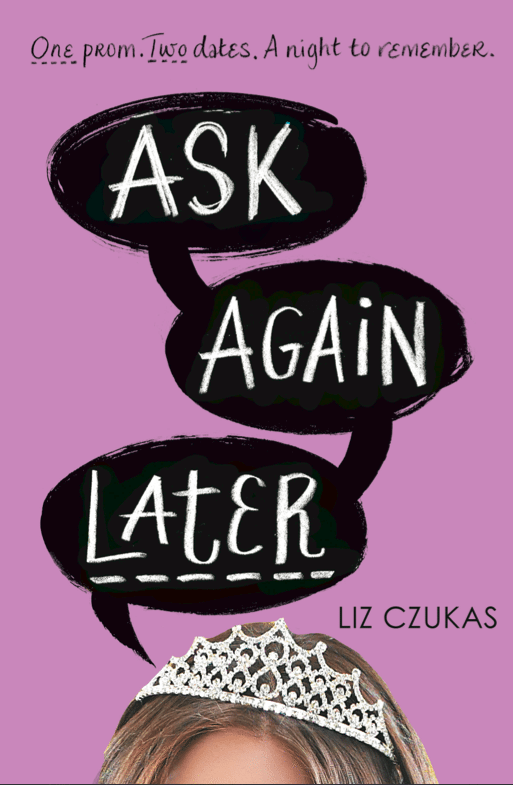 Title: Ask Again Later
Author: Liz Czukas
Publication: March 11th 2014 by Harper Teen
Format: eARC, 192 pages
Source: Edelweiss
Genre: YA Contemporary
Goodreads / The Book Depository / Amazon
Synopsis: 

Despite what her name might suggest, Heart has zero interest in complicated romance. So when her brilliant plan to go to prom with a group of friends is disrupted by two surprise invites, Heart knows there's only one drama-free solution: flip a coin.

Heads: The jock. He might spend all night staring at his ex or throw up in the limo, but how bad can her brother's best friend really be?

Tails: The theater geek…with a secret. What could be better than a guy who shares all Heart's interests–even if he wants to share all his feelings?

Heart's simple coin flip has somehow given her the chance to live out both dates. But where her prom night ends up might be the most surprising thing of all..
Review:
Unlike most girls, Heart LaCouer never cared about bringing a date to prom. The plan was to go with friends and enjoy the night with them. Suddenly, Heart is struggling with two unexpected prom-vites. Deciding whom to go with is extremely hard- so why not flip a coin instead? Ask Again Later is a crazy story of heads or tails, prom night fiascos and happy-ever-afters.
Sometimes, it's the small victories that keep a person going.
Heart seized my interest from the very first sentence. She was undeniably witty and I easily loved the way she was written. Aside from Heart, I think the rest of the characters were quite an interesting bunch. The No Drama Prom-a Crew, a.k.a. Heart's friends were generally awesome, especially Schroeder, whom I loved. Phil, Heart's brother, and his friends were not the best crowd but I got a kick out of reading their exploits. Phil wasn't exactly the best brother either, in fact he kind of deserved a kick in the head, but I liked that the author took time to explore sibling relationships.
Liz Czukas' writing is effortlessly smooth and natural. It's also very funny and full of humor. There is no resisting a book that makes me laugh so much! The heads/tails factor was also very ingenious of her! I had some trouble getting what was happening (damn me for being slow and for not reading the plot summary beforehand) but then there was that "OHH" moment and I finally understood that there was two storylines featuring the two sides of the coin. It was the first time I've read such a story but I think it was pretty clever.
"I don't believe in fate… I don't like the idea that I can't control the outcome of something. Your choices should be the only influence in your own life."
I loved the last parts of the book, where things started converging and moving towards a delightfully sweet outcome. Let's just say I was rooting for Heart to end up with that person from the very beginning and things turned out pretty much the way I wished they would be. The romance, while not realized from the start, was lovely to watch. The setting of prom night made the whole thing even better.
"You're, like, the least available person I know. Why did I have to fall for you?" The Martian butterflies chewed at my stomach. Best to fall back on my classic strategy of humor and sarcasm. Always a safe bet. "If it makes you feel any better, I can't seem to get over Johnny Depp. Talk about unavailable."
It's no secret that I love reading light contemporary romances. In fact, I exist to read that kind of stuff. Needless to say, I really enjoyed Ask Again Later and I'm looking forward to reading more from the author. If you're looking for a giggle-your-heart-out prom love story, I utterly recommend that you read this one!
Rating: