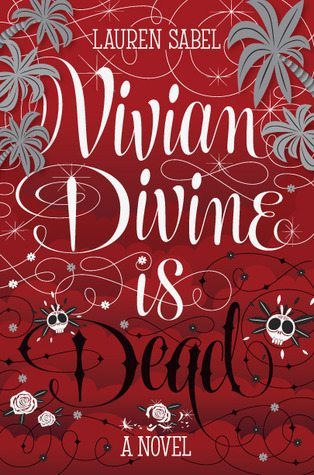 Title: Vivian Divine Is Dead
Author: Lauren Sabel
Publication: June 3rd 2014 by Katherine Tegen Books
Format: eARC, 288 pages
Source: Edelweiss
Genres: Young Adult, Contemporary, Mystery
Goodreads / The Book Depository / Amazon
Synopsis: 

When a death threat arrives with teen celebrity Vivian Divine's fan mail, Vivian has no choice but to go on the run to Mexico. She soon discovers, though, that her Oscar-nominated performance killing villains on-screen did nothing to prepare her for escaping a madman in real life. Some people say he's a hero, others tremble in his presence, but one thing is clear: he won't stop until Vivian is in his grasp. Why didn't she pay more attention during those judo lessons for her role in Zombie Killer?

Vivian finds an ally in the mysterious and charming Nick. He is everything Hollywood boys are not-genuine, kind, and determined to see Vivian for who she really is. But even he seems like he can't be trusted-what could he be hiding?

Beat up, hungry, and more confused than ever about who she's running from, Vivian is living in a real-life blockbuster horror flick. But there's no option to yell "cut" like there is on set….

Lauren Sabel's Vivian Divine Is Dead is a creepy, witty, fast-paced adventure about family, fame, and having the courage to save yourself.
Review:
Vivian Divine Is Dead sounded very interesting the first time I checked it out. The title and synopsis made me very curious. As I think about it now, the book did have some interesting things going on for it, things I haven't read about much in other books, like celebrity deaths and mafias. While that may be, the book really didn't leave a lasting impression on me aside from a certain dissatisfaction.
Vivian Divine happens to be a teen superstar with a tragic life. When I say tragic, I'm using it in the deepest sense of the word. Vivian's tragedies include a murdered mother, a suicidal absent father, a cheating boyfriend. Up next? A death threat that has Vivian running to Mexico for cover. Despite leaving Hollywood to go into hiding, whoever threatened Vivian is definitely still looking for her. Along her attempt to escape her pursuer, she falls in love with with the hot guy who serves as her guide to Rosales.
Goodbyes have cracked me open wide and rained salt on my wounds, but maybe I'm stronger than I thought I was, because they haven't killed me- yet.
I'm all for drama but this book is the one case that everything just felt like too much. Only a few chapters in, everything already felt theatrical and exaggerated and that drags on through the whole story. Viviane Divine Is Dead was so much like the local TV Dramas that I haaaate very much because everything felt orchestrated and unbelievable. The book was also rather painfully predictable. I was guessing left and right with every hint dropped and I prayed I wouldn't be right once just because I wanted the book to get more surprising. That really didn't happen though.
You'd think I'd be done complaining about this book by now… but wait, there's more. I didn't like the MC. Vivian was boring and shallow as a heroine. As a spoiled celebrity, I could understand her acting superficial. For a person who's experienced the things she had though, I feel like she lacked in depth and pitied herself too much. There wasn't that much character growth either. Because of all that, I never was able to feel myself rooting for her or appreciating her narration.
"Grief is like that. It starts off as a painful, bloody wound, then it crusts into a scab and eventually it faces into a scar," Isabel says. "The scar's always there, but it doesn't hurt anymore."
I'd love to say that at least the romance was to-die-for but that wasn't the case either. The romance was also predictable, a little too fast for my taste, and quite cliched. I didn't feel the chemistry and I disliked the way Vivian was always fawning how sexy Nick, her love interest, was. (I mean, girl, you've got bigger problems to think about!) I could understand if it you were in a different situation. However, I did like Nick as a character. He had snark and humor, plus he was a nice guy too despite coming off as a jerk at first.
All that said, I acknowledge that the book managed to keep me reading. Even though I thought that Vivian was a bore, the plot itself was eventful enough. Also, the story's Mexico setting was nice to read about and I appreciated the inclusion of the place's culture. Maybe if I connected with the protagonist or if the story were less dramatic, I would have liked this one. As a whole, I thought that Vivian Divine Is Dead was vexatious and a little less than average.
Rating: