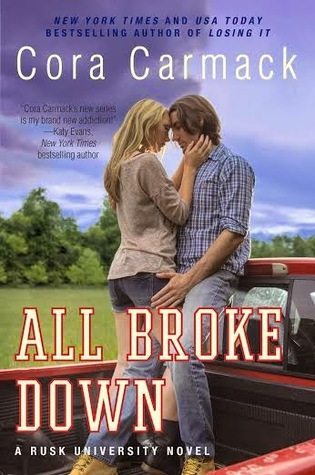 All Broke Down

by Cora Carmack

Book #2, Rusk University

Published by William Morrow Paperbacks on October 28th 2014

Purchased copy from Amazon

368 pages

Purchase on

Amazon

・

Fully Booked
Synopsis
In this second book in New York Times and USA Today bestselling author Cora Carmack s New Adult, Texas-set Rusk University series, which began with All Lined Up, a young woman discovers that you can't only fight for what you believe in... sometimes you have to fight for what you love.

Dylan fights for lost causes. Probably because she used to be one.
Environmental issues, civil rights, corrupt corporations, and politicians you name it, she's probably been involved in a protest. When her latest cause lands her in jail overnight, she meets Silas Moore. He's in for a different kind of fighting. And though he's arrogant and infuriating, she can't help being fascinated with him. Yet another lost cause.

Football and trouble are the only things that have ever come naturally to Silas. And it's trouble that lands him in a cell next to do-gooder Dylan. He's met girls like her before fixers, he calls them, desperate to heal the damage and make him into their ideal boyfriend. But he doesn't think he's broken, and he definitely doesn't need a girlfriend trying to change him. Until, that is, his anger issues and rash decisions threaten the only thing he really cares about: his spot on the Rusk University football team. Dylan might just be the perfect girl to help.

Because Silas Moore needs some fixing after all.
It's official. I'm completely addicted to the Rusk University series. After greatly enjoying All Lined Up, I knew I had to read book two. I was wrong earlier when I said that book one was my favourite. As it turns out, I love this one equally. You can't make me choose between Carson and Silas. You just can't.
"You're really hitting on me? After we just met in jail?"
"Is it working?"
Silas Moore is arrogant. He's gorgeous and he knows it. He could pick up any girl anywhere. And that's where this all begins- Silas in jail, flirting with the girl in the cell next to his, Dylan- who got arrested while fighting for a cause. Right off the bat, we see how different they are. They're basically from different planets different. She came from a rich family and he's lived a hard life. He thinks fixing what's broken is a waste of time and she thinks it's worth it. Still, the chemistry is just fabulous. Witty banters and heated arguments with lots of sexual tension are the absolute best.
"Dudes who look dangerous should just be dangerous. Period. The end. They should not be dangerous and beautiful all at the same time. It leaves the universe out of balance, and it makes me do stupid things like stare."
Dylan Brenner is text-book good girl- the save the world kind. As much as she can't resist Silas' charms, she knows all too well that he's trouble. In fact, there should be a whole dictionary entry for trouble with a picture of Silas in it. Still, the pull between the two is strong. Magnetic. Opposites do attract after all. As the story unravels though, we see that they're not completely different. I love how Cora shows us that. We really get to know both characters. I couldn't help but love Dylan's honest narrative and I could so relate to her self-consciousness, especially around Silas.
"Haven't you ever wanted to do something that everyone tells you is impossible and pointless? Haven't you ever cared about something enough to sacrifice for it? Regardless of how stupid or unlikely it seems. Haven't you ever wanted things to be different?"
Cora's clever writing just shone through this book and I took great pleasure in it. More than that, there was just some parts that the writing – especially during the emotional parts of the book- resonated so beautifully. And the romance- I became a puddle from all the Silas smoulder.
"I'm starting to think that the idea of "belonging" anywhere is false. We go through our whole lives thinking that we belong in one place and not in another. We think certain ideas and actions have to be relegated to the tiny little boxes we place them in. What if we just react instead? What if we take whatever the world gives us and instead of focusing on what it isn't, we enjoy what it is?"
Seriously, Cora is just killing it with this fun, sexy, wonderfully-written New Adult series, you guys, and All Broke Down was down-right awesome. I know for a fact that the third book is going to be just as fantastic because I've read it. Watch out for my review for All Played Out soon! ;)