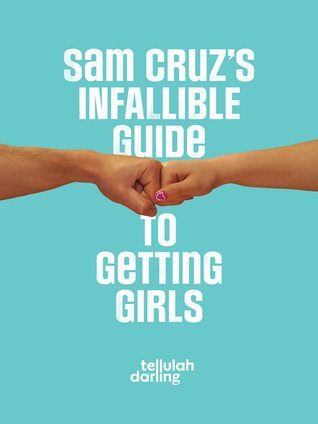 Sam Cruz's Infallible Guide to Getting Girls

by Tellulah Darling

Published by Te Da Media on October 17th 2012

ARC from Blog Tour

Purchase on

Amazon
Synopsis
Why the hell can't chicks be more like guys?

That question plagues high school senior Sam Cruz. Sam is perfectly happy being a player. He just wishes girls wouldn't change the game from sex to relationships. It makes him look like an asshole. But when Sam's best friend, Ally Klinger, gets dumped, she begs him to transform her into someone who can screw around then screw off. No risk of heartbreak that way. It's Sam's chance to create the perfect female AND cheer up his best friend. Armed with Sam's Three Step Guide to Backseat Success, Ally gets the game better than Sam thought she would and before long, Sam has his wish: the female version of himself. Too bad it's driving him nuts. Told from Sam's and Ally's alternating POVs, Sam Cruz's Infallible Guide to Getting Girls is a fast-paced YA romantic comedy that follows these teens as they navigate the minefield of sex, love, and friendship.

This contemporary teen romance contains strong language, drinking, euphemisms, and lots of "bow chicka wow wow."
*plays the Bow Chika Wow Wow song*  Kidding. Truthfully though, whenever I think of Sam Cruz, that song keeps playing in my head! Ahh, Tellulah Darling you are responsible for this!
Getting to the nitty-gritty now, I enjoyed reading Sam Cruz's Infallible Guide To Getting Girls. The synopsis, which by the way was what got my attention, made me assume that this would be a fun, sweet book. That was exactly what I got, so I'm extremely glad I read this. Like I said, the plot summary reeled me in. But as I read the book, I found that the actual story line as a whole was pretty solid. It wasn't anything ground-breaking but it felt very rom-com and very much the kind of book I usually like.
Basically, Sam was the class-A master of hook-ups until his best friend, Ally, wanted to become just like him. Ally, who came from a bad breakup, was determined to recreate herself and learn the art of no-strings-attached relationships. But things don't go the way they're supposed to because Sam realizes he's quite attracted to Ally himself.
I initially thought Sam was a little oversexed but when I mull it over real hard, I think what the author presented was pretty genuine. The way the characters talked, with their crude language and discussions of vulgar things (hello, vullets), felt authentic, considering the fact that they were high school seniors. Ally and Sam were also really hilarious and their banter was completely fun. While I wish there had been more depth to both characters, I generally liked them.
The aspect I liked the most was how Sam and Ally's friendship played earlier in the story. It was completely evident that they were really, truly the best of friends. As the story elucidated and the two had transformed to being more than just friends, I was already rooting for them. My favorite scene was the "I love you" part at the diner. It fitted the story perfectly and y'all gotta read this book just to get there! Sam Cruz's Infallible Guide to Getting Girls was an entertaining read! Although nothing out of the ordinary, getting into this book was a fun, refreshing ride and I recommend it to all those who are looking for a hearty laugh.
Giveaway:
a Rafflecopter giveaway

Follow the rest of the tour!