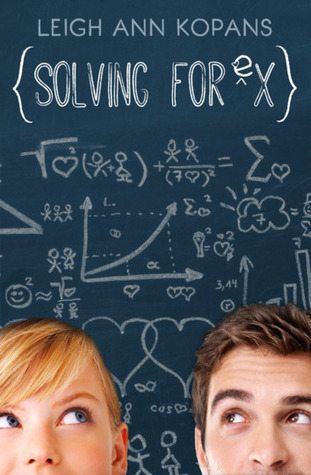 Solving for Ex

by LeighAnn Kopans

Published by Amazon on January 30th 2014

ARC from Blog Tour

Purchase on

Amazon
Synopsis
1 crush on your best friend +1 gorgeous, scheming new girl +1 Mathletics competition =1 big mess

SIMPLIFY.

Ashley Price doesn't have much in life after being bullied so hard she had to leave her old school to live with her aunt and uncle in Pittsburgh. But the camera she borrowed from her best friend and secret crush Brendan, and her off the charts math abilities, make things a lot more bearable. Plus, since Brendan is the captain, making the school Mathletes team should be easy.

But when gorgeous new girl Sofia rolls in and steals Brendan, Ashley's place on the team, and her fragile foothold on the Mansfield Park Prep social totem pole, it's on. Sofia is everything Ashley left her old school to escape. The only thing Ashley didn't count on is Sofia's sexy twin brother Vincent.

Vincent is not only the hottest boy in school, he's charming, sweet, and he's got his eye on Ashley. He's also not taking no for an answer. There's no real reason Ashley shouldn't like Vincent, but with thebattle lines being drawn between her and Sofia, Ashley's not sure which side he's on. Or which side she wants him to be on.

She does know Sofia is trouble with a capital T, and she's determined to make Brendan see it.

SOLVING FOR EX is a YA contemporary romance that remixes Mansfield Park as Clueless meets Mean Girls in a crazy mix of high school society, mathletic competition, and teenage romance.
Ashley Price knows she can rely on two things: her best friend Brendan and mathletes. Ashley, who's always had a secret crush on her best friend, is thrown off by the beautiful new girl, Sofia, who keeps wedging herself between her and Brendan. What surprises Ashley even more is that Sofia's hot twin brother seems to be highly interested in her, and he's surely making it known to everyone, which is totally trumping her agenda to keep a low profile.
Solving For Ex had such an enticing synopsis, which was why I was so excited to read it. The story is Austen inspired, specifically by Mansfield Park. I have not read Mansfield Park so I wasn't sure how this retelling would go down. I had several suspicions about the characters and the succeeding chain of events, most of which turned out to be right, so I guess the plot was quite foreseeable. Still, the author's writing kept me interested and eager to know whether my speculations were correct.
I wondered how much of me was really me or how much of me was trying to conform to what I'd already made people think I was. I wondered how much of that was keeping me away from who I could be.
I think the high point of the book for me was the characters. They were tangible and well-founded, especially Ashley, the heroine, who had lots of personality, in my opinion. She was incredibly smart and also creative. I liked that Ashley could be passionate about both math and photography because I'm tired of stereotypes where the character is good at maths and sciences and terrible at arts or vice versa. The math nerd and photography geek in Ashley was notable and very believable which made her character a distinctive one. Ashley also faced some major personal issues in the story, stemming from her terrible experience when it came to mean girls and bullies, making her even more relatable.
Brendan, Vincent, and Sofia were also pretty complicated characters which I guess made the whole thing a confusing equation at times. They sort of frustrated me, almost as much as math frustrates me, but I did like the way the author established these characters. I think Brendan and Ashley's best-friendship was sincere although I disliked how he was ditching her when Sofia entered the scene. I won't say much about the romance so as not to spoil anything but I found it to be sweet! I wanted more though, so the last parts sort of fell a bit short for me.
Solving For Ex was a quick, delightful read, sure to appeal to lovers of math and romantics at heart! Those adorable math notes at the end of every chapter are definitely something to look forward to! If you're looking for feel-good book, this one might be just for you.
Rating:


Giveaway:
a Rafflecopter giveaway