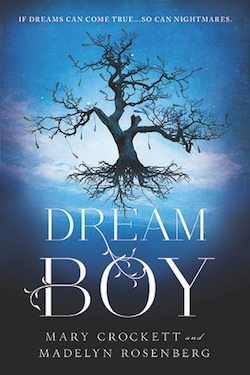 Dream Boy

by Madelyn Rosenberg & Mary Crockett

Published by Sourcebooks Fire on July 1st 2014

ARC from Netgalley

Purchase on

Amazon

・

Fully Booked
Synopsis
Annabelle Manning feels like she's doing time at her high school in Chilton, Virginia. She has her friends at her lunchtime table of nobodies. What she doesn't have are possibilities. Or a date for Homecoming. Things get more interesting at night, when she spends time with the boy of her dreams. But the blue-eyed boy with the fairytale smile is just that—a dream. Until the Friday afternoon he walks into her chemistry class.

One of friends suspects he's an alien. Another is pretty sure it's all one big case of deja vu. While Annabelle doesn't know what to think, she's willing to believe that the charming Martin Zirkle may just be her dream come true. But as Annabelle discovers the truth behind dreams—where they come from and what they mean—she is forced to face a dark reality she had not expected. More than just Martin has arrived in Chilton. As Annabelle learns, if dreams can come true, so can nightmares.
What if your dreams came true and your dream boy suddenly became real? Annabelle's world goes still when the boy of her dreams walks into her class. She may have imagined him, but she never imagined him walking, talking, breathing AND going to school with her. When Annabelle learns there is a thin line between dreams and reality, she also finds out that nightmares can happen in both.
"I've always been a dreamer. Daydreams. Night dreams. Dreams of grandeur and dreams of escape."
Let me just say that I was very excited to read Dream Boy before I got into it. Such is the case with most of the books I pick up, but this one in particular enchanted me with its imaginative concept. I mean the boy of your dreams suddenly comes to life? While this isn't exactly unheard of (I mean- we've all imagined this at one point-right?), I liked how Mary and Madelyn turned it into something more paranormal and fantastical. I liked the way the authors vividly presented the world of dreams (even just the small town setting, really) although I wish there'd been more backstory. Still, I found the whole idea creative, and liked how it made the book unique.
"For most dreams there are no real beginnings. Only middles."
It's not just that, though. I liked that the book, the story, the plot was solid and harmonious. I felt like I was reading just one author- I never felt jolted by sudden changes in the writing or anything of thee like. Mary and Madelyn did a great job creating and unifying Dream Boy and they crafted a handful of interesting characters together. I liked Annabelle, who I empathized with, especially with how she felt stuck in Chilton and longed for what was (or who was) in her dreams instead. I liked that she was also artistic and that she loved her friends and family. That said, I wish we'd been able to dig deeper into her character, as well as with the secondary characters- Martin, her dream boy, Will, her closest friend for the longest time, and the rest of the gang. I felt like I still had so much more to know about them but never got the chance to because the latter part focused on the conflict.
"Here's the things about being scared: When it's actually happening, and you're not just thinking about how it might happen, the fear does something strange. It sets you free."
Regarding the romance, I was a bit disappointed that I didn't feel Martin's dreaminess. But that's probably because I was already rooting for someone else from the very first chapter, particularly, Will Connor. He was the guy best friend, he liked wearing geeky shirts and he liked photography. How could I not like him? He is my kind of dream boy. And of course he's been in love with with Annabelle forever and she doesn't know it (which I feel is very obvious from the start so I don't think it's a spoiler) and it makes me ship them more.
"It turns out there are no clear lines, just a jumble of what is and what might be. And all of it is real."
Finally, I just enjoyed how compelling Dream Boy was. And of course the best friend romance (however oblivious the the MC was about it) was winner. Plus, one of the secondary characters is supposedly from the Philippines. It's just nice to have my home country mentioned in a book (even if it was just that one time). Overall, I found Dream Boy to be a good book and I would totally recommend it for people who are interested in reading about the world of dreams.
Rating:

Giveaway:
a Rafflecopter giveaway