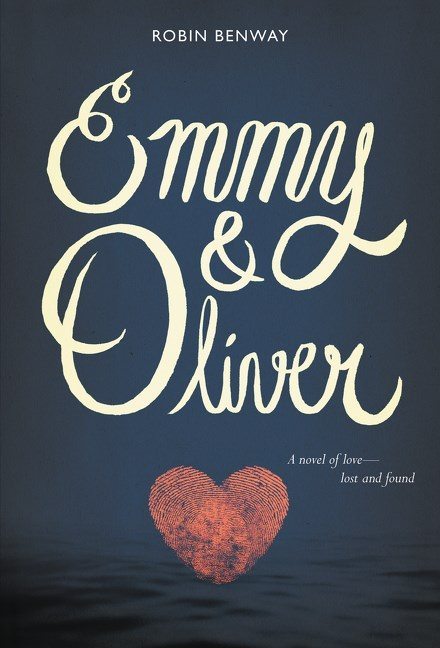 Emmy & Oliver

by Robin Benway

Published by HarperTeen on June 23rd 2015

ARC from Publisher

Purchase on

Amazon

・

Fully Booked
Synopsis
Emmy's best friend, Oliver, reappears after being kidnapped by his father ten years ago. Emmy hopes to pick up their relationship right where it left off. Are they destined to be together? Or has fate irreparably driven them apart?

Emmy just wants to be in charge of her own life.

She wants to stay out late, surf her favorite beach—go anywhere without her parents' relentless worrying. But Emmy's parents can't seem to let her grow up—not since the day Oliver disappeared.

Oliver needs a moment to figure out his heart.

He'd thought, all these years, that his dad was the good guy. He never knew that it was his father who kidnapped him and kept him on the run. Discovering it, and finding himself returned to his old hometown, all at once, has his heart racing and his thoughts swirling.

Emmy and Oliver were going to be best friends forever, or maybe even more, before their futures were ripped apart. In Emmy's soul, despite the space and time between them, their connection has never been severed. But is their story still written in the stars? Or are their hearts like the pieces of two different puzzles—impossible to fit together?
I never thought any book could replace Audrey, Wait as my favorite Robin Benway book until Emmy & Oliver came along. Being a huge fan of the author, I was very excited for this one. When I finally read it, I just totally fell head over heels. It had everything I could want in a contemporary novel: witty banter, friendship, relatable characters, family dynamics, and a grin-like-an-idiot-because-this-is-too-adorable romance. Emmy & Oliver was wonderful like that.
"Sometimes there just aren't enough words to fill the cracks in your heart."
One thing I appreciate in a book is an engaging narrator and Emmy was exactly so. There was no dull moment at all as I read her and Oliver's story. (Really, with Robin Benway's writing- I don't think there can ever be a dull moment.) We all have friendships that drifted apart but that was not the case with Emmy and Oliver, who were much close when they were kids. Emmy's best friend was kidnapped by his own father years ago and they've never stopped looking for him. Until one day they don't have to anymore because he's been found. Finally back home, Emmy tries to rekindle their lost friendship but it isn't that easy, not when Oliver was made to believe his only home was with his father all those years he was gone.
I realize that doesn't sound exactly like a usual light-hearted Benway book and really, it isn't. I think that was what made me love this even more actually. It just packed such a strong emotional punch and had all this in depth layers. So yeah, Emmy & Oliver isn't all fluff but trust me when I say it's still very hilarious and cute. I \adore Robin Benway's sense of humor (one of my fave things about Audrey, Wait!) and I wasn't expecting much of it here since this sounded more drama than comedy so imagine my surprise when I chuckled out loud multiple times! It's amazing how the story is able to keep such a balance between sweet and heartbreaking but it pulls it off, making the reader feel every emotion on the spectrum. Be ready to cry and laugh, folks.
"I guess the more you start to love someone, the more you ache when they're gone, and maybe it's that middle ground that hurts the most. when you can see them and still not feel like you're near enough. So close and yet so far."
What solidified this one as a contemporary fave was the characters and their relationships. I loved them. All of them. They're the kind of characters you grow really attached to because the story allows you to see through their veneers and you just completely empathize with them. I connected to Emmy the most just because I knew her struggle to be in charge of her own life, to not let her overprotective parents make decisions for her all too well. Despite this particular strain, I love how Emmy's relationship with her mom and dad are depicted positively through the rest of the story. (They're even sarcastic with each other. How fun right?) It was just really nice to see Emmy's parents (even Oliver's) involved and present in the story.
The friendship between Emmy, Oliver, Caro and Drew was also delightful and genuine. I was fond of the whole group, especially their playful and friendly exchanges. Moreover, I love how these teenagers were portrayed realistically. They all have their own issues but they had each other's backs. Emmy and Oliver of course hovered to the more-than-friends zone (the romance was awesome!) but it was really great to see their relationship develop slowly from a good foundation of friendship and understanding.
"Well, that's growing up, isn't it?" my dad said. "You don't always have to know. And things aren't always fair. You just have to keep moving forward. A step in one direction."
With Emmy & Oliver, Robin Benway will surely gain more fans, especially those who enjoy rich, full-of-everything contemporaries like this one. Those who already admire her will surely rejoice and sing even more praises, as should be. Robin has outdone herself with this masterful novel. I highly recommend picking Emmy & Oliver up!