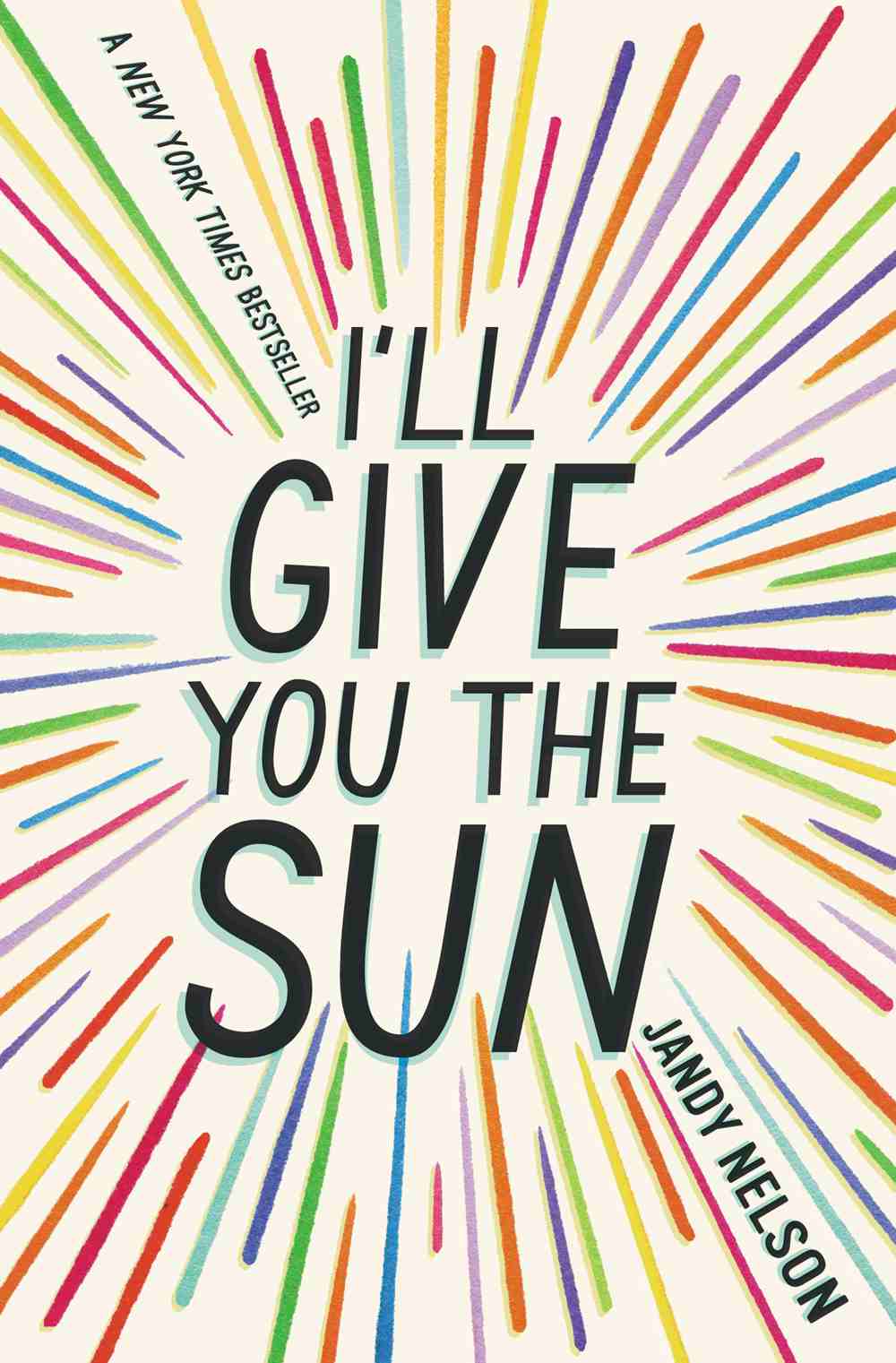 I'll Give You the Sun

by Jandy Nelson

Published by Dial Books on September 16th 2014

Purchased copy from Fully Booked

371 pages

Purchase on

Amazon

・

Fully Booked
Synopsis
A brilliant, luminous story of first love, family, loss, and betrayal for fans of John Green, David Levithan, and Rainbow Rowell

Jude and her twin brother, Noah, are incredibly close. At thirteen, isolated Noah draws constantly and is falling in love with the charismatic boy next door, while daredevil Jude cliff-dives and wears red-red lipstick and does the talking for both of them. But three years later, Jude and Noah are barely speaking. Something has happened to wreck the twins in different and dramatic ways . . . until Jude meets a cocky, broken, beautiful boy, as well as someone else—an even more unpredictable new force in her life. The early years are Noah's story to tell. The later years are Jude's. What the twins don't realize is that they each have only half the story, and if they could just find their way back to one another, they'd have a chance to remake their world.

This radiant novel from the acclaimed, award-winning author of The Sky Is Everywhere will leave you breathless and teary and laughing—often all at once.
I have never known a book as fucking beautiful as this one. Yes, I've loved many other books and thought them beautiful too but I'll Give You The Sun is on a whole other level. It made me rethink what beautiful truly meant and I realized that this book gives definition to the word.
"When people fall in love, they burst into flames."
Truly, I had high expectations for Jandy Nelson's sophomore novel from the start for many reasons- because I loved The Sky Is Everywhere so very much, because I heard so many amazing things, because winning this year's Printz and a Stonewall honour is a momentous achievement. But when I dove into the book, everything else just faded away. I was engulfed by the heart-wrenching story that was Jude and Noah's.
"Or maybe a person is just made up of a lot of people," I say. "Maybe we're accumulating these new selves all the time." Hauling them in as we make choices, good and bad, as we screw up, step up, lose our minds, find our minds, fall apart, fall in love, as we grieve, grow, retreat from the world, dive into the world, as we make things, as we break things.
Having a sibling myself, I loved how such relationships were a reoccurring thread in Jandy Nelson's books and was astounded by how she painted in words the bond Jude and Noah had as twins. Clark Gable, reading their narratives often felt like my heart was being minced into very tiny pieces. The two main characters were weighed down by heartache- their melancholy escaped from the pages and brought many many tears to this reader's eyes. They weren't just their woe though- both Jude and Noah were quirky, funny, artistic and extraordinary. I'd go into the whys and hows but it's really hard to explain because Jude and Noah were both such intricate and complex characters. Still, they were profoundly realistic and I couldn't help but let myself be moved by them.
"I gave up practically the whole world for you," I tell him, walking through the front door of my own love story. "The sun, stars, ocean, trees, everything, I gave it all up for you."
Even the supporting characters broke my heart and left me sobbing more often than not. The way everyone's lives were somehow tangled utterly convinced me that there was such a thing as fate and destiny. Speaking of, I just need to declare my adoration for the romance in the book. I would've loved I'll Give You The Sun as much without it but I'm so ecstatic that it was because I absolutely fell in love. Oscar and Jude are definitely an OTP to be reckoned with just as Joe and Lennie was.
"Meeting your soul mate is like walking into a house you've been in before – you will recognize the furniture, the pictures on the wall,the books on the shelves, the contents of drawers: You could find your way around in the dark if you had to."
The writing and storytelling- it's pure poetry. It's art. I don't think any other writer would have thought to have alternating point of views from alternating timelines and actually made it work but Jandy Nelson totally did. Also, she was able to interweave such important matters in the book- grief, sexual identity, a coming-of-age kind of growth in the characters, family, sadness, joy, life- and Jandy did it brilliantly. I daresay that I'll Give You The Sun proved her writing genius.
I close my eyes and drown in color, open them and drown in light because billions and billions of buckets of light are being emptied on our heads from above.

This is it. This is freaking everything. This is the painting painting itself.
I'll Give You The Sun is phenomenal, soulful and completely breath-taking. Seriously, this deserves all the stars and the sun and much much more. I'll be recommending I'll Give You The Sun till the end of time.