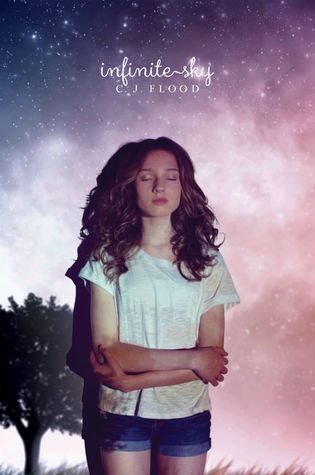 Infinite Sky

by C.J. Flood

Published by Atheneum BFYR on May 20th 2014

ARC from Blog Tour

Purchase on

Amazon

・

Fully Booked
Synopsis
A truly beautiful book about the summer that changed one girl's life, as her mum leaves home, travellers set up camp in the family's field, her older brother goes off the rails, and she falls in love for the very first time.

Opening with a funeral, Iris is mourning the boy in the casket - but who is it? Sam, her tearaway brother, or Trick, her tentative boyfriend? Over one long hot summer, we find out just how their three lives were turned upside-down.
I was easily enchanted with Infinite Sky's title and cover that I didn't think twice on reading it. With that, I plunged into the story head first, not really knowing what to expect aside from the main character becoming friends with a gypsy boy. Now that I think about it, the prologue should have been a major clue on what I was in for. I only thought of it as a hook (it definitely did a great job getting my reader self curious!), but I should have known it was a warning for what I was about to face: heartache.
And all the time the same question flails around my head, like a hawkmoth round a light-bulb: Is it possible to keep loving somebody when they kill someone you love?
Reading this one was rough. It really hurt. But before I get into that, I must say that I had trouble immersing myself in the book. To be honest, I felt like the first two thirds or at least the first half of the book were a little bland. We are introduced to Iris's family life and also to how her friendship with Trick, the gypsy boy whose traveller family settled down in their lands, starts. Don't get me wrong, Iris and Trick and everyone were interesting in the way that they were very well-characterized. Especially Iris, who is shown as innocent and good-natured, but viewed by her family as 'too thick and naïve.' Despite the fact that I quite liked her, I wasn't able to fully connect with her for some reason. Since the book is character-driven, this, along with the lack of eventfulness in the earlier chapters of the book, made it hard for me to love Infinite Sky Another thing was that I had trouble understanding the slang used in the book sometimes which is another reason I felt detached from the book sometimes.
"Some people can't fit the mold that's made for them. They get squashed in. And it's hard for them to leave, but it's harder for them to stay. They have to find other ways to be."
That said, the writing in Infinite Sky was beautiful. With the substantial focus on life, grief and guilt and the dark undertone of the story, the book comes across as powerful, especially in the last few chapters. I felt a little thrown by how things escalate in the final parts but I think that helped along the emotions I was looking for during the slower, earlier division of the book. Another area where this book just hit the right mark on was the way it expressed the discrimination toward the gypsies. While this was tough to tackle, Infinite Sky told this aspect in a very vivid manner, opening the reader's eyes.
I originally thought the book would focus on Iris and Trick but that wasn't entirely the case. We do get to see their friendship blossom into young love, and while I liked Trick because he was sweet and genuine, I wasn't invested in the romantic aspect. I was more gripped with the exploration of Iris's family members: a mother who left, a dad who was depressed and hateful, a brother who was utterly broken. Their family was in pieces and while reading about them grew increasingly painful, the violent intensity of the story had me convinced that CJ Flood was a remarkable writer.
I'll always chase him anyway, like a little sister, and always he'll be running just along at the edges of things, and always he'll be turning a corner, just ahead.
Infinite Sky left me with a heavy heart. While I appreciate that it was emotional and poignant, reading such a sad book sometimes felt exhausting. I wish there'd been more of a balance, as well as more to the story. Despite the fact that this one didn't quite move me as I'd hoped, Infinite Sky proved to be worth the read.