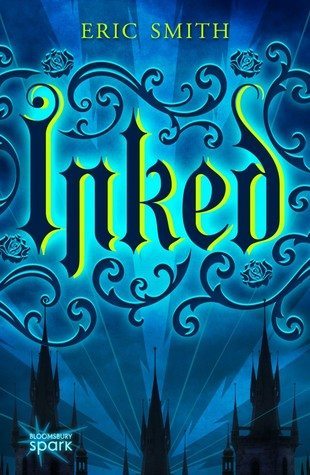 Inked

by Eric Smith

Published by Bloomsbury Spark on January 20th 2015

eBook from Author

Purchase on

Amazon
Synopsis
Tattoos once were an act of rebellion.

Now they decide your destiny the moment the magical Ink settles under your skin.

And in a world where Ink controls your fate, Caenum can't escape soon enough. He is ready to run from his family, and his best friend Dreya, and the home he has known, just to have a chance at a choice.

But when he upsets the very Scribe scheduled to give him his Ink on his eighteenth birthday, he unwittingly sets in motion a series of events that sends the corrupt, magic-fearing government, The Citadel, after him and those he loves.

Now Caenum, Dreya, and their reluctant companion Kenzi must find their way to the Sanctuary, a secret town where those with the gift of magic are safe. Along the way, they learn the truth behind Ink, its dark origins, and why they are the only ones who can stop the Citadel.

Eric Smith takes you on a high-octane fantasy adventure, perfect for anyone who has dreamed of being different… only to discover that fate is more than skin deep.
I knew I wanted to read Inked when I first heard about it- not just because it was the YA debut of Eric Smith- but because of the highly interesting notion of fate-controlling magical tattoos. I couldn't help but feel intrigued about a world where such a thing prevailed.
"Be fearless. Be bold. Be magic."
Upon reading, I was easily impressed by the writing. It was vivid and imaginative, perfect for a fantasy novel. That said, it took awhile to get into the story because I had quite a hard time connecting to the characters but more importantly, the protagonist, Caenum. The story starts with him planning to run away, afraid to get Inked and have it predict who he was supposed to be for the rest of his life. One of his initial sentiments from the very first chapter was how he didn't know himself (which was why he was hesitant about being Inked) and that was the only moment I identified with him throughout the story. I wanted to see more personal growth and depth from Caenum but alas, his and also Dreya and Kenzi's character development were minimal.
"Lose control once in awhile and your emotions will make you strong. Keep your heart open and they'll make you invincible."
The story itself also felt underdeveloped (the latter parts mostly) and pretty hurried. I think I can understand why though since this was a pretty short book (especially compared to most fantasies). If there had been more of Eric's rich writing like in the earlier parts of the book, the middle and the ending wouldn't have flopped and been so anticlimactic. That said, I appreciated the twist later on and also a couple of lines/quotes near the conclusion. Also, I thought the romance between Dreya and Caenum, who've been long time childhood friends, was sweet albeit predictable.
"Great things can happen if you just take the time to help, take the risk, take the chance."
Despite my reservations, Inked was a nice quick read. Ultimately, the unique idea of magical tattoos was the most remarkable thing about it. Inked was blooming with potential and could have been so much better if it had been more character-driven and elaborate but it was still an enjoyable adventure.