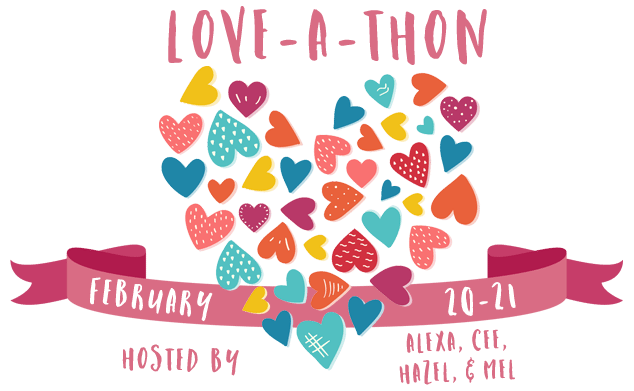 It's officially time to kick-off the most exciting event of the month! Bring out the confetti because Love-A-Thon is here! I'm so honoured to be co-hosting this event with Alexa of Alexa Loves Books, Cee of The Novel Hermit and Mel of The Daily Prophecy. I hope y'all are ready for all the fun, all the love and all the books you could possibly win. Bookish communities- the blogosphere, booktube and bookstagram are uniting to spread positivity and it's gonna be amazing!
To start, we're answering the interview questionnaire as an introduction and to get to know all our fabulous participants. My answers are below but we highly encourage everyone to check out responses from other participants. I can't wait to find out more about you guys!
QUESTIONNAIRE
1. What's your name?

Hazel. I have a second name but you'll never get that out of me. ;) More about me + random facts.
2. Where in the world are you blogging from?
Manila, Philippines where it's almost always summer-hot, unless it's raining.
3. How did you get into blogging in the first place?
I started a personal blog on a different platform, Tumblr to be specific, but wanted a more established book blog. So I created one on WordPress.
4. How did you come up with your blog name?
Thinking about why I wanted to blog, it came to me. Stay Bookish And it's just perfect. I've never wanted to change my blog name ever.
5. What genre do you read and review the most on your blog?

I'm a contemporary gal, always have been. I rarely review other genres.
6. What other types of posts do you do on your blog, apart from reviews?
In my two years of blogging, I realize I come up with a variety of content but I'm very random. I share quotes, discussions, tips, soundtracks, recaps, photography, and pretty much whatever I feel like. I like to keep my focus on books and blogging but sometimes I talk about my life too.
7. Best blogging experience so far?
Last year's BEA for sure! And speaking at the Blogger's conference and on a panel workshop at my local bookstore.
8. Favorite thing about the blogging community?

The connection between all of us. It is very real (though everything began online) and I realized that when I met up IRL with fellow bloggers locally or elsewhere. It's just amazing!
9. Name the 5 books you're most excited for this 2016!
I'm excited for the upcoming releases of some of my most favourite contemporary romance authors: When We Collided, P.S. I Like You and The Unexpected Everything. I'm also looking forward to a lot of debuts but most especially The Girl Who Fell and The Way Back To You!
10. Name the 5 books you want to read this 2016 that you didn't get to in previous years!

Six Of Crows, All The Rage, Making Pretty, Vengeance Road, Extraordinary Means. I know- why haven't I read them yet? Definitely this 2016!
11. What's an underrated book or series that you think everyone should read?
I wish everyone would read Melissa Keil's books! They're wonderful!
12. Which book boy or girl would be your book BFF?
I'd like to BFFs with Maggie from The One Thing. Maybe then I can have some of her sass.
13. Which book boy or girl would be your book boyfriend/girlfriend?
In a well-ordered universe, Frank Porter of course. <3
14. Who would you recruit for your apocalypse squad?
The Throne of Glass gang! Celaena, Aedion, Rowan, Dorian, Chaol. When I read Queen of Shadows, I knew I wanted to be amongst these characters should the world come to their end. They would not go down without an EPIC fight.
15. Apart from reading, what are your other hobbies or interests?
Photography, design, writing, travel.
16. Apart from book shopping, what else do you like shopping for?

Notebooks & Journals! And if you follow my Book in my Bag feature, you'll know I love cute bags too!
17. At a party, the DJ suddenly changes the song – and it's your song. What song would be playing?
Midnight by M83. The line 'Look and see her eyes, they glow' just speaks to me! Whenever I put this song on, I always turn up the volume.
18. Pick out either a book you want turned into a film/TV show, or a film/TV show you want turned into a book.
Can someone write Jane The Virgin into book form please? Love that show.
19. What would your dream library look like?
I have Pinterest board for that!
Follow Stay Bookish's board Book Shelf Love on Pinterest.
20. Author you want to meet and sit down to tea with?
Jandy Nelson. I would love to ask her all about her writing process and how she comes up with such beautiful and amazingly unforgettable characters and romance. You know, while sipping tea with utter sophistication.
Love-a-Thon Participants
Updated as of Feb 21, 12pm EST.
Giveaway
Many thanks to our generous sponsors for donating prizes. Best of luck to everyone entering the giveaways!
US ONLY GIVEAWAY
prize pack consists of:
Winterspell by Claire LeGrand
Cabinet of Curiosities by Claire LeGrand
A Court of Thorns and Roses by Sarah J. Maas
Finding the Worm by Mark Goldblatt
Stone Field by Christy Lenzi (ARC)
Where You'll Find Me by Natasha Friend (ARC)
Underwater by Marisa Reichardt (ARC)
INTERNATIONAL GIVEAWAY
prize pack consists of:
The Manifesto on How to Be Interesting by Holly Bourne
How Hard Can Love Be? by Holly Bourne
Soulmates by Holly Bourne
Cassidy's Guide to Everyday Etiquette by Sue Stauffacher
Stone Field by Christy Lenzi (ARC)
Where You'll Find Me by Natasha Friend (ARC)
Underwater by Marisa Reichardt (ARC)
Join Us
Sign-ups will be open until midday of the 21st. Join us celebrate the love for the bookish community!