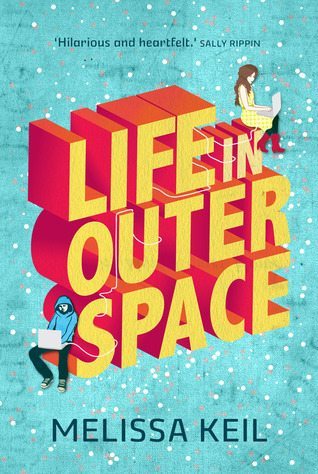 Life in Outer Space

by Melissa Keil

Published by Hardie Grant Egmont on February 1st 2013

Finished copy from Giveaway

305 pages

Purchase on

Amazon

・

Fully Booked
Synopsis
Sam Kinnison is a geek, and he's totally fine with that. He has his horror movies, his nerdy friends, World of Warcraft – and until Princess Leia turns up in his bedroom, he doesn't have to worry about girls.

Then Sam meets Camilla. She's beautiful, friendly and completely irrelevant to his life. Sam is determined to ignore her, except that Camilla has a life of her own – and she's decided that he's going to be part of it. Sam believes that everything he needs to know he can learn from the movies... but now it looks like he's been watching the wrong ones.
Some books make you want to crawl inside the story and just fist bump all the awesome characters. That would be Life In Outer Space for me. Let's see, I was laughing from page one, grinning from ear to ear in between, heart soaring as I flipped the last page. Saying I enjoyed this one would be an understatement.
"I think I would give up movies for this feeling."
There's much to say about the main character, Sam, but here's one to start: He's a total geek. As an aspiring screenplay writer, he's all about movies- horror, most especially. With his band of geeky friends, Mike, gay karate extraordinaire, Adrian, unreserved candy bar addict, and Allison, quiet manga-lover, Sam treads through high school, hoping to avoid bullies aka The Vessels of Wank. However, as new girl, Camilla, comes into Sam's high school and into Sam's life, their group's status quo becomes more amusing than ever.
"I realize that Camilla is our very own statistical anomaly, an outlier that no one seems to know where to place."
Basically, I loved every single person in this story. Although most were inspired by stereotypes, there's no doubt that everyone was three-dimensional, especially Sam. Having a male narrator like him was so refreshing. I loved how he was always musing, how rampant his thoughts were, and how substantial his character was. He was extremely witty and I loved how being a geek was so natural to him. That said, he was uncertain about a lot of things and was mostly just trying to get through it all- family problems, high school life, the awkwardness of being a teenage boy. He was remarkably tangible, not to mention completely lovable too.
"Before I met you, all I wanted was just to fast-forward through everything. But, really, I think my life was just paused, or something. You… made me press play. You made everything move."
Just like Sam, the people around him were as delightful and entertaining. I loved Sam's friendship with Mike, Adrian, Allison and Camilla so so much. They didn't make being geeks cool, just utterly enjoyable. I wanted them to be real already so we could all be BFFs. I adored their geeky references, their jovial banter, their I-got-your-back bond. I loved that Camilla and Sam were such good friends before their relationship turned towards a romantic direction. They got each other and supported one another. I think staying friends would also have been great, but I'd be lying if I didn't say that I found the friendship-turned-romance angle between them absolutely sweet.
"You protect my dwarf. You always have her back. And you have a dimple when you smile that's so cute I almost died the first time I saw it."
If you're looking for quirk and fun, Life In Outer Space has heaps of it. From the characters down to the dialogue and plot, this book was so hysterically entertaining. Romantic comedy fans and contemporary lovers are sure to enjoy this one. I cannot recommend Life In Outerspace enough!
Rating: