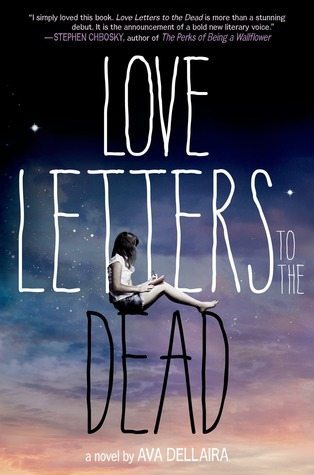 Love Letters to the Dead

by Ava Dellaira

Published by Farrar Straus and Giroux on April 1st 2014

ARC from Publisher

336 pages

Purchase on

Amazon

・

Fully Booked
Synopsis
It begins as an assignment for English class: Write a letter to a dead person.

Laurel chooses Kurt Cobain because her sister, May, loved him. And he died young, just like May. Soon, Laurel has a notebook full of letters to the dead—to people like Janis Joplin, Heath Ledger, Amelia Earhart, and Amy Winehouse—though she never gives a single one of them to her teacher. She writes about starting high school, navigating the choppy waters of new friendships, learning to live with her splintering family, falling in love for the first time, and, most important, trying to grieve for May.

But how do you mourn for someone you haven't forgiven?

It's not until Laurel has written the truth about what happened to herself that she can finally accept what happened to May. And only when Laurel has begun to see her sister as the person she was—lovely and amazing and deeply flawed—can she truly start to discover her own path.

In a voice that's as lyrical and as true as a favorite song, Ava Dellaira writes about one girl's journey through life's challenges with a haunting and often heartbreaking beauty.
There are books that make you see the beauty and power of words and at the same time make you at a loss for them. Love Letters To The Dead was just that. It left me tongue tied, heavy-hearted yet amazed and inspired.
Every time we speak, there is a voice. There is that world that answers back.
Saying I loved this book doesn't feel enough. Laurel's letters, while addressed to renowned dead people, like Kurt Cobain, Judy Garland, Elizabeth Bishop, Amelia Earheart, River Phoenix and Janis Joplin, spoke to me in more ways than I could count with my fingers. Laurel, the main character, deals with missing her sister, the person she loved and looked up to the most. I related not only to her grief, which was overwhelmingly heart-breaking, but also to her endeavors as a young girl finding love and belongingness.
I still don't know how to make sense of the world. But maybe it's okay that it's bigger than we can hold on to. Because I think that by beauty, you just don't mean something that's pretty. You mean something that makes as human.
I don't like comparing books often but I feel the need to mention how Love Letters was very similar to Chbosky's Perks Of Being A Wallflower, one of my most favorite books. Aside from both stories being told in letters, Love Letters' undertone was quite like Perks'- obscure and contemplative. While Laurel and Charlie's voice have some resemblance, I feel that Love Letters To The Dead still holds up on its own. Ava Dellaira's prose is distinctive, her story as striking and unforgettable as Chbosky's.
I think a lot of people want to be someone, but we are scared that if we try, we won't be as good as everyone imagines we could be.
Even with Ava's smooth writing, Love Letters To The Dead was difficult to read and I only mean that in the best light possible. While I'm often drawn to upbeat contemporaries, there's something about reading dark and brave stories such as this one that fills me completely. I felt close to Laurel, and also to her friends, family and her love interest, Sky. Each of the characters had demons of their own to take down and I loved how their character growth intertwined with the protagonist's.
Maybe that's what being in love is. You just keep filling up, never getting fuller, only brighter.
Aside from this, I also loved the way the story emphasized the music and poetry of the people Laurel was writing to. I appreciate how they were weaved into the book and I believe they made the story even lovelier. Love Letters To The Dead digs deep into the lives of these dead people whom Laurel's letters are addressed to and provokes readers to think about truly living.
You think you know someone, but that person always changes, and you keep changing, too. I understood it suddenly, how that's what being alive means. Our own invisible plates shifting inside of our bodies, beginning to align into the people we are going to become.
Stories such as these are delicate but also poignant and emotional. Love Letters To The Dead was an excellent debut and I wholeheartedly recommend it to readers who are looking for a novel to stir their heart and soul.
Rating: