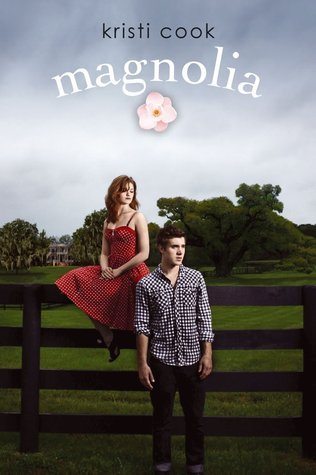 Magnolia

by Kristi Cook

Published by Simon & Schuster on August 5th 2014

ARC from Blog Tour

Purchase on

Amazon
Synopsis
In Magnolia Branch, Mississippi, the Cafferty and Marsden families are southern royalty. Neighbors since the Civil War, the families have shared vacations, holidays, backyard barbecues, and the overwhelming desire to unite their two clans by marriage. So when a baby boy and girl were born to the families at the same time, the perfect opportunity seemed to have finally arrived.

Jemma Cafferty and Ryder Marsden have no intention of giving in to their parents' wishes. They're only seventeen, for goodness' sake, not to mention that one little problem: They hate each other! Jemma can't stand Ryder's nauseating golden-boy persona, and Ryder would like nothing better than to pretend stubborn Jemma doesn't exist.

But when a violent storm ravages Magnolia Branch, it unearths Jemma's and Ryder's true feelings for each other as the two discover that the line between love and hate may be thin enough to risk crossing over.
Sometimes you read a book and you're surprised by how much you enjoyed it. Magnolia definitely was such a lovely surprise of a book. From the very first chapter, I was quite hooked and eager to see through the novel. I adored the story and totally swooned over the romance!
"Our families have been desperate to unite through matrimonial bliss for as long as anyone can remember."
Turn Romeo and Juliet upside down and you'll get Magnolia. Unlike the Montagues and Capulets who've been mortal enemies for the longest time, Ryder and Jemma's families have been best friends forever. For generations, these two families have wanted to unite but their wish has been for nought- that is until Ryder and Jemma. This particular backstory was introduced almost immediately and was what got me really interested in the book! Despite the twists, I loved the Romeo and Juliet parallels! Almost all the characters are inspired by the drama- Ryder, Jemma, Rosie, Mason, Ben, Tanner, Patrick. There's even a balcony scene! Yep, totally adorable.
"As for Ryder Marsden, I hope a tree falls on him. I hope his cuts get infected. I hope a water moccasin gets him good. That'll serve him right, the self-centred jerk."
Ryder Marsden and Jemma Cafferty almost resemble the aforementioned star-crossed lovers, except that they hated each other. Immensely. The two were actually childhood best friends before, having been pretty much wedded by their parents from the day they were born and all that, but things changed and the two argue violently every second of the first half of the book. They hated each other so much it was almost funny and delightful. Or maybe that's just my adoration for love-hate relationships talking.
"I want the opportunity to.. I don't know.. spread my wings and fly a bit more before I come back home to roost, you know?"
Anyway, aside from enjoying the love-hate and constant banter, I also liked a few other things! Particularly, Jemma who is the book's main character. Even though she was stubborn and irritable when it came to Ryder, I liked her voice and her southern princess sass! Despite being an excellent shooter and a cheerleader, she struggled with wanting to be more than what she was. I related to that and the way she wanted to pursue something (film) but was unsure if she could make her dreams happen. Obversely, Ryder, ever the golden boy, was already was so sure of himself and of what he's going to do with his life. Girls, get ready to drool swoon over Ryder. Seriously, the boy is a gentleman and is incredibly charming!
"I was meant to do this, I realize. I was made to kiss Ryder Marsden. Everything about it is right, like the last piece of a puzzle falling into place."
The romance was definitely my favourite aspect of Magnolia! I loooooved the build-up of Ryder and Jemma's relationship! Like I said, the two hated each others guts early in the story. However, when a huge storm arrives and wrecks Magnolia Branch, Ryder and Jemma have to stay together, just the two of them, to keep safe. This was a great setup in my opinion, and I really admired how the hurricane was realistically portrayed too. I was actually reading this book in the midst of a typhoon so I quite liked seeing Ryder and Jemma experiencing relatively the same thing as I was at the moment. Anyhow, I really loved reading about the two during the storm part- how they protected and comforted each other, their talks and moments together! I really liked watching Jemma and Ryder fall in love- their chemistry was fantastic!
"Love, hate. Such a fine line between the two, isn't there?"
As a whole, I highly recommend Magnolia to fans of classic retellings and YA romances! The Mississippi setting, the Romeo and Juliet resemblance and the love story made for an awesome novel and I absolutely was fond of it!
Playlist:
i. "Boys 'Round Here" by Blake Shelton ft. Pistol Annies
ii. "Too Close" by Alex Clare
iii. "Gunpowder & Lead" by Miranda Lambert
iv. "Changes in Latitudes, Changes in Attitudes" by Jimmy Buffett
v. "Pontoon" by Little Big Town
vi. "We Are Done" by The Madden Brothers
vii. "Check Yes Juliet" by We The Kings
viii. "Just a Kiss" by Lady Antebellum
ix. "My Tears Are Becoming a Sea" by M83
x. "My Kind of Crazy" by Brantley Gilbert
xi. "Story of My Life" by One Direction
xii. "Love Story" by Taylor Swift
Kristi provided the playlist above and the songs are seriously perfect for the book! Most of them are very country and really give off the vibe of Magnolia's story. I totally had 'Check Yes Juliet' in mind too while I was reading! Definitely give this playlist a listen. :)
Giveaway:
a Rafflecopter giveaway