Hello, August
Save-the-date releases
Books I'm Looking Forward To


Book-to-movie Adaptation
08/15 – The Giver (I'm really really excited to watch Brenton Thwaites here. MEHEHEHE.)
08/22 – If I Stay (DAMMIT I AM READY FOR ALL THE FEELS!!!!)
Upcoming events
#AlexLondoninPH

#30daysofbookstagrams – August 2014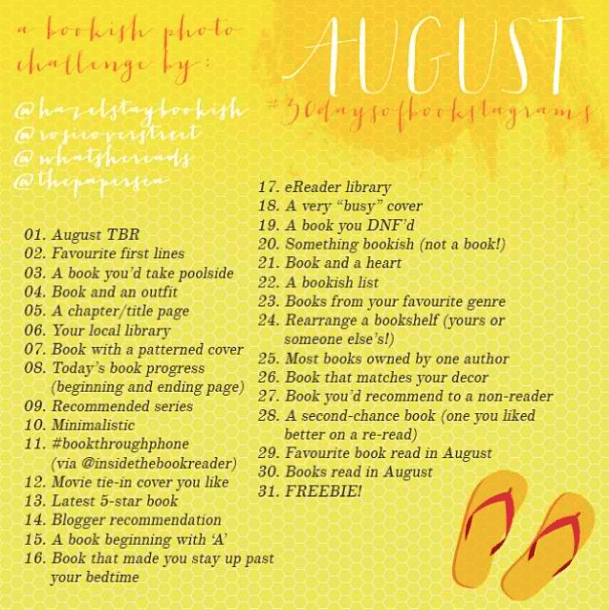 Can't believe we're doing the photo challenge again for the third time in a row!!!! As always, Georgie of What She Reads, Rosie of Rosie Reads and I, and now with Nikki of The Paper Sea too, are looking forward to taking lots of bookstagram photos! We hope you can join us! :)
To check out all the awesome bookstagrams, search the hashtag or follow our instagrams:
Georgie's Instagram // Rosie's Instagram // Nikki's Instagram // Hazel's Instagram
On the blog
I am planning a full comeback this August! I know I've been very out of things as of recent, and I wanna blog regularly again! I have lots of catching up to do with reviews so I'll be doing several mini-review posts through out the month. I'll still try to write full reviews though. I am also hoping to launch a new blog series/feature this month! Really hoping August will be an awesome month for the blog!
Goodbye, July
Things that happened
Trying to get over my blogging slump – Mission accomplished.
I MET STEPHANIE PERKINS *flails* – Because I was still on a slump at the time, I wasn't able to post about my (seriously awesome) experience during her book signing tour. Anyway, I had a great time and was super super happy to have met her.
I #READISLA!!!! – This deserved a bullet of its own, duh.
Schoolwise – Prelim exams got me busy! Survived though!
I joined The Big Blog Exchange – I swear, I'm not the type who joins competitions like these but damn do I really want to win and travel. Sometimes I think it's such a faraway goal and it's hopeless but I'm trying to push away that pessimistic side of me and hope for the best. To read more about why I joined BBE, and how you can help me win it, check out this post.
I became a part of Bookbed – I love being a part of a community (albeit small atm) that is so so passionate about reading and advocates spreading the love for the written word. ♡
Books read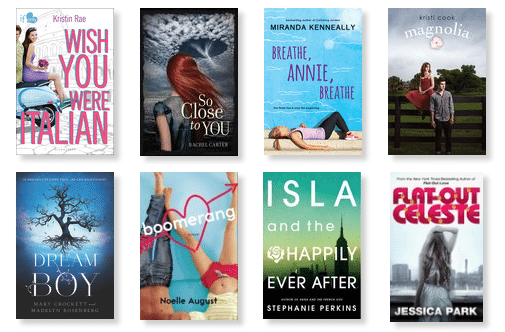 Flat-Out Celeste by Jessica Park (4.5/5)
Isla and the Happily Ever After by Stephanie Perkins (5/5)
Dream Boy by Mary Crockett and Madelyn Rosenberg (3.5/5)
Magnolia by Kristi Cook (4/5)
Breathe, Annie, Breathe by Miranda Kenneally (5/5)
So Close To You by Rachel Harris (3.5/5)
Wish You Were Italian by Kristin Rae (4/5)
Total books read for July 2014: 8 books
Reading Challenge progress update: 82/150
Blog Posts
Book Hauls: #21 (The Hiatus Haul) // #22 (Mailbox Goodies)
Reviews: Dream Boy // Breathe, Annie, Breathe // Just Like The Movies
Novel Portraits: Behind The Lens with Yuri // Over The Weekend Photos
Cover Reveal: Conspiracy Girl
Discussion: Stuck In A Blogging Rut
Miscellaneous: Why Read // Taking Chances
On replay
"Latch" by Sam Smith – I'm not even going to explain why I love this song! LISTEN TO IT.
Lovely words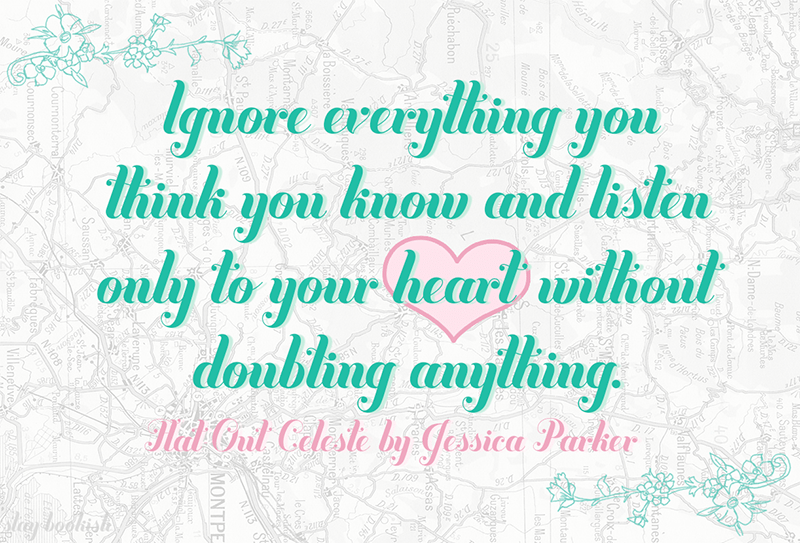 How was July for you? What are you looking forward to this August?