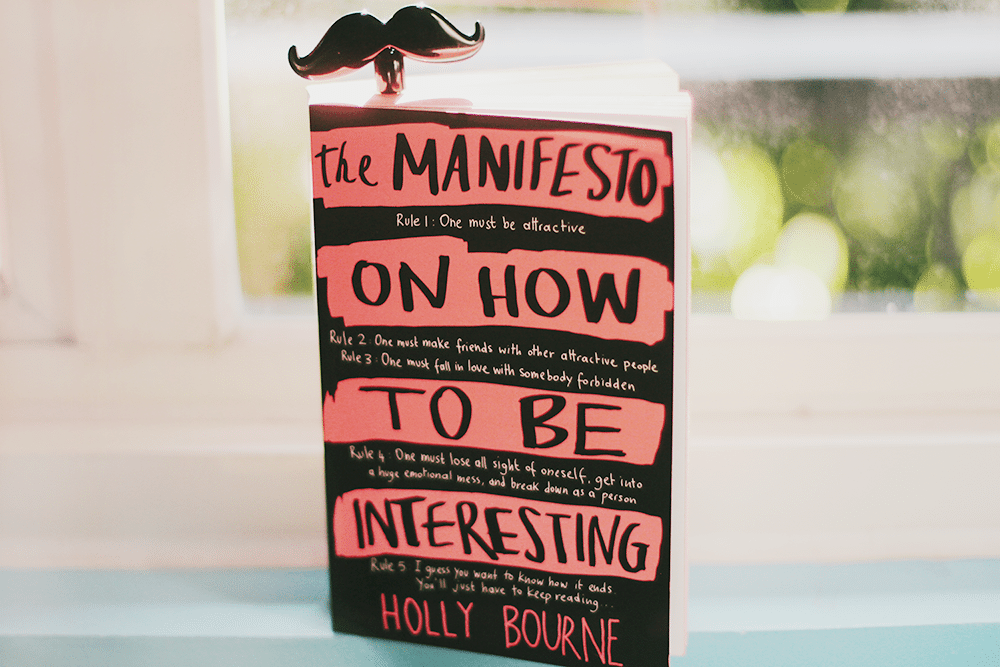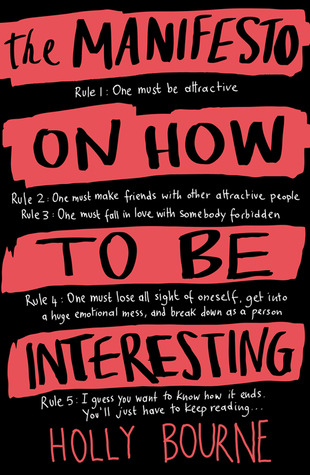 The Manifesto on How to be Interesting by Holly Bourne
Published by Usborne Publishing on August 1st 2014
Finished copy from Publisher
448 pages
Purchase on
Amazon
・
Fully Booked
Synopsis
Apparently I'm boring. A nobody. But that's all about to change. Because I am starting a project. Here. Now. For myself. And if you want to come along for the ride then you're very welcome.

Bree is a loser, a wannabe author who hides behind words. Most of the time she hates her life, her school, her never-there parents. So she writes.

But when she's told she needs to start living a life worth writing about, The Manifesto on How to Be Interesting is born. Six steps on how to be interesting. Six steps that will see her infiltrate the popular set, fall in love with someone forbidden and make the biggest mistake of her life.
From the bestselling author of Soulmates comes a fearlessly frank take on school, cliques and crushes.
I know I'm not alone in wondering just what exactly it is that makes a person interesting. With that, I was easily interested by Holly Bourne's sophomore novel just from the title itself. And did I learn how to be interesting from reading this book? All I can say is that there's so much more to take from The Manifesto On How To Be Interesting than just that.
"This is the Manifesto On How To Be Interesting. I'm going to pinpoint exactly what it is that makes a person worth caring about and then do it. I'll let you know how I get on. It's not going to be easy. But then interesting things never are, are they?"
The book's heroine, Bree, is a talented writer but also a very unhappy teenager. The polar opposite of popular, Bree only has her absent parents, her geeky bestfriend, Holdo, her smarts and her passion for writing going on for her. While she usually doesn't give a crap about her miserable life at her expensive yet superficial high school, the realisation that her writing is never going to get published until she writes about something interesting hits her hard and changes her mind. So she starts a blog, The Manifesto On How To Be Interesting, where she writes about her endeavours to reinvent herself as an interesting person.
"Life is so bloody hard. I don't want the whole struggle to be pointless…  I want to damn well make sure I leave a mark in this world in exchange for all the misery. I need to be interesting, Logan, I need to be someone. Because otherwise… I'm just sad and lonely and confused and it's all for nothing."
One of the things that I positively adored about this book is Bree's voice. It was undoubtedly realistic, relatable and engaging. Bree was not at all hard to like as you really can't help but put yourself in her shoes. I admit that in an effort to fit in once upon a time, I dissected what interesting meant for most people and tried to be it. I couldn't help but identify with Bree in that way. But really, it was the honest way that she recounted her feelings that allowed me to really connect with her. It didn't hurt that she was also witty and quite comical and I laughed myself silly at the banter she makes. So awesome main character? Check.
"Why are we so scared of admitting to each other: 'I'm messed up' or 'I'm lonely' or 'That really hurt my feelings'?"
Nevertheless, Bree is imperfect and makes some stupid decisions regarding her romances. This certain aspect was probably my biggest frustration in the book but I do get that the Bourne probably thought it necessary for Bree's character development. I did like that everyone's flaws were laid out though. Bourne was keen on exposing her characters, why they do the things they do and she does it in a manner that's truthful and makes you ponder about real life. The context of being in high school most especially the bullying, the 'perfect posse', the facades people keep and the way looks and popularity changes things plays a huge role here and the portrayal was just as authentic.
"Choose life. Choose love. And always remember to live."
Interesting does not even begin to explain what this book is. It's hopeful and heart-breaking and uplifting. It's life. Enjoyable and not without depth, The Manifesto On How To Be Interesting is a remarkable contemporary read for young adults.