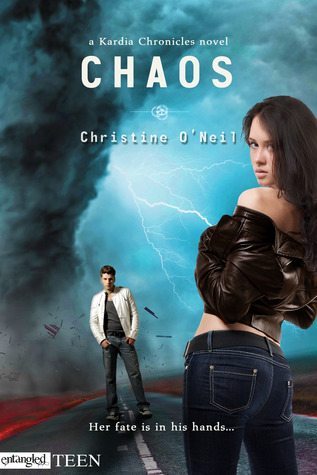 CHAOS

by Christine O'Neil

Book #1, Kardia Chronicles

Published by Entangled Teen Ember on August 19th 2013

ARC from Netgalley

Purchase on

Amazon
Synopsis
My name is Maggie Raynard. After sixteen years being just plain me, suddenly, when I lose my temper, my fingers become weapons of mass destruction. Turns out I'm a semi-god, descended from Aphrodite. Sounds cool in theory, but when I accidentally put my ex-boyfriend in a coma, things go downhill pretty fast.

Now some new guy named Mac Finnegan has made it his mission in life to continually piss me off. I'm stuck learning how to use my new powers while also dealing with regular high school problems, and with this annoying—and super-hot—guy all up in my business, I'm about to flip out.

But it gets worse. I just learned there's this watchdog council of semis who keeps an eye out for any bad apples. They think I'm the baddest of the bunch and want to take me out before I do any more damage. My nemesis Mac might turn out to be my salvation, only he's got secrets of his own...and they may just kill us both.
Maggie's nemesis, Mac Finnegan, is extremely hot. Great physique, beautiful face, a holy-mother-of-god smile, charming gray eyes and an Irish accent to match- Mac is totally a dream boat. Add in that mysterious yet confident vibe he's got going on to those dashing good looks, he could have easily been my favorite character. But no, he isn't. I gotta say- it was Maggie's character I enjoyed most.
Maggie, the main protagonist, despite being the usual angsty teenage girl who makes really questionable decisions, was ridiculously funny.
"He was wearing his standard tan jacket that clearly wasn't meant for this weather, his hair perfect as usual, and I had to fight the urge to lean in and smell him. Weirdo alert. Ugh. Why did I want to sniff and grope the enemy? Was I some kind of masochist?"
I found myself laughing out loud a LOT of times. Maggie had a knack for sarcasm and profanity which was just really amusing. She was also hella ballsy and opinionated and I really liked that. There were moments I felt unable to relate to her but I thought her attitude and personality was really resplendent.
The other characters paled in comparison but I was fond of reading about their interactions with Maggie. Maggie's BFFs, Libby and Bink were interesting enough. I particularly liked how Bink called Mac 'Fake Gyllenhaal.' Speaking of Mac, his relationship with Maggie was pretty entertaining. Even though they hated each other with a burning passion initially, the attraction between them was magnetic! Their banter was so hilarious and delightful!
I did have a few reservations with Chaos. When I dove into this, I was really excited about the mythology aspect and although the author presented a refreshing outlook on the topic, I wished we were able to learn more about the world she has introduced to us. The plot also felt slow and stilted since it focused mostly on Maggie's training as a Kardia Aphrodite. But since I know that this is a series, there are still a lot of opportunities for the storyline to pick up!
Chaos was a really fun read, featuring a bunch of cool characters. It's a compelling first book despite the drawn out plot. I did think the last chapters were pretty action-packed though! No cliff-hangers (thank god) but it'll definitely leave you wanting more! I can't wait for the next book!