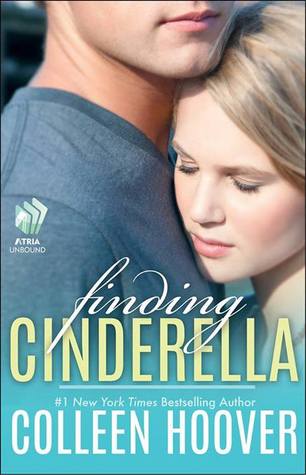 Finding Cinderella

by Colleen Hoover

Book #2.5, Hopeless

Published by Atria Books on October 14th 2013

Purchased copy from Fully Booked

90 pages

Purchase on

Amazon

・

Fully Booked
Synopsis
A chance encounter in the dark leads eighteen-year-old Daniel and the girl who stumbles across him to profess their love for each other. But this love comes with conditions: they agree it will only last one hour and it will only be make-believe.

When their hour is up and the girl rushes off like Cinderella, Daniel tries to convince himself that what happened between them only seemed perfect because they were pretending it was perfect. Moments like that with girls like her don't happen outside of fairytales.

One year and one bad relationship later, his disbelief in insta-love is stripped away the day he meets Six: a girl with a strange name and an even stranger personality. Daniel soon realizes the way he pretended to feel about Cinderella and the way he really feels about Six may not be so different after all. Especially when the two loves of his life end up being one in the same.

Unfortunately for Daniel, finding Cinderella doesn't guarantee their happily ever after…it only further threatens it.
It's almost freaky how in love I am with Colleen Hoover's books. Seriously. When I heard about Finding Cinderella, I was so flipping excited. Daniel was such a great character in Losing Hope and I was thrilled to hear that he and Six were getting a story of their own together.
However, I've never really been a fan of novellas and short stories before because they're err… too short, I guess? That was until I read this. Finding Cinderella is just about a hundred pages but damn- it had me so head over heels with every single word. Colleen Hoover enchanted me yet again with this gorgeous and completely adorable book.
I equally enjoyed everything about it- the characters, the plot, the writing, the humor, the romance. Like I said, everything. It's amazing how such a short book can cover so much. I'd say I was disappointed that it wan't longer, but honestly, I wouldn't change a thing about the way the story was executed.
"I could care less who knows we're together. I'm not going anywhere and I don't want to go anywhere so stop thinking I'm into you because I'm not supposed to be into you." I lift my hands and tilt her face toward mine. "I'm into you because you're awesome. And because you let me accidentally touch your boob."
Daniel was his usual awesome self- still giving everyone funny nicknames and still charming the pants off readers with his hilarity. He always was a striking character but his voice here was completely engaging and thoroughly amusing. Daniel was easy to love but it shocked me just how much I fell for his character. I particularly reveled in his and Holder's cute friendship-slash-bromance and also Daniel's super hilarious family.
"Stop! Stop saying things that make me grin like an idiot. My face has been hurting since the second I met you."
Six was also a delight to read. She was as quirky, silly and full of personality as Daniel. Their exchanges were extremely comical and fascinating- there was no denying that the two had incredible chemistry. The pacing of their romance was quick, given the time limit that they had, but never did it feel hurried. In fact, it felt absolutely right. The story lives up to the fairytale "Cinderella" aspect, as it was totally romantic and sweet, almost a little too good to be true. Still, Colleen Hoover manages to bring us to reality as she throws in a huge hurdle (that I really did not expect at all), complete with lots of hurt and emotion.
It feels sort of euphoric, like we're in some sort of fairytale. Like she's Tinkerbell and I'm Peter Pan. No, wait. I don't want to be Peter Pan. Maybe she can be like Cinderella and I'll be her Prince Charming.
Really though, there isn't a single reason why you shouldn't be picking up this book right now. This story is  just wonderful. Finding Cinderella made me smile, laugh and swoon- it was a splendid novella, probably the best I've ever read. I utterly recommend it!
Rating: