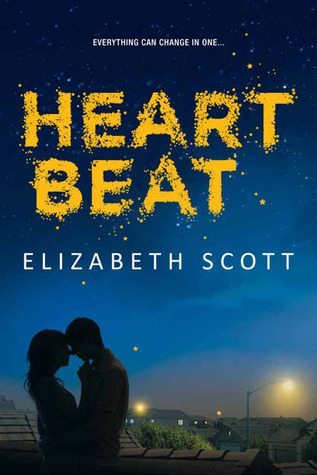 Heartbeat

by Elizabeth Scott

Published by Harlequin Teen on January 28, 2014

304 pages

Purchase on

Fully Booked
Synopsis
Does life go on when your heart is broken?

Since her mother's sudden death, Emma has existed in a fog of grief, unable to let go, unable to move forward—because her mother is, in a way, still there. She's being kept alive on machines for the sake of the baby growing inside her.

Estranged from her stepfather and letting go of things that no longer seem important—grades, crushes, college plans—Emma has only her best friend to remind her to breathe. Until she meets a boy with a bad reputation who sparks something in her—Caleb Harrison, whose anger and loss might just match Emma's own. Feeling her own heart beat again wakes Emma from the grief that has grayed her existence. Is there hope for life after death—and maybe, for love?
At this point, I've read most of Elizabeth Scott's books but none of them was able to touch my heart and gut me like Heartbeat. Many books have tried to grasp the concept and the feeling of grief but only few actually manage to. I can say with assurance that this book is one of the special few.
If everything matters, then nothing can because it's all the same. And if it's all the same, then nothing is ever special. And shouldn't there be- aren't there- special things? People?
It's hard to explain how I ended up loving this book so much. I honestly didn't expect all the feelings that came rushing through me as I read on. Heartbeat ripped my heart out and had me reeling. There's so much sadness that I felt like the book was screaming at me saying, "This is how it feels to hurt." What amazed me even more is how the writing conveys the story so genuinely.
Heartbeat explores a teenage girl's struggle to come in terms with life, death, family, and love. Emma is a tough character to read- she's so mad and she continually pushes her stepfather away. She's lost her drive for school and she makes little effort to be social. Her world is a small one, consisting of her stepfather, her brain dead mother, and her best friend. The rest is a sea of hurt for the things that have happened and for the choices that she wasn't part of. I could've easily disliked Emma for her ire but all I felt was empathy and recognition for the internal turmoil she was in.
I felt the same for Caleb, Emma's bad-boy love interest. He is just as broken and lonely as her. I think the author did such a great job painting the grief that Emma and Caleb felt which is ultimately why their connection just felt so right. It was lovely, seeing the two get closer, seeing them find hope in each other.
One heartbeat, two heartbeats, three heartbeats, more, and you never know when you have used yours up. That's the thing. You don't know. How long will your heart beat for?
The extent of our human lives is such a delicate thing but this novel splendidly reflected it. Achingly raw, Heartbeat is Elizabeth Scott's most beautiful novel to date.
Rating: