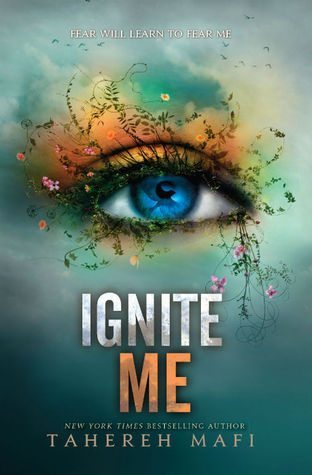 Ignite Me

by Tahereh Mafi

Book #3, Shatter Me

Published by HarperCollins on February 4th 2014

Purchased copy from Powerbooks

408 pages

Purchase on

Amazon

・

Fully Booked
Synopsis
The heart-stopping conclusion to the New York Times bestselling Shatter Me series, which Ransom Riggs, author of Miss Peregrine's Home for Peculiar Children and Hollow City, called "a thrilling, high-stakes saga of self-discovery and forbidden love."

With Omega Point destroyed, Juliette doesn't know if the rebels, her friends, or even Adam are alive. But that won't keep her from trying to take down The Reestablishment once and for all. Now she must rely on Warner, the handsome commander of Sector 45. The one person she never thought she could trust. The same person who saved her life. He promises to help Juliette master her powers and save their dying world... but that's not all he wants with her.

The Shatter Me series is perfect for fans who crave action-packed young adult novels with tantalizing romance like Divergent by Veronica Roth, The Hunger Games by Suzanne Collins, and Legend by Marie Lu. Tahereh Mafi has created a captivating and original story that combines the best of dystopian and paranormal, and was praised by Publishers Weekly as "a gripping read from an author who's not afraid to take risks." Now this final book brings the series to a shocking and satisfying end.
I've never had such a crazy reading experience in my life before until Ignite Me came around. I was crying, swooning, laughing, bursting, shattering, unravelling and igniting all over the place as I took in this book's splendour. To quote one of the best characters in this book: "This shit is bananas."
I've previously expressed (here), that I think Tahereh Mafi is a genius. She's also an insanely talented writer. Mafi, I would like to believe, has this magical power over words. She puts them together in a sentence, doing away with coherence and punctuations at times, and her words just amaze you. They're so completely raw and ardent and they stir so many emotions. With this third and final installment, Mafi completely grips readers with her profoundly beautiful writing and her awe-inspiring characters.
I think what makes the Shatter Me series really stand out, aside from Mafi's writing style, is the way Juliette, the story's heroine and protagonist, is empowered. Juliette has always thought of her power as terrifying and destructive. As the series goes on, and most importantly in Ignite Me, Juliette learns that her power can be also be liberating and exhilarating. That her power comes not from her touch but from within her.
We are quotation marks, inverted and upside down, clinging to one another at the end of this life sentence. Trapped by lives we did not choose.
The change in Juliette's perspective and mentality is truly striking. She's come such a long way already but even then, she's still second-guessing herself a lot. With Ignite Me, however, she's more grounded than ever before. Juliette is finally ready to stand up and get some sweet, sweet revenge. She's finally found her voice and she's finally ready to speak up and become a leader. It was breath-taking, watching her character grow. Even merely as a reader, I felt a sense of pride for Juliette- like being there for her as she rose and got ahold of her strength also empowered me. In many ways, it did. Mafi sends such a powerful message to everyone who has ever hated herself or felt like a coward: Stop living in fear. Fight back. Break free.
Juliette isn't the only one who appears to have changed in this last book. Adam, one of the male leads and Juliette's first love, also transformed right before my eyes. I've never been on Adam's team but I've never hated the guy. Not that I hate him now too… but his attitude here was just so different from before. I do understand where the bitterness comes from, why he's so hopeless and angry and desperate. I really do. But if I were being honest, he was insufferable and more often than not, I wished Juliette would kick him in the head. Having said that, part of me thinks that this difference in Adam also pushed Juliette to become even stronger.
Words, I think, are such unpredictable creatures. No gun, no sword, no army or king will ever be more powerful than a sentence. Swords may cut and kill, but words will stab and stay, burying themselves in our bones to become corpses we carry into the future, all the time digging and failing to rip their skeletons from our flesh.
Ultimately though, I think Warner's encouragements helped Juliette more. I loved loved loved the way he believed so much in Juliette. I've sided with Warner's character (GO TEAM WARNER!) ever since the first book and most especially after reading Destroy Me. Ignite Me reminded exactly why I shipped him with Juliette. Warner is always so intense and passionate- and it's incredible. How much he loved Juliette, how much his heart ached, how much he hurt. I felt for him and I cried for him and I can't deny that my heart is totally, completely his. Aside from glimpsing Warner's emotions, I loved seeing how smart, keen and thoughtful he was. Basically, I fell for him all over again. Since I'm already talking about how bad I got it for Warner, let me just take a moment to reminisce how gloriously scorching Chapter 55 was. I LITERALLY WAS AT THE EDGE OF MY SEAT. Thank god, I didn't fall over. Seriously, so much hotness. Ignite Me is probably the sexiest dystopian novel out there.
Aside from the sexiness, Ignite Me also had hilarity to it all thanks to the secondary characters. Kenji shall go down in history as one of the best secondary characters in YA, I'm sure. He's Juliette's bestfriend and I adore him so freaking much. I love him for always being so frank and honest and for providing much needed comical relief. I love him for always having Juliette's back. I also adore James, Adam's little brother! The two made the story so much more refreshing.
For so many years I lived in constant terror of myself. Doubt had married my fear and moved into my mind, where it built castles and ruled kingdoms and reigned over me, bowing my will to its whispers until I was little more than an acquiescing peon, too terrified to disobey, too terrified to disagree. I had been shackled, a prisoner in my own mind. But finally, finally, I have learned to break free.
All in all, Ignite Me was phenomenal and extraordinary. Tahereh Mafi, you've perfected the series and I'm so completely grateful that your books came into my life. Igniting many hearts for sure, this series-ender was all I could have ever wanted and more.
Rating: