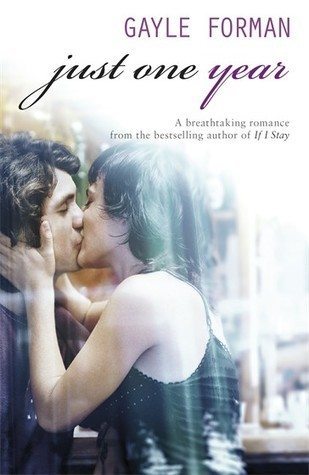 Just One Year

by Gayle Forman

Book #2, Just One Day

Published by Dutton Books for Young Readers on October 10th 2013

Purchased copy from National Book Store

352 pages

Purchase on

Amazon

・

Fully Booked
Synopsis
From the author of the international bestseller, IF I STAY, now a major film starring Chloe Grace Moretz.

Twenty-four hours can change your life . . .

Allyson and Willem share one magical day together in Paris, before chance rips them apart.

The romantic, emotional companion to Just One Day, this is a story of the choices we make and the accidents life throws at us.
But is one day enough to find your fate?

Perfect for fans of John Green and David Levithan.
I don't know why I even thought for a second that a Gayle Forman book could ever be less than amazing. Maybe it was because of the not-so-stunning reviews I read about Just One Year or the spoilers that I didn't mean to read. After finishing this book though, I just ABSOLUTELY LOVED it. I feel the need to tell you this: if you adore Forman because of the way she writes such inspiring stories, I think you'll fall in love with Just One Year as much as I did.
"Days like these go on for years. It's the ones you want to last that slip away—one, two, three—in seconds."
Just One Year had a slow start for me but only because I chose to read it at a slow pace firstly. I didn't have an easy connection with Willem as I did with Allyson before. I was worried that this might become a problem- that I wouldn't be able to enjoy the book because I couldn't put myself in Willem's context of emotions. But guys, Gayle just impressed me more (I didn't even know that was possible) with her ability to transform characters. In short, the character development, especially Willem's, was stupendous.
Willem is such an intricate character- there's more to him than meets the eye. Just One Year is his side of the story and I was pulled in by how complicated this guy was- he wasn't just a playboy actor or an experienced traveler. He was also a lost boy, dealing with grief, trying to look for a girl whose real name he could not even remember. He's a man who has been bruised, and who is still trying to find some direction. Willem is not just the charismatic Dutch we meet in Just One Day- he's a real person with real problems, problems that a lot of us could relate to. If I were being completely honest, I didn't like Willem all the time. As the story went on though, I found myself falling in love with him and his imperfections.
"There's a difference between losing something you knew you had and losing something you discovered you had. One is a disappointment. The other is truly a loss."
Like the first book, the background of Just One Year is ever so extraordinary. Willem's travels brings us to Amsterdam, Deauville, Cancun, Mexico, India and they're such lovely places. Gayle Forman matches her setting with her truly beautiful writing. It's amazing how I can never get enough of Forman's prose. I consider her a master of Contemporary YA, really. Forman's stories always have heart and they never fail to make you just stop and think about the world we live in, about the lives we have. Just One Year, not lacking Forman's life-ruminating undertone, was epically lovely.
Aside from Willem, Forman throws in a bunch of interesting side characters. Kate, Broodje, Mukesh, Yael, Daniel. They all contribute to the story as well as Willem's growth as a character. Forman interweaves so many people together- Willem is always meeting someone new or visiting friends and family and it's compelling how these people will leave a mark in Willem's journey.
"Because I understand all the ways of trying to escape, how sometimes you escape one prison only to find you've built yourself a different one."
Finally, while others weren't satisfied with the ending, I found myself feeling fulfilled upon reading it. Sure, I'm more than just a little curious what could have happened next, but the story felt complete to me. In my opinion, Just One Year was brilliant – I'd recommend it to everyone!
Rating: