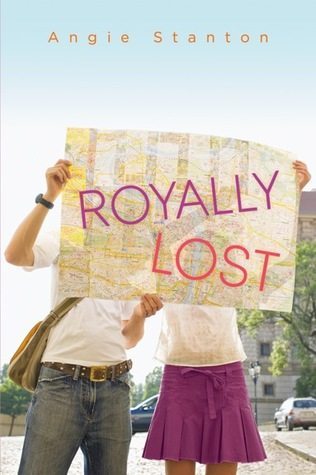 Royally Lost

by Angie Stanton

Published by Harper Collins on May 6th 2014

ARC from Edelweiss

336 pages

Purchase on

Amazon

・

Fully Booked
Synopsis
Dragged on a family trip to Europe's ancient cities, Becca wants nothing more than to go home. Trapped with her emotionally distant father, over-eager stepmother, and a brother who only wants to hook up with European hotties, Becca is miserable. That is until she meets Nikolai, a guy as mysterious as he is handsome. And she unknowingly finds herself with a runaway prince.

Nikolai has everything a guy could ask for-he's crown prince, heir to the throne, and girls adore him. But the one thing he doesn't have...is freedom. Staging a coup, he flees his kingdom and goes undercover on his own European tour.

When Nikolai and Becca meet, it's their differences that draw them together. Sparks fly as they share a whirlwind of adventures, all the while dodging his royal guard. But Becca's family vacation ends in a matter of days. Will Nikolai and Becca be forced to say goodbye forever, will his destiny catch up to him, or will they change history forever?
After reading an amazingly emotional, too-many-feels kind of book, I needed something that would make me laugh and make me smile. I just needed a book that would make me feel good. Royally Lost, which I then decided had lots of feel-good-book potential, was sadly a huge disappointment.
I don't say this often because it rarely happens to me but this book was just painful to read. Royally Lost is about Nikolai, a runaway prince who's looking to be free of his royal responsibilities and Becca, a bored tourist girl who was forced to go on a family trip around Europe. The story had such a beautiful setting so I was psyched. Plus I liked reading books about royalty, which again had me excited about this story. However, the book completely failed to deliver.
The first thing I was apprehensive about was that the story was told in third person. Still, even though I was uncomfortable with the narrative mode, I trudged on, hoping for the best. By a third of the book, I was positively as bored as Becca initially was. I normally don't DNF books but I was so so so tempted to do it with this one. But see- I really liked the plot even if it was a little bit cliche. I was holding on to the hope that something really interesting would happen that would at least make me give this one a two or three. After finishing the book though, I realized that my optimism was for nought.
My main issue with Royally Lost was the character development, which if you must know, is a heavy decisive factor for me when it comes to books.The two main characters annoyed me from start to finish. They just sounded so whiny what with Nikolai's "I don't want to be a prince anymore" attitude and Becca's "I hate all the ancient places around Europe" frame of mind. I was aware that certain parts, specifically both characters' family issues, were supposed to make me sympathise with them- but I just couldn't. There is so much telling going on here, but never enough showing.
"Today had turned out to be the best day ever. Nikolai had been the nicest, funniest guy she'd ever met."
*exasperated sigh* Becca would think of Nikolai as the funniest guy he's ever met and I'm like, "What? When was Nikolai funny?" and I'd go back and try and find the part he was funny because I might have missed it and realize that I just really don't find him all that funny. Basically, I was questioning whether Becca had met many funny people in her life. Having said that, there was only one part in the book that had me almost laughing and it was the one while they were swimming. (The circumstance was funny. Nikolai- not so much.) That earned the half point, actually.
"I can't imagine tomorrow without you. I never knew I could fall for someone so fast."
Another issue I encountered with this one was instalove. I rarely claim instalove when I write reviews but this one undoubtedly had it. They've said 'I love yous' already by the time Nikolai realizes he doesn't even know Becca's last name. Ughhh.
"I thought I was running away, but it turns out I was running to you. Becca, you've made my life worth living again and now I have to leave you. This is killing me."
If you've read any of my reviews before, you must know that I'm a sucker for everything that is cheesy. But no, the cheesiness in Royally Lost did not convince me. That really speaks a lot for how I felt about this book, actually. Sometimes, I felt like I was being too skeptical because I was rolling my eyes constantly throughout the book but it's not like I can undo my thoughts.
Anyway, Royally Lost was lost on me. Like, royally. (I'm just trying to be funny here because writing this review was just no fun at all.) I really did want to like the book, which was why I did my best to finish it, but I just wasn't able to like the characters much or at all. I can't say I'd recommend this to people because I obviously had a bad experience but hey, if anyone still wants to read it, I hope you have better luck and enjoy it more than I did!
Rating: