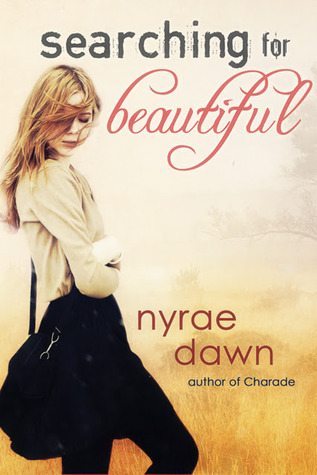 Searching for Beautiful

by Nyrae Dawn

Published by Entangled: Teen on March 4, 2014

287 pages

Purchase on

Fully Booked
Synopsis
Before, Brynn had a group of best friends, a loving boyfriend, a growing talent for pottery. She had a life. And after…she had none.

When Brynn lost the boyfriend who never loved her, the friends who feel she betrayed their trust, and the new life just beginning to grow inside her, she believes her future is as empty as her body. But then Christian, the boy next door, starts coming around. Playing his guitar and pushing her to create art once more. She meets some new friends at the local community center, plus even gets her dad to look her in the eye again…sort of.

But can Brynn open up her heart to truly find her life's own beauty, when living for the after means letting go of the before?
When life keeps knocking you down, sometimes you lose sight of who you really are. Brynn De Luca has lost so much- her mom, her dad's love, her boyfriend, her friends, her passion for pottery. She has disappointed and pushed away everyone in her life and she's left depressingly alone. When Christian Medina, her first crush, her first dance and old friend comes back to town, Brynn slowly gets closer to finding what she is searching for- herself.
It's funny how life moves in a complete circle sometimes. There might be lots of bumps in the road and maybe even a few cliffs, but it's a journey, and sometimes it can bring you to the most wonderful places.
From the several times I've read Nyrae Dawn, I expected that Searching For Beautiful was going to tug heartstrings. However, I have to admit, I wasn't convinced by the early chapters. I felt detached to Brynn because I didn't like how she wallowed in self-pity. At some point, I got to thinking that this book was going to be a disappointment. Gradually though, I began to like Brynn as she realized her mistakes and got over her grief. By the time I finished reading, what I first thought would be a letdown turned out to be a pretty inspiring story of heartbreak and opening up yourself to friendship and love.
"The world would be a much better place if everyone chilled out and indulged in a gummy bear every now and again."
"Yeah, might be the answer to ending world hunger."
"Screw that. It's the answer to world hunger and peace."
As much as I liked Brynn's character transformation, I didn't like her character as much as I did with Christian, her love interest. He remains to be my favorite person in the story. Christian with his love for his guitar and obsession with gummy bears was just so… lovable. As soon as he came in to the picture, I pretty much adored him already. He was a great male lead- sweet, swoony, but realistic. He's a give-it-too-me-straight kind of guy which was admirable but also a flaw of his. He doesn't hold back and that made him a tough critic sometimes but I love that Brynn points this out herself. They developed such an honest relationship and that, in my opinion, made the romance even better.
It's so easy, so easy to lock yourself up. To push people away because you think the pain isn't as much if you don't have to acknowledge it, but that's not true. It makes the hurt a million times worse not to share it with those who care about you. And there's always someone, I think. There has to be someone.
I'm sure it's pretty obvious, but I love reading romance. What Brynn and Christian had was built on trust and friendship and it was enjoyable to watch. I really liked that there wasn't any hurry and that it took time for things to really happen between them. The romance is why I take pleasure in reading Nyrae Dawn's books in the first place. She does them well, mixes enough emotion and angst, and creates really broken characters that the reader could care about.
"You think I'm beautiful?"
"Yeah, but it doesn't matter unless you think you are."
That said, Searching For Beautiful is more than just a story about falling in love. It's also about learning to love yourself. A book of healing and realizing your self-worth, I think Searching For Beautiful will appeal to many young adults.
Rating: