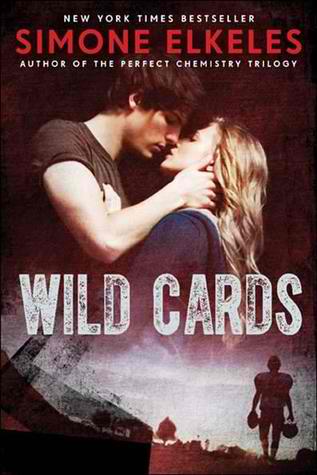 Wild Cards

by Simone Elkeles

Published by Walker Books on October 1st 2013

ARC from Netgalley

Purchase on

Amazon

・

Fully Booked
Synopsis
After getting kicked out of boarding school, bad boy Derek Fitzpatrick has no choice but to live with his ditzy stepmother while his military dad is deployed. Things quickly go from bad to worse when he finds out she plans to move them back to her childhood home in Illinois. Derek's counting the days before he can be on his own, and the last thing he needs is to get involved with someone else's family drama.

Ashtyn Parker knows one thing for certain--people you care about leave without a backward glance. A football scholarship would finally give her the chance to leave. So she pours everything into winning a state championship, until her boyfriend and star quarterback betrays them all by joining their rival team. Ashtyn needs a new game plan, but it requires trusting Derek—someone she barely knows, someone born to break the rules. Is she willing to put her heart on the line to try and win it all?
If you must know, my relationship with Simone Elkeles' books could be considered as insta-love. I fell hard for her books and her characters the moment I read Perfect Chemistry. I may have tried to do some serious acrobatics when I heard about Wild Cards. And then I saw the book's cover and I was flailing and dying to read the book even more.
"You need to go for what you want and not hold back. When you figure it out let me know, because I'll bet my left nut you have a goal but won't admit to yourself what it is."
The corner of his mouth twists upward. "You don't have a left nut, Ashtyn."
"Yeah, well you're acting like you don't have one either."
Derek Fitzpatrick was the highlight of this book for me. Kudos to Elkeles for being able to write male leads so fantastically. She has an affinity for writing bad boys and she does it well. I do, however, feel that Derek is more than just your usual bad boy. While he gets into fights, makes trouble, dislikes commitment and has an all-too-present-but-definitely-attractive smirk (typical bad boy persona), he's also a health nut, a southerner who enjoys mowing lawns (often without his shirt on), a master prankster, a caring brother, and a loving son. Like Derek says, he doesn't fit into a mold. I liked that and I feel that it made him stand out.
Being the only girl on the Fremont High football team, Ashtyn Parker has vowed to stay strong and never show a sign of weakness. While I liked her feisty attitude, Ashtyn tends to irk me often. She becomes needy (ironic since that's exactly what she doesn't want to be) and she claimed falling for Derek waaaay too early. Also, despite the constant mention of her passion for football, I felt that aspect was lacking. Anyhow, I enjoyed the way she challenged Derek.
"She doesn't have the balls to do it."
That is so insulting. "I have balls, Vic!"
"I knew it!" Jet wags his eyebrows and reaches for my waistband. "Let's see 'em, Ash."
The supporting characters were as endearing as the MCs! I liked that Ashtyn's friends and teammates hinted their own drama (making me oh so excited for the next books which will be about them). They were also sweet and supportive and I especially liked how the boys respected Ashtyn so much. The supporting characters were quirky and hilarious as well! I love Derek's grandma, who at first seemed like a snobby rich old woman. She turned out to be awesome.
Ashtyn and Derek's relationship didn't sail smoothly. The two annoyed the hell out of each other but they shared an undeniable attraction. I loved the tension between them! Oh, the angst! And then there's the amusing banter. I understand that some people may dislike their constant bickering but it worked for me. Still, I think it could have been toned down. But even so, I really liked this couple! AND THE ENDING!!! I loved it.
"I can't promise you everything you want."
"Just promise me tonight, Derek."
Wild Cards was exactly what I wanted and expected. Elkeles surely doesn't fail to deliver a swoon-worthy romance and interesting characters. Although not mind-blowing, her story was sensationally sweet and amusing! If you're looking for a book with charming humor and a satisfying love story, this one's for you.