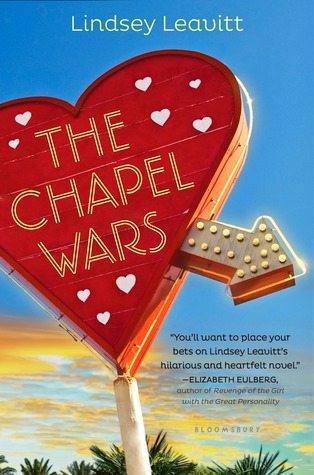 The Chapel Wars

by Lindsey Leavitt

Published by Bloomsbury USA Childrens on May 6, 2014

292 pages

Purchase on

Fully Booked
Synopsis
Sixteen-year-old Holly wants to remember her Grandpa forever, but she'd rather forget what he left her in his will: his wedding chapel on the Las Vegas strip. Whatever happened to gold watches, savings bonds, or some normal inheritance?

And then there's Grandpa's letter. Not only is Holly running the business with her recently divorced parents, but she needs to make some serious money—fast. Grandpa also insists Holly reach out to Dax, the grandson of her family's mortal enemy and owner of the cheesy chapel next door. No matter how cute Dax is, Holly needs to stay focused: on her group of guy friends, her disjointed family, work, school and... Dax. No wait, not Dax.

Holly's chapel represents everything she's ever loved in her past. Dax might be everything she could ever love in the future. But as for right now, there's a wedding chapel to save.
The first time I ever read Lindsey Leavitt, which was when I picked up her novel, Going Vintage, I knew I'd be reading her again sometime. Having read The Chapel Wars now, I realize that Lindsey Leavitt nails 'light contemporary' right on the mark. Her books are a wonderful mix of funny, sweet and enjoyable, and if you like those kinds of reads the way I do, I'm telling you that picking up The Chapel Wars, or any Lindsey Leavitt book for that matter, is a wise choice.
"Maybe happy isn't forever. Maybe it's just moments, and you save them up and hold on for all the in-betweens."
This particular book is about Holly Nolan, who inherits her dead grandpa's Vegas Chapel, Rose Of Sharon. Having worked all her life in the chapel, Holly is devoted and dedicated to fulfilling Grandpa Jim's dying request to save the chapel from debts and settle its financial problems once and for all. Holly knows that the solution is to wed more couples and get more gigs but that's not exactly easy to do while upholding her grandfather's traditions and competing with the rival chapel right next to them.
"Life is just a bunch of numbers, but it's what those numbers add up to that matters the most."
The Chapel Wars' heroine, Holly, is a fixer who also happens to be really good with numbers. While I wouldn't call myself any of those, I was able to connect to Holly very well. Working to save the chapel helped her deal with her grandpa's death and to some level, I really understood that, as well as how she hurt because of his absence. I liked how even though her grandpa was dead, we got to know a enough about him, how he was, through Holly.
"It just sucks when it feels like the people you see everyday don't know you."
One thing I really appreciated about Leavitt's book was that while it explored some gloomy topics like death, broken families, a touch of alcoholism, it still remained easy and light. I loved how Holly's family members were essential to the story- her distant dad, too-nice mom, her angsty younger brother and juvenile older sister. Holly's friends are also present, and like her family, they also exude personality and have character arcs of their own. I also really liked that the author took time not only to give persona to the people around Holly, but also to the Vegas setting. I don't think I've read any YA book set in Vegas so I'm thankful I got to know more about the place while reading The Chapel Wars.
"Really, numbers girl. You couldn't count all the ways you have my heart."
While I enjoyed the plot, the setting and most of the characters, I found that one of the highest points of the Chapel Wars for me was Holly's romance with Dax Cranston, aka cute love interest who also happens to be the grandson of Holly's grandpa's biggest competitor. Despite the feud between their respective chapels, the two get to know each other and I have to say- their dialogue was a huge delight! Dax is not without flaws, and the same could be said with Holly's relationship with him so I found that their romance was also very truthful. It was just wholly adorable and definitely gave me a very wide grin on my face.
"Hearts have more room than you think."
Finally, I'm just gonna go right ahead and say I very much recommend this one to bookworms who like heartwarming reads. The Chapel Wars is charming and cute, a book that could surely brighten a reader's day.
Rating: