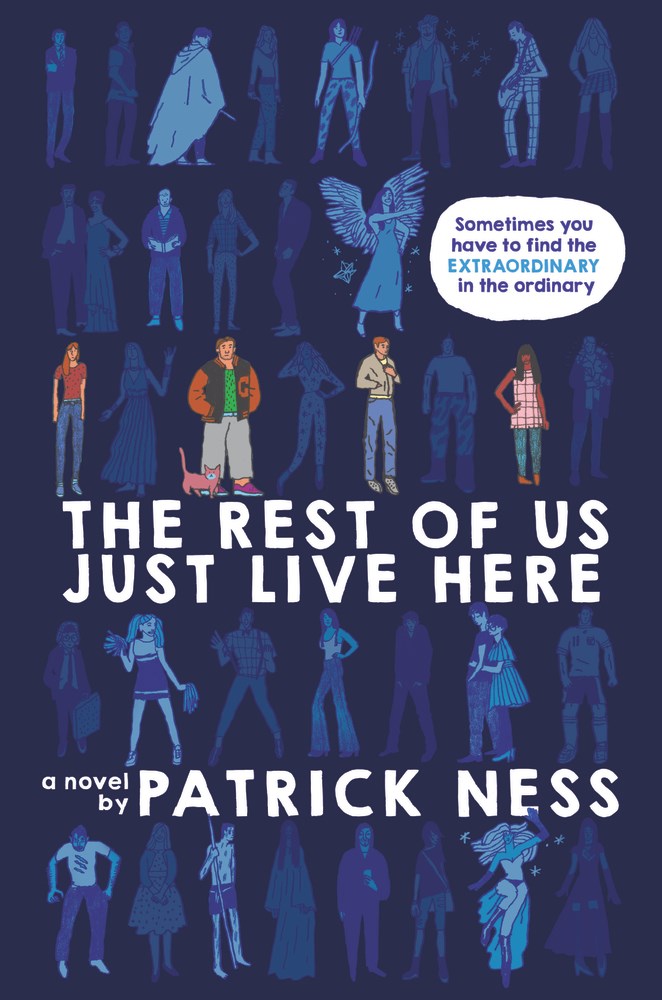 The Rest of Us Just Live Here

by Patrick Ness

Published by HarperTeen on October 6th 2015

ARC from Publisher

336 pages

Purchase on

Amazon

・

Fully Booked
Synopsis
What if you aren't the Chosen One? The one who's supposed to fight the zombies, or the soul-eating ghosts, or whatever the heck this new thing is, with the blue lights and the death?

What if you're like Mikey? Who just wants to graduate and go to prom and maybe finally work up the courage to ask Henna out before someone goes and blows up the high school. Again.

Because sometimes there are problems bigger than this week's end of the world, and sometimes you just have to find the extraordinary in your ordinary life.

Even if your best friend is worshipped by mountain lions.

Award-winning writer Patrick Ness's bold and irreverent novel powerfully reminds us that there are many different types of remarkable.
This is nothing like your average YA book. It's not about the Chosen Ones- the 'indie kids' who are part of all the action and excitement and drama. Instead, The Rest Of Us Just Live Here is about the characters who blend into the background, who could care less about immortals and zombie deers and the mysterious happenings going on in town. Like Mikey and his friends, who just want to get through senior year and graduate before anyone blows up the high school.
"They've always got some story going on that they're heroes of. The rest of us just have to live here, hovering around the edges, left out of it all, for the most part."
I adore that Patrick Ness chose to write about unchosen ones, because let's face it- most of us are those people. We read about all these characters in YA whose stories are so gripping and intense and crazy, but then behind that, our lives are utterly normal. Ness' novel contrasts the ordinary kids with the indie kids with a short summary of how the latter are running about and fighting evil at the start of each chapter. It's a great format to get his point across and I loved the satirical tone of the book when it came to the indies! It made for such an interestingly fun read.
"Not everyone has to be the Chosen One. Not everyone has to be the guy who saves the world. Most people just have to live their lives the best they can, doing things that are great for them, having great friends, trying to make their lives better, loving people properly. All the while knowing that the world makes no sense but trying to find a way to be happy anyway."
Mikey was a relatable main character and I love how Ness told his story and portrayed what he was going through. A sweet brother to two sisters and a best friend to a cat god, Mikey was a really good guy. However, he was struggling because of anxiety and OCD, a loop he's afraid he can't get out of. The misery and fear he experienced because of his mental illness made the story so emotional and I think Ness handled it so realistically. I felt so much for Mikey, especially with his being scared of changes to come and feeling like the least wanted person in his group of friends. That totally tore me up.
"We share our craziness, our neuroses, our little bit of screwed-up-ness that comes from our family. We share it. And it feels like love."
Moreover, I really enjoyed the relationships in the book and the supporting characters: Jared, Mel, Henna, Meredith. The cast was beautifully diverse and genuinely flawed. There's a great focus on friendship and family rather than romance, which I appreciated. I honestly could have completely done away with the latter because I felt rather ehh about it, but it did allow emphasis on different kinds of love so I guess it's all good.
"Everything's always ending. But everything's always beginning, too."
The Rest Of Us Just Live Here is clever, entertaining, resonant and well-written. I was also wonderfully surprised when I read the acknowledgements and found out that Ness had auctioned character names from this book to raise money for the Philippines after Typhoon Haiyan. Just wow, this dude. Read this one and experience for yourself this remarkable story about finding the extraordinary in the ordinary lives we live.