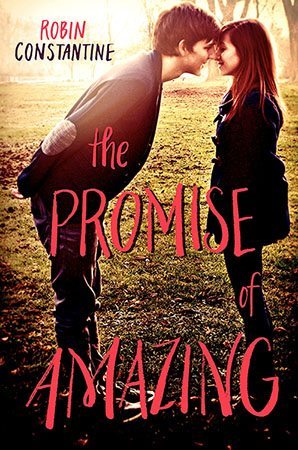 The Promise of Amazing

by Robin Constantine

Published by Balzer + Bray on December 31st 2013

ARC from Blog Tour

371 pages

Purchase on

Amazon

・

Fully Booked
Synopsis
Wren Caswell is average. Ranked in the middle of her class at Sacred Heart, she's not popular, but not a social misfit. Wren is the quiet, "good" girl who's always done what she's supposed to—only now in her junior year, this passive strategy is backfiring. She wants to change, but doesn't know how.

Grayson Barrett was the king of St. Gabe's. Star of the lacrosse team, top of his class, on a fast track to a brilliant future—until he was expelled for being a "term paper pimp." Now Gray is in a downward spiral and needs to change, but doesn't know how.

One fateful night their paths cross when Wren, working at her family's Arthurian-themed catering hall, performs the Heimlich on Gray as he chokes on a cocktail weenie, saving his life literally and figuratively. What follows is the complicated, awkward, hilarious, and tender tale of two teens shedding their pasts, figuring out who they are—and falling in love.
One look at the cover and you know what you're going to get- a pretty sweet love story. It's what I hoped for and it's exactly what debut author, Robine Constantine, gave me. A lovely book about a quiet girl and a golden boy, The Promise Of Amazing portrays teenage infatuation turning into young love.
"Are you stalking me or something?"
"Ha… well, I'd rather think of it as strategically putting myself in your path so we can be friends.. but if you want to call it stalking, okay."
Wren Caswell was a relatable main character. She's taciturn and a little shy, an ordinary and average type of person. While this was implied and mentioned a lot through the story, the reader gets to see that despite her timid act, Wren isn't so typical. For one, she dislikes being written off and told what to do. She's also relentlessly loyal to her friends and family. She's someone who just needs to learn how to break out from her shell and The Promise Of Amazing shows her struggle to be more than who everyone thinks she is. It was easy to identify with her and it was really nice to see her character develop.
Hands in pockets, swoon-worthy grin, deep brown eyes full of the promise of amazing. And I felt myself getting sucked in the desire to wrap my arms around him in a different way than the Heimlich.
I don't know why but I actually did not expect to be able read Grayson Barrett's side. I was a little surprised that the book had POVs of the both the male and female protagonist. That said, a lot of the cute wisecracks came from Grayson's part. He was definitely the kind of guy who could captivate most of the girls readers with his attractive charm. I was delighted by him, especially when he showed how affectionate he was towards Wren. However, I found it a little unbelievable how fast he was attracted to Wren and eventually how quickly he fell in love with her. That had me raising my eyebrows quite a lot.
I was in love. Me. Grayson Barrett. Head-over-heels-bonafide-singing-power-ballads-in-the-shower-texting-Wren-24/7 in LOVE.
The primary dilemma of the book was largely related to Grayson's juvenile past. I was really surprised by this bit. I liked that despite Grayson's handsome image (he's a brainathiminal after all), he had this huge flaw- a habit that he needed to get out of his system. It made the story a lot more interesting but at the same time, it also made it a little dramatic. I gotta say- Luke Dobson was a very baffling antagonist. He was obviously a jerk but… he just really confused me a lot.
I kept thinking of her eyes, the depths of them, the way she looked right into me, and I wasn't afraid of what she'd find.
Friendships and families were also significant in the book. I think we got to see enough of Wren's friends and family but I wished Grayson's had been explored more. Especially his relationship with his stepfamily! I would have loved to see more of that. Substantially though, the main focus of the book was romance. I still think it happened a little to fast but Wren and Grayson did make me smile (and giggle) often so I guess I can say I fairly liked their relationship. The Promise Of Amazing, with its just-like-the-movies kind of romance, was adorable in its entirety. Hopefully, Robin Constantine's next books will be more amazing.
Rating:


Playlist:
[8tracks width="300″ height="300″ playops="" url="http://8tracks.com/mixes/3009735″]
"Starry Eyed" by Ellie Goulding – You look at me it's like you hit me with lightning
"Love You So" by Natalie – You got that extraordinary way; Got to be next to ya every single day
"If My Heart Was A House" by Owl City – Risk it all cause I'll catch you if you fall
"Electric Twist" by A Fine Frenzy – The touch of your lips it's a shock not a kiss; It's electric twist
"Runaway" by Maroon 5 – I have this feeling when I finally find the words to say; But I can't tell you if you turn around and run away, run away
"I Will Wait" Mumfords & Sons – Keep my heart slow; 'Cause I will wait, I will wait for you
"Don't Hold Me Down" by Colbie Caillat – Now I'm standing up, I think I'll be here for a while.
"You And Me" by Life House – Something about you now; I can't quite figure out
Giveaway:
a Rafflecopter giveaway