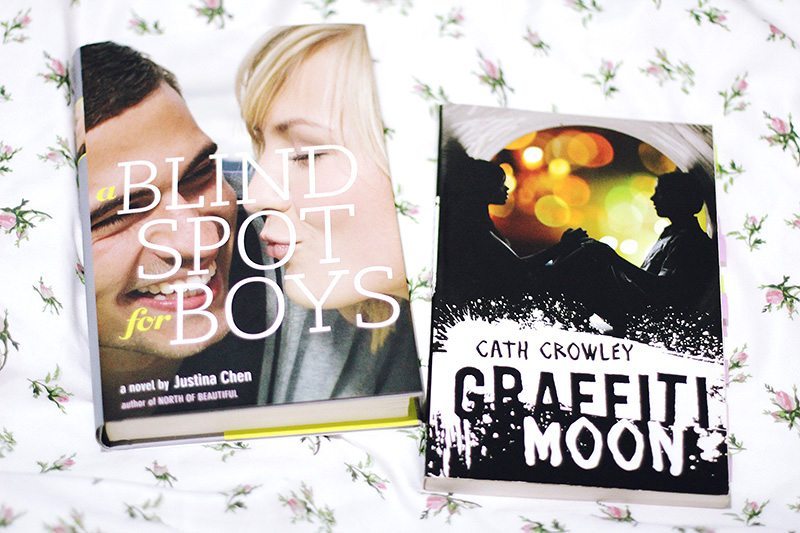 Epic Recs is a feature hosted by Judith from Paper Riot and Amber from Books of Amber where book lovers recommend books to each other. Basically, book-pushing at its finest.
I realize that most Epic Recs posts are done at the start/middle of the month and not the end but I didn't really get the chance then so I'm doing it now, just because I wanted to share the experience!
A few weeks ago, my blog twin, the lovely Joséphine of Word Revel, was looking around for a new partner for Epic Recs and I was all too eager to volunteer. Having never done the feature before, I've been looking to do it for awhile since I enjoy recommending books and trying out recommendations from others too. I was excited to start so Joséphine and I did Epic Recs for Feb.
I chose Graffiti Moon, one of my favourite contemporaries (top shelf, that kind of favourite), for her and she picked A Blind Spot for Boys for me! Luckily, this was already on my TBR as I had bought a copy last January. Anyway, Joséphine posted about this on her blog much earlier, but since I'm only posting now, I'm able to share what came of the book-pushing escapade. Here's what my partner thought about my rec:
A lyrical book centred on graffiti. Who would've thought? As an audiobook, I loved listening to the alternating voices of mainly Ed and Lucy. Since the narrators were chosen to fit their genders, it really helped me get into their characters more than plain reading did. Although, when it came to the interspersed poems, I preferred reading them on the printed pages. In any case, the plot was simple to follow yet gave rise to a lot of dramatic tension, which pulled me right into Graffiti Moon.

– Joséphine, Goodreads review
Here's what I thought about Joséphine's rec:
Photography, travel, family, romance, adventure, life. I adored that all these favourite themes of mine were a part of the book but more than that I highly enjoyed the story itself. A Blind Spot For Boys was a great read! – Hazel, Goodreads review
There you have it- we both really liked/loved the books we recommended to each other! With our double approval for both, y'all totally need to check out Graffiti Moon and A Blind Spot For Boys if you haven't yet! Also, watch out for our March Epic Recs!
Have you read our recommendations yet? Are you going to? ;)