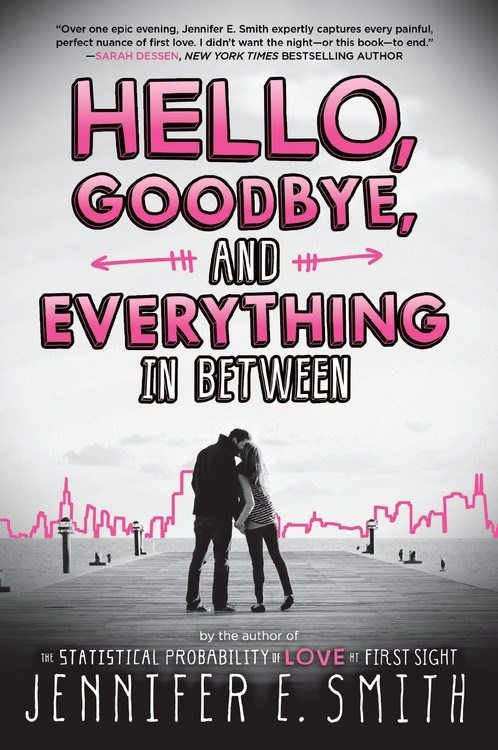 Hello, Goodbye, and Everything in Between

by Jennifer E. Smith

Published by Poppy on September 1st 2015

ARC from Publisher

256 pages

Purchase on

Amazon

・

Fully Booked
Synopsis
On the night before they leave for college, Clare and Aidan only have one thing left to do: figure out whether they should stay together or break up. Over the course of twelve hours, they'll retrace the steps of their relationship, trying to find something in their past that might help them decide what their future should be. The night will lead them to friends and family, familiar landmarks and unexpected places, hard truths and surprising revelations. But as the clock winds down and morning approaches, so does their inevitable goodbye. The question is, will it be goodbye for now or goodbye forever?

This new must-read novel from Jennifer E. Smith, author of The Statistical Probability of Love at First Sight, explores the difficult choices that must be made when life and love lead in different directions.
Endings are so bittersweet, aren't they? While it signals an end of something, an era or a relationship maybe- it also means the beginning of something else. The start of something new. But sometimes, the new and unfamiliar is scary and it's hard to let go of what we've known for so long.
In Hello, Goodbye, and Everything In Between, Clare and Aidan have a choice to make on the night before they leave for college: stay together or break up. On one hand, staying together would mean an impossibly hard long distance relationship. On the other, breaking up would mean saying goodbye. They spend the night figuring out how they should move forward by going on a scavenger hunt and visiting the landmarks of their time together as a couple, but along the way learn hard truths about life and love.
"I would've waited all day. I probably would've waited forever."
"I wish you still would," he says, though not spitefully. He says it quietly, evenly, a simple truth, an earnest request.
Having read all of Jennifer E. Smith's book at this point, I knew I could trust her to write a lovely read that was sweet and beautifully written. Hello, Goodbye, and Everything In Between was no exception. First of all, the premise is awesome. I didn't just want to read this book because it was written by Jennifer E. Smith (which is a perfectly valid excuse, mind you) but because the idea of the story was so exciting. And gosh, did I love how the author told it. Not only did her prose impress (to the point that I had to stop for a while after reading a particularly great line and just ponder on its brilliance), but I also loved the prologues and each stop- their 'greatest hits' as Aidan would say- and how it was all carefully interweaved together to create such a realistic, relatable account of Aidan and Clare's relationship.
"Love wasn't something you could take back. It was like a magic spell: once you said the words, they were simply out there, shifting and changing everything that had once been true."
The two main characters are both genuine characters with real flaws. While I did like Aidan and Clare, I was much more invested in Aidan&Clare-as a couple. The novel allows the reader a good glimpse of their entire relationship, through hits of nostalgia, and expressed so very well the emotions that came alongside the decision of whether or not to breakup as Clare and Aidan have their last night together. I couldn't help but wish they'd stay together because they were such a perfectly matched couple. Still, I wouldn't have asked for the author to change anything regarding the decision the couple makes. The story was so well-executed that you'll surely understand it and appreciate the rightfulness of their choice for their personal growth.
"We keep thinking there are only these two choices: we either grow apart or grow together. But maybe we can just kind of each grow on our own and see how it goes."
I just adore one night stories and Hello, Goodbye, and Everything In Between has just become one of my favourites. A fairly short read it may be, it's depth and thoughtfulness is something worthwhile to read. Wistful yet hopeful, fans of YA contemporary romance will surely devour this one.
Giveaway: