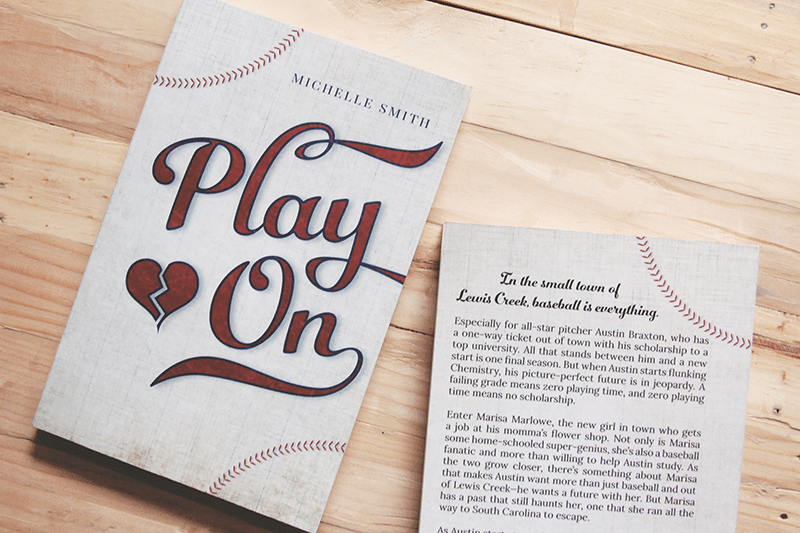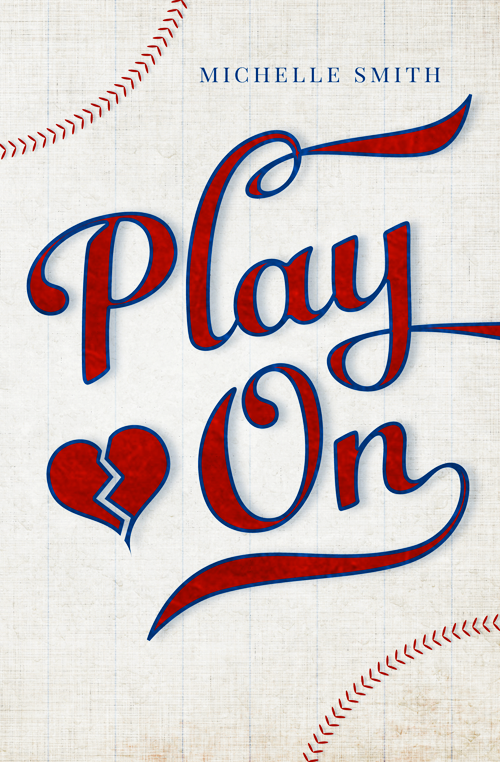 Play On

by Michelle Smith

Book #1, Lewis Creek

Published by Spencer Hill Contemporary on April 21st 2015

Finished copy from Publisher

258 pages

Purchase on

Amazon

・

Fully Booked
Synopsis
In the small town of Lewis Creek, baseball is everything.

Especially for all-star pitcher Austin Braxton, who has a one-way ticket out of town with his scholarship to a top university. All that stands between him and a new start is one final season. But when Austin starts flunking Chemistry, his picture-perfect future is in jeopardy. A failing grade means zero playing time, and zero playing time means no scholarship.

Enter Marisa Marlowe, the new girl in town who gets a job at his momma's flower shop. Not only is Marisa some home-schooled super-genius, she's also a baseball fanatic and more than willing to help Austin study. As the two grow closer, there's something about Marisa that makes Austin want more than just baseball and out of Lewis Creek—he wants a future with her. But Marisa has a past that still haunts her, one that she ran all the way to South Carolina to escape.

As Austin starts to peel back the layers of Marisa's pain, it forces him to look beyond the facade of himself and everyone he thought he knew in his town. What he sees instead is that in a small town like Lewis Creek, maybe baseball isn't everything—maybe it is just the thing that ties them all together.
YA Sports Romances seem to just draw me in, despite not being a sporty person at all in real life, and I guess that's the main reason I was looking forward to Play On. I can assure you that this book hits the subgenre right in the nail, with a dedicated baseball player hero finding himself absolutely smitten by the new girl in town. However, Play On is so much more than it appears to be.
"It's a little terrifying how one person can knock you clean off your feet before you even saw her coming."
Okay, there's definitely some light-hearted instant attraction that goes on in the story and I have to say this hopeless romantic was quite addicted to it. I do love getting swoony feels and Play On delivered just that what with its incredibly sweet and charming main character, Austin Braxton. I'm just gonna go on wishing that guys like him are out there in the world. A complete gentleman, a mama's boy, a great friend and a passionate athlete, it was not hard to love Austin, no matter how cheesy he got. His narrative was so refreshing and so perfectly captured a teenager who's fallen head over heels. His inner monologue was so adorable and realistic and easy to connect to. Smith pretty much rocked the male POV.
"How'd we get lucky enough to find each other?" she asks.
"Because the universe can be a jerk, but I think it knows when people need something amazing."
The romance with Marisa, the new girl who helps Austin get back on track with Chemistry to be able to maintain his spot on the team as well as his scholarship, was delightful but also heart breaking in some parts. Although she's a fairly likable character, smart and funny, only when her past and condition was revealed did I truly understand her. Austin broke through Marisa's walls little by little and in return, he gradually opened up to her about his own demons regarding the suicide of his father. Aside from trusting each other with their secrets, the way the two supported each other was ultimately what made me want them to be together.
"For years, I've fought a war in my head… It's hard to bring people into that war, even if they're wiling allies who want to help. And when you fight alone, sometimes.. It's hard to win a battle when you're fighting alone."
I loved how Michelle Smith handled depression from the perspective of someone who wasn't experiencing it first hand but seeing a person he loved go through it instead and trying to grapple with the concept and how it just happens and what's the best thing you could do for someone depressed. Aside from that, I really liked how Play On also portrayed a gay couple, Austin's best friend and team mate, Jay and Brett, struggling with coming out.
"I'm trying to remind myself that things have a way of working out the way they're supposed to. Maybe not the way we plan, but the way they're meant to be."
Aside from the fabulous romance, the book's themes were really heartfelt and well-depicted and that's why this story is an important one to me. Play On is a noteworthy debut that I cannot recommend enough. I'm looking forward to more from Michelle Smith and am so freaking psyched that there will be a sequel/companion novel. I'm ready for you, Game On!
Giveaway: