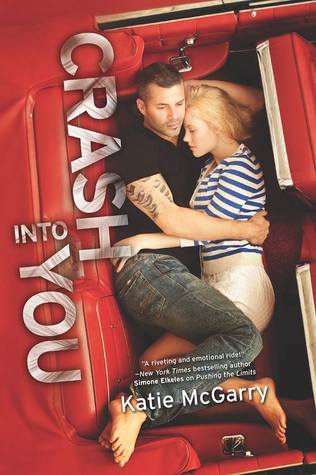 Crash Into You

by Katie McGarry

Book #3, Pushing the Limits

Published by Harlequin Teen on November 26th 2013

ARC from Netgalley

Purchase on

Amazon

・

Fully Booked
Synopsis
From acclaimed author Katie McGarry comes an explosive new tale of a good girl with a reckless streak, a street-smart guy with nothing to lose, and a romance forged in the fast lane

The girl with straight As, designer clothes and the perfect life-that's who people expect Rachel Young to be. So the private-school junior keeps secrets from her wealthy parents and overbearing brothers...and she's just added two more to the list. One involves racing strangers down dark country roads in her Mustang GT. The other? Seventeen-year-old Isaiah Walker-a guy she has no business even talking to. But when the foster kid with the tattoos and intense gray eyes comes to her rescue, she can't get him out of her mind.

Isaiah has secrets, too. About where he lives, and how he really feels about Rachel. The last thing he needs is to get tangled up with a rich girl who wants to slum it on the south side for kicks-no matter how angelic she might look.

But when their shared love of street racing puts both their lives in jeopardy, they have six weeks to come up with a way out. Six weeks to discover just how far they'll go to save each other.
Two  broken souls and a love story of sorts – a Katie McGarry classic. I'm still amazed by how this author pulls it off every single time. I've come to love her Pushing The Limits series and I can say with assurance that Crash into You was a stunning addition to the set.
Isaiah Walker is the perfect image of a badass. He's got the tattoos, piercings and a hot mustang ride to secure the title. Beneath the surface is a boy left behind by his own mother and rejected by the girl he thought he loved. On a completely opposite side is Rachel Young. Rachel, the innocent rich girl who is weighed down by expectations, four overbearingly protective older brothers and panic attacks. Despite their obvious differences and their own grievances, the two share a love for two things: cars and speed.
"My mind clears when I'm behind the wheel and there's something about the sound of an engine dropping into gear as I press on the gas that makes me feel… powerful."
I like cars because they get me to places but aside from that, I know pretty much zero about them. While I got a little lost with all the talks about engines, tires, and horsepower, I admired the way the car talk was incorporated in the story. Isaiah and Rachel sounded geeky whenever they blathered on about cool rides and racing but they also had me interested in the topic. I liked finding out about the dynamics of car races and I really enjoyed how all the rush added more excitement to the story.
"I've sat on this hill a hundred times, and all I used to see were lights that represented places where I wasn't wanted, where I never belonged. Now, when you aren't with me, I look east and know one of those lights represents you, and I don't feel alone anymore."
Personally, I really liked the tension and the urgency that came with the characters' main predicament. Although it wasn't unpredictable and it was a little heavy on drama, the plot was well constructed. I liked how the circumstances that Isaiah and Rachel experienced helped along their relationship and their growth as characters. I also appreciated the way they matured, especially Rachel who was originally a little naïve and a bit weak-kneed. Throughout the story, we see that there is more to her, and that there is more to Isaiah too.
In fact, there is more to everyone in this story than meets the eye, which is why I enjoyed reading about the minor characters as well! Abby, West, Ethan and the recurring characters, Noah, Echo, Logan, Beth and Ryan. We see the complexity of all these characters, given their own demons and troubled backgrounds. Props to McGarry for never failing to create such great character arcs!
"Maybe this is what happens when you fall in love. On the outside a lighter is nothing amazing, but it holds all the ingredients that can create something wonderful. With a few pushes in the right direction, you can inspire something so brilliant that it pushes back the darkness."
Last but not the least is the romance. It was exceptional- emotional, passionate, steamy and full of chemistry! Isaiah was cheesier than expected but you cannot help but love him! This bad boy has such a beautiful, sensitive heart and all the girls are gonna want a piece of him for sure. His and Rachel's love story is something to devour and revel in. Crash Into You was a thrilling read, completely intense and full of unforgettable characters. Whether or not you're a fan of Katie McGarry yet, you're bound to be addicted when you read her book!