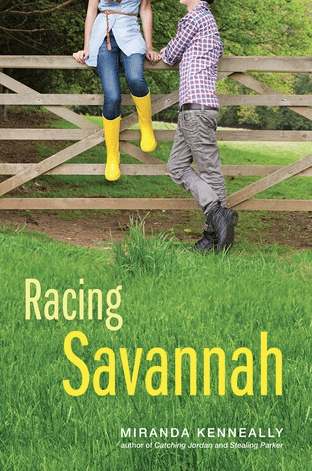 Racing Savannah

by Miranda Kenneally

Book #4, Hundred Oaks

Published by Sourcebooks Fire on December 3rd 2013

ARC from Blog Tour

Purchase on

Amazon

・

Fully Booked
Synopsis
They're from two different worlds. He lives in the estate house, and she spends most of her time in the stables helping her father train horses. In fact, Savannah has always been much more comfortable around horses than boys. Especially boys like Jack Goodwin—cocky, popular and completely out of her league. She knows the rules: no mixing between the staff and the Goodwin family. But Jack has no such boundaries. With her dream of becoming a horse jockey, Savannah isn't exactly one to follow the rules either. She's not going to let someone tell her a girl isn't tough enough to race. Sure, it's dangerous. Then again, so is dating Jack…
Each book in the Hundred Oaks series can be read as a standalone but I, as an avid reader of Miranda Kenneally's books, have followed and adored each of them. Racing Savannah was no exception!
Savannah Barrows has always had a special connection to horses. They're at ease around her and so is she with them. What she didn't expect is to have that same inexplicable connection and attraction to Jack Goodwin. Jack Goodwin who's flirty and charming and driven and who's also the son of the person Savannah's family is working for, practically making him her boss. He's off-limits, almost as hard to reach as Savannah's dream to become a horse-jockey.
A story about breaking boundaries, Racing Savannah was ultimately a good read. The writing wasn't blindingly stunning but it was straightforward, authentic and easy-flowing. I liked the way the author presented her teenage characters, notably her protagonist. Savannah's voice felt very natural and pretty realistic. I sometimes had a hard time relating to the very grown-up responsibilities that both Savannah and Jack take on but I liked seeing their mature side. I also admired their drive to pursue their goals and their longing to show others what they can do.
Jack and Savannah's attraction was imminent from the start. While the two made me smile from the occasional sweetness, I have to say- it was Rory and Vanessa that captured my attention! These two supporting characters were completely adorable and I think they really stood out despite being in the background. Rory was absolutely hilarious and cute! Jack has some serious appeal but I much prefer Rory's charisma! I hope to see more of him in the Hundred Oaks series. *crosses fingers*
Speaking of, I really enjoyed seeing the characters from the previous books! Especially Sam, Jordan, Parker, Will! The wedding scene was one of my favorite parts of Racing Savannah despite it not really focusing on the main characters. I think it's safe to say that those who've read the previous books will have a fab time getting glimpses of the characters we all adored before.
Kenneally is pretty savvy when it comes to incorporating different topics and issues to her stories. I liked the way horse racing was featured in Racing Savannah. I could only imagine how fun it would be to ride a horse as a sport! Aside from the horses, the distinction between socioeconomic statuses was really apparent- Kenneally really handles social issues quite keenly and it's admirable!
I have yet to find a Hundred Oaks book that can top Catching Jordan for me but Racing Savannah came pretty close. It's bound to be a pretty sweet read for contemporary lovers! I can't wait for whatever is next!
Giveaway: