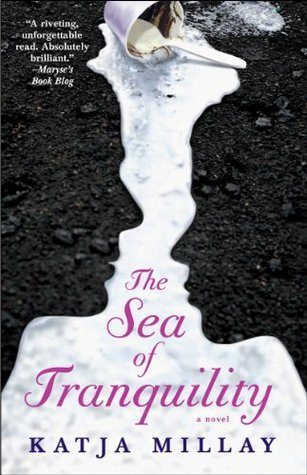 The Sea of Tranquility

by Katja Millay

Published by Atria Books on June 4th 2013

Purchased copy from Fully Booked

434 pages

Purchase on

Amazon

・

Fully Booked
Synopsis
I live in a world without magic or miracles. A place where there are no clairvoyants or shapeshifters, no angels or superhuman boys to save you. A place where people die and music disintegrates and things suck. I am pressed so hard against the earth by the weight of reality that some days I wonder how I am still able to lift my feet to walk.

Full of rage and without a purpose, former pianist Nastya Kashnikov wants two things: to get through high school without anyone discovering her past and to make the boy who took everything from her pay.

All 17 year-old Josh Bennett wants is to build furniture and be left alone, and everyone allows it because it's easier to pretend he doesn't exist. When your name is synonymous with death, everyone tends to give you your space.

Everyone except Nastya, a hot mess of a girl who starts showing up and won't go away until she's insinuated herself into every aspect of his life. The more he gets to know her, the more of a mystery she becomes. As their relationship intensifies and the unanswered questions begin to pile up, he starts to wonder if he may ever learn the secrets she's been hiding or if he even wants to.

The Sea of Tranquility is a slow-building, character-driven romance about a lonely boy, an emotionally fragile girl, and the miracle of second chances.
There comes a point when you realize how many tragedies occur in the human world. Accidents and catastrophes keep happening. There is always someone dying, crying, suffering. Some of us are living and breathing but are withering inside.
"I am pressed so hard against the earth by the weight of reality that some days I wonder how I am still able to lift my feet to walk."
This is the case for Nastya, a girl who barely exists, haunted by a horrid past she continues to run away from. Somehow, the only person who seems to understand her is Josh, a boy who is left completely alone in life, each of his family taken from him already. As they become close companions, developing an attraction unlike any other I've ever read about, slowly but surely, a bomb full of buried secrets and hurt and pain drops and explodes.
"I don't want to mess this up. It's bad enough that my brain is a cesspool; I can't imagine the hellhole my heart would be if he wasn't in it."
The Sea Of Tranquility took my breath away. No, I'm serious. It literally took my breath away. Crying pretty much makes it hard for a person to breath, doesn't it? And the crying that ensued while and after I read this book? A whole lot doesn't even cover it!
"I had to leave." There's pleading in her voice, begging me to understand something I don't. "I can't tell you the truth and I know you want it. I would end up disappointing you, being the thing that's never enough, just like with everyone else."
"Leaving is the only thing you could have done to disappoint me."
Halfway through the book, I was already sure this one was going to have a relatively high rating. I expected to fall truly, madly, deeply in love with it and that's exactly what happened. Although the story dragged a bit, the narration was excellently done and I saw why there was a need to take things slowly. The way the author unraveled the characters was just beautiful. The writing and the voice used was so powerful and engaging. There's an art in the way the author weaves her words- everything just really hits you right in the gut. The Sea of Tranquility is so full of heartache and what's amazing is the rawness of it all.
"Just so you know," I inform him, "one day, I'm going to get tired of sharing your affection with that coffee table and I'm going to make you choose."
"Just so you know," he mimics me, "I would chop that table up and use it for firewood before I would ever choose anything over you."
Although there were many tears, there were also quite a few laughs, as I was reading this book. Josh and Nastya share delightful, adorable banters and their interaction with supporting characters, specifically Drew, Josh's bestfriend, was thoroughly enjoyable. I really loved the humor that Drew's character injected every now and then! All the characters were interesting- they had wit and sarcasm and they keep you on your toes. I especially loved the mysterious air that surrounded Nastya- you're never entirely sure about her.
"Yes," I say and it's as if I'm saying a thousand yeses. Yes, I came back. Yes, I want you to love me. Yes, I will be okay. Maybe not today or tomorrow or next week. But yes, one day, I will be okay. Yes.
What I loved most about The Sea of Tranquility is that it shows you how dark life, secrets, pasts and tragedies could be but it also enlightens you. It leaves you with a promise that things are going to be okay some day, despite how broken and shattered they seem to be. The romance doesn't take a holier than thou "love conquers all" attitude- it just tells you that no matter how much grief you've experienced, you can still love and be loved. The Sea of Tranquility was gorgeous and touching and moving in every way. Its brilliance will never leave my brain or my heart.
Rating: