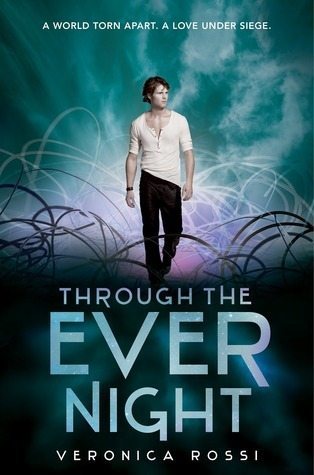 Through the Ever Night

by Veronica Rossi

Book #2, Under The Never Sky

Published by HarperCollins on January 8th 2013

Purchased copy from Fully Booked

341 pages

Purchase on

Amazon

・

Fully Booked
Synopsis
It's been months since Aria learned of her mother's death.

Months since Perry became Blood Lord of the Tides, and months since Aria last saw him.

Now Aria and Perry are about to be reunited. It's a moment they've been longing for with countless expectations. And it's a moment that lives up to all of them. At least, at first.

Then it slips away. The Tides don't take kindly to former Dwellers like Aria. And the tribe is swirling out of Perry's control. With the Aether storms worsening every day, the only remaining hope for peace and safety is the Still Blue. But does this haven truly exist? Threatened by false friends and powerful temptations, Aria and Perry wonder, Can their love survive through the ever night?

In this second book in her spellbinding Under the Never Sky trilogy, Veronica Rossi combines fantasy and sci-fi elements to create a captivating adventure—a love story as perilous as it is unforgettable.
"Now that was so much better!"  was the first thought that popped in to my head after reading Through The Ever Night. While the first book, Under The Never Sky, was an awesome read for me, my absolute like for Veronica Rossi's writing grew even more with this second book. Elaborating on that is pretty hard but I'll start by giving you three adjectives for Through The Ever Night: Captivating. Exhilarating. Poignant.
"We lose and lose, but we're still here. Shaking in place, afraid of doing something. I'm tired of settling for this because I don't know if something better exists. It has to. What point is there otherwise? I can do something about it now. And I will."
The complicated setting and jargon wasn't a problem for me anymore with this sequel so I was able to give my undivided attention to the plot and to the characters. And hell yes- the story kept my attention and had me on the edge of my seat! Unlike the first book, which I read at an excruciatingly slow pace, I hurtled through Through The Ever Night. I could not get enough! Every chapter was exciting and there's just so many things happening- I had to read on!
"Do you ever miss anything?" Perry smiled. "You, all the time."
Picking up where the story left off, Perry is Blood Lord and Aria is heartbroken over her mother's death. The two are reunited but not really, as the Tides are not so welcoming of Aria and thus she and Perry needed to make some hard decisions for their relationship. While this was definitely a dilemma, both have a larger mission- finding the Still Blue. In Through The Ever Night, we see both our male and female lead thrive even more as individuals. Reading about Perry's efforts to keep his authority and provide his people with food, shelter and safety made me really admire him. He was a natural leader but that doesn't mean that it would be easy for him- he constantly grappled with his new responsibilities and I think that really made his character more tangible. Aria also has become a stronger heroine- she's going through a rough time, not knowing where she belongs as a half-Dweller and half-Outsider, but she's not weak or faint-hearted anymore. She's become so matured after all she's been through and I grew to be more understanding of her character with this book.
She thought to Roar so much that it became natural and she stopped thinking about thinking and just thought. Roar heard everything. He knew her mind fully, openly, the same way Perry knew her tempers. Between the two of them, she thought, she was known completely.
I also absolutely love Aria's friendship with Roar. Roar, who was initially just Perry's best friend, has also become someone very important to Aria and I just loved seeing how close the two have become. As much as I loved Perry and Aria, Roar is definitely my favorite character. He's so easy-going and hilarious and there's no denying that I adore him so much. I cried so much for him when he was miserable! Aside from our recurring main cast, we also get to meet some new people in this sequel. There's Sable, another Blood Lord who may or may not have the key to the Still Blue and there's Kirra, who I wished wasn't in this novel at all. (Seriously, was she even that necessary?) We also finally get to encounter Liv, Perry's sister and the girl who has stolen Roar's heart. In the short time we get to know her, I was already fond of her spirited personality and I could glimpse why Roar loved her so much.
Love was like the waves in the sea, gentle and good sometimes, rough and terrible at others, but that it was endless and stronger than the sky and earth and everything in between.
Speaking of romance! While Aria and Perry didn't have much time together, I absolutely loved the scenes in which they were. SO GODDAMN SWEET! I think the way their relationship develops as the series goes on was rather expertly done and I can't help but be excited for what the finale book has in store for the two. Anyway, what I'm trying to say is that Through The Ever Night was a spectacular continuation to the series. If you found yourself not so impressed by the first book, I'm telling you to pick up this second book. If you have yet to pick up the series at all, now is the perfect time because Into The Still Blue will be around soon.
Rating: