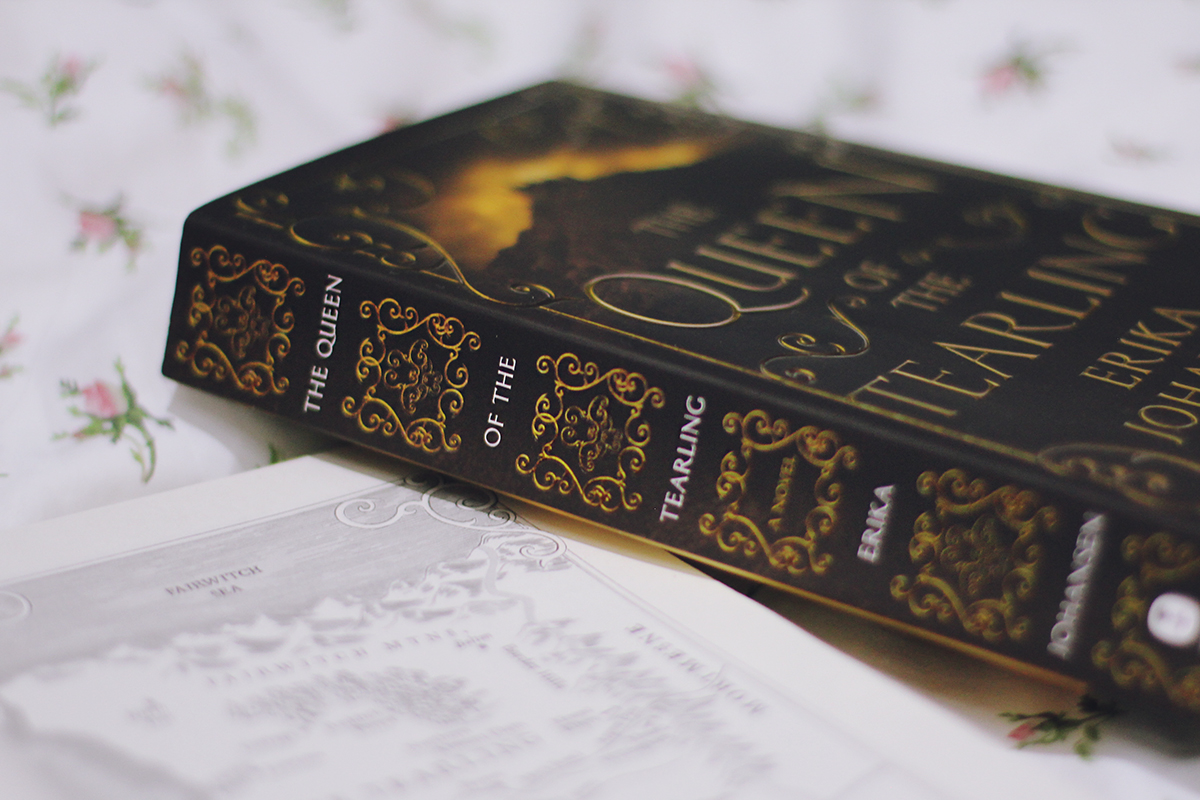 Synopsis
A young woman.

A kingdom.

An evil enemy.

A birthright foretold.

With the arrival of her nineteenth birthday, Princess Kelsea Raleigh Glynn is ascending to her rightful place as the new Queen of the Tearling. Surrounded by enemies, including an evil sorceress possessed of dark magic, the young ruler stands little chance of success. But Kelsea possesses fearsome weapons of her own, including the Tear sapphire, a jewel of immense power and magic. As an epic war draws near, Kelsea's quest to save her kingdom and meet her destiny begins—a wondrous journey of self-discovery and a trial by fire that will make her a legend... if she can survive.
When a book grabs at you and keeps you right where you are, unable to do anything but turn pages- you know you've found yourself a fantastic read. The Queen of the Tearling proved to be just that for me.
In all honesty, it seemed like a daunting book initially. It was a pretty thick novel and when I first started reading, I found that the chapters were laboriously long. That aside, what kept me going was my eager desire to learn more about the world Kelsea Raleigh lived in, most especially the place that she was born to rule- the land of the Tearling.
Just turned the rightful age of 19, it's time for Kelsea to finally take her throne. She leaves the small cottage in the woods she's called home as a child, the Queen's Guard in tow to safely bring her back to her kingdom where she will be coronated Queen. However, the route back to The Keep a.k.a the Tearling royalty's palace is a dangerzone full of people out to do away with Kelsea so she may never be crowned. With that, we get quite some action-packed scenes pretty early on. And things just get more exciting as Kelsea ascends as Queen- there's horrible things to be stopped, magic to be discovered, secrets and schemes to be found out.
"Even a book can be dangerous in the wrong hands, and when that happens, you blame the hands, but you also read the book."
While the story was beyond interesting, what I loved most about the book is its main character. Kelsea, just as she is, was engaging to read. She's bookish, smart, witty, good-natured. Her personality was genuine and I found myself easily connecting with her. As a queen, I found Kelsea totally admirable and kickass. I loved how she was righteous, reflective about making decisions, strong-willed. She truly had what it takes to be queen and as I watched her stand up to challenges, threats, and trials as the book progressed, I grew proud of her. I knew then that I would follow her journey and see through this series.
Other than Kelsea, I liked reading about the rest of characters who were all very distinct. A lot of them I found very intriguing and can't wait to read more about- Lazarus of the Mace who served as Kelsea's Captain of the Guard, The Fetch, and even the Red Queen. We get multiple viewpoints here and even when a lot of them were sparse since Kelsea's remained the main narrative, they were a great addition.
This and the great and vivid world building Erika Johansen exhibited, and the unflinchingly well-written story itself were enough to pull me in and get me immersed into The Queen of the Tearling. I was surprised and dazzled by how much I really enjoyed reading it. I need the sequel ASAP!
Giveaway:
The Queen of the Tearling by Erika Johansen is available in Fully Booked.