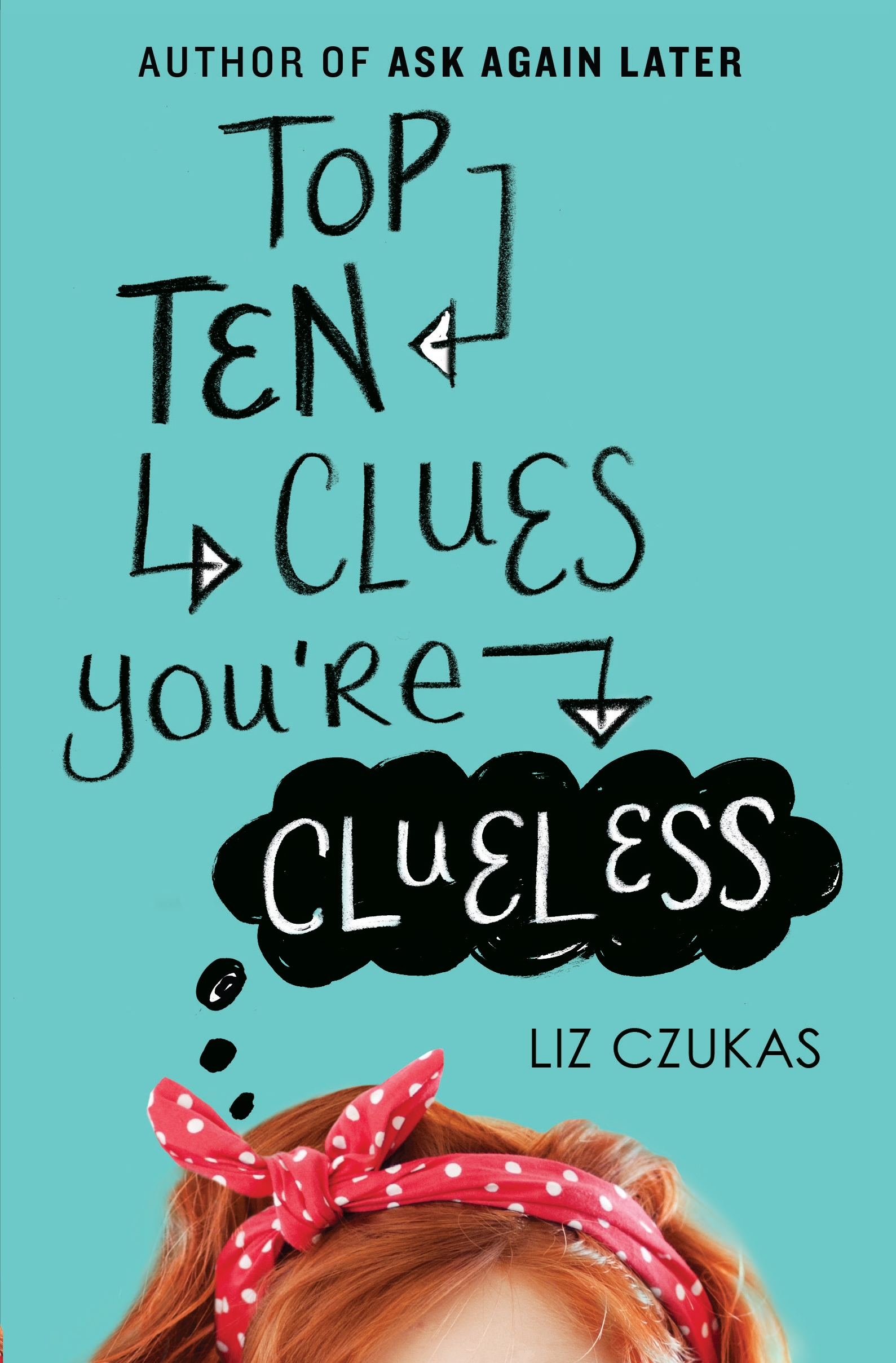 Top Ten Clues You're Clueless

by Liz Czukas

Published by Harper Teen on December 9th 2014

ARC from Edelweiss

304 pages

Purchase on

Amazon

・

Fully Booked
Synopsis
Top Five Things That Are Ruining Chloe's Day

5) Working the 6:30 a.m. shift at GoodFoods Market
4) Crashing a cart into a customer's car right in front of her snarky coworker Sammi
3) Trying to rock the "drowned rat" look after being caught in a snowstorm
2) Making zero progress with her crush, Tyson (see #3)
1) Being accused—along with her fellow teenage employees—of stealing upwards of $10,000

Chloe would rather be anywhere than locked in work jail (aka the break room) with five of her coworkers . . . even if one of them is Tyson. But if they can band together to clear their names, what looks like a total disaster might just make Chloe's list of Top Ten Best Moments.
Top Ten Clues You'll Enjoy Top Ten Clues You're Clueless
1) You adored Liz Czukas' debut novel, Ask Again Later
I've been a fan of Liz's since I read Ask Again Later, one of the most adorable YA books ever. I was absolutely thrilled when I heard about her sophomore novel and even more so when I read it and found it to be an utter delight! So if you've read AAL too (if not, go do that now!!!) and liked it, you'll enjoy this one without a doubt because Liz pretty much has perfected capturing fun and charming when it comes to her books.
2) You love lists
I just completely love books with lists. I love lists, listing and listers- period. I even made a list of books with characters who write lists before. Now that I've read this one, I can totally say that Top Ten Clues You're Clueless is my favourite book with lists. The lists in this book are just a) hilarious b) clever c) such a great addition to the story!
3) You want some Christmas spirit
Top Ten Clues takes place the day before Christmas and definitely has the spirit of the holidays! Chloe and her fellow teenage employees are working the Christmas Eve shift at Goodfoods, a local grocery store, and while the story doesn't revolve around Christmas per se, the background of it offers enough holiday cheer to the reader. Christmas tunes on the grocery radio, snow outside and the holiday rush- Top Ten Clues will surely put you in a Christmas mood.
4) You like a good problem/mystery to solve
Chloe wanted to get to know her coworkers and possibly make a move on her crush, Tyson, but a lockdown was not what she had imagined. Accused of stealing the money in the grocery's charity box, the group gets locked in the break room. It's up to them to determine who did the crime to prove they're not guilty. Not that I was completely engrossed with this plot but I still really liked how this circumstance brought the characters together.
5) You like The Breakfast Club
Why yes, I'm comparing this book to one of the best movies of all time. If you've watched it, you'll see that Top Ten Clues You're Clueless's cast of characters is very much reminiscent of The Breakfast Club's. See #6.
6) You like your characters distinctive and with depth
I really like books that are character driven and this one was just that! The rest of the Goodfoods gang, Zaina, Sammi, Gabe, Micah and Tyson felt just as tangible and relatable as the main character, Chloe. Every one of them contributed to the book and my overall love for it. Liz knows how to express her teenage characters in such a way that it tugs your heartstrings, whether you're a young adult yourself or already an adult. More than that, Liz knows how to break stereotypes and make her characters remarkable- you can't help but grow attached to them.
7) You like to see diversity in books
Our main character is a timid diabetic redhead. Tyson, her love interest, is a hardworking, kind black boy. Zaina is a beautiful, soft-spoken Muslim lebanese. Micah is a sweet, homeschooled, too-smart-for-you science nerd. Sammi is Ms. Tough Chick, oozing of snark and attitude. Gabe is the flirty, rich, athletic golden boy. YEAY for people of color and a great mix of diverse characters!
8) You like YA contemporary
It's hard for me to say that someone who reads very few contemporary books will surely appreciate this- it might just be too fluffy- but I'm quite firm on my belief that anyone who like/loves the genre will certainly like Top Ten Clues You're Clueless.
9) You enjoy cute angst-free romances
Like I said, the book is character-driven rather and the focus really isn't on the romance. Nonetheless, the romance is there and it's simple and cute in the sweetest way. If you've ever crushed hard on someone, I think you'll find Chloe's crush on Tyson easy to relate to.
10) You're looking for a quick light hearted book to read for the holidays
In that case, pick up this book NOW! You won't regret it!