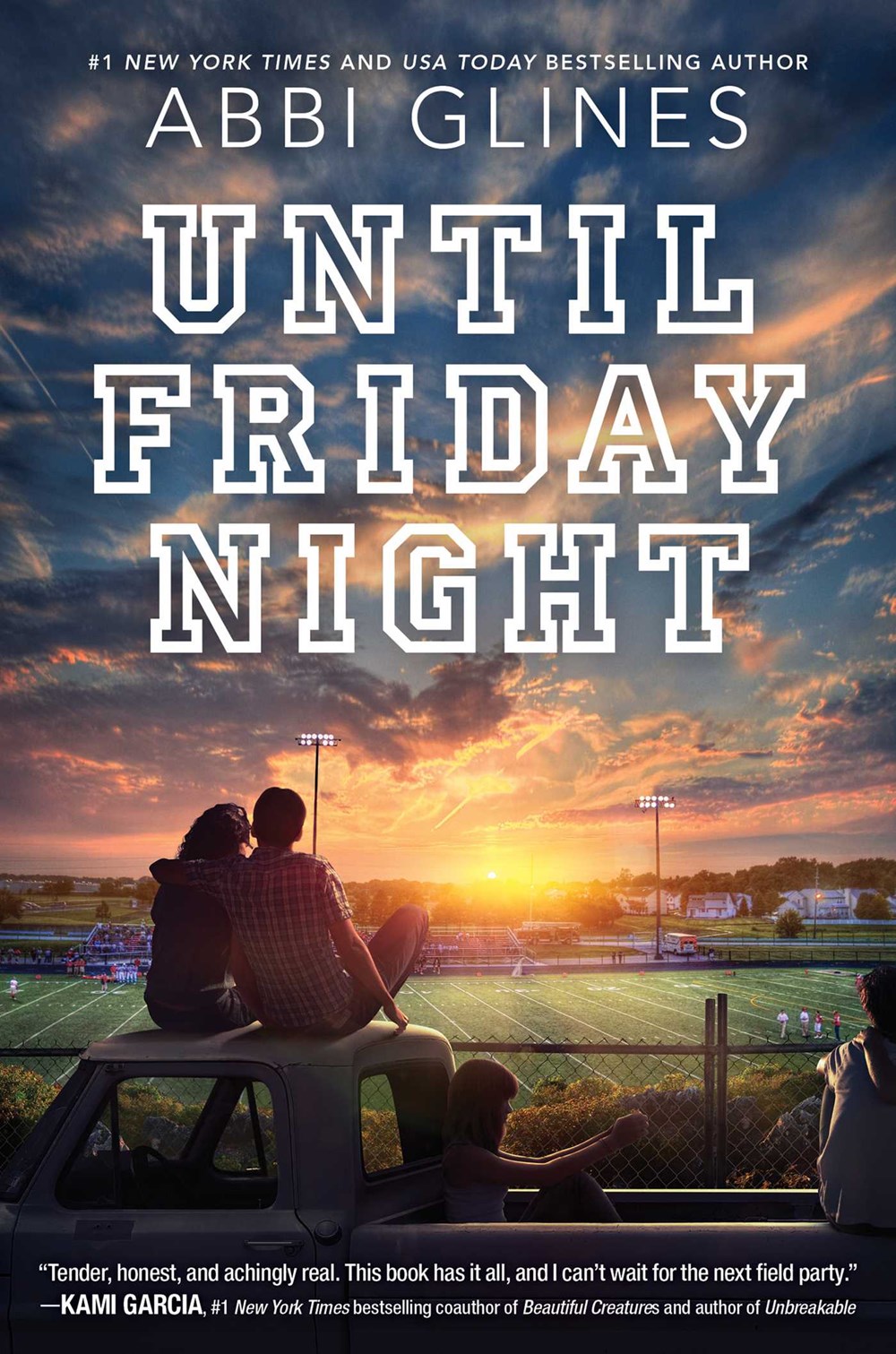 Until Friday Night

by Abbi Glines

Book #1, The Field Party

Published by Simon Pulse on August 25th 2015

ARC from Publisher

352 pages

Purchase on

Amazon

・

Fully Booked
Synopsis
To everyone who knows him, West Ashby has always been that guy: the cocky, popular, way-too-handsome-for-his-own-good football god who led Lawton High to the state championships. But while West may be Big Man on Campus on the outside, on the inside he's battling the grief that comes with watching his father slowly die of cancer.

Two years ago, Maggie Carleton's life fell apart when her father murdered her mother. And after she told the police what happened, she stopped speaking and hasn't spoken since. Even the move to Lawton, Alabama, couldn't draw Maggie back out. So she stayed quiet, keeping her sorrow and her fractured heart hidden away.

As West's pain becomes too much to handle, he knows he needs to talk to someone about his father—so in the dark shadows of a post-game party, he opens up to the one girl who he knows won't tell anyone else.

West expected that talking about his dad would bring some relief, or at least a flood of emotions he couldn't control. But he never expected the quiet new girl to reply, to reveal a pain even deeper than his own—or for them to form a connection so strong that he couldn't ever let her go…
I've read my fair share from Abbi Glines so I have a sort of familiarity with the way she writes and the way her stories go. As I expected, Until Friday Night isn't that far off from her New Adult books, just with a high school setting and a different cast of characters who have different problems. Although effortlessly readable, it wasn't necessarily lovable.
The book's heroine, Maggie, initially reminded me of Nastya from The Sea of Tranquility, with her refusal to speak because of a traumatic experience that ultimately lead to her being taken in by her cousin Brady's family. Being the new girl- a really hot one at that *insert eyeroll*- she captures the attention of football jock and resident player, West Ashby, who's going through his own personal hell what with his father's cancer. When West realizes that Maggie is the only person who can understand his hurting, the two grow a connection, a friendship and something more down the line.
"You'll survive and you'll remember but you're never going to forget. One day you'll be thankful for those memories."
Not exactly a completely unique story but it sounded interesting enough and I guess that's why I was quite hopeful for Until Friday Night. Unfortunately, I had some pretty major issues. Although Maggie's back story was rather devastating and was actually handled well when it finally came up, I wasn't really able to connect with her. She's portrayed to be this perfectly beautiful, innocent girl with a tragic past but there's not much to her than that. Nonetheless, I appreciated her character growth and her relationship with her uncle, aunt and cousin.
And where do I even get started with my problems with West's character? Man, he drove me mad and not at all in a crazy fangirl way. The boy is a huge asshole. He treated girls like trash and didn't care about them at all, just cared that he didn't appear like the douchebag he was to Maggie. He also pulls off a "She's mine" possessive attitude and "I can't survive without you" unhealthy clinging- THANK GOD it was called out because I was almost about to put down the book at that point. Not cool, West. Not cool at all.
That said, I actually sort of empathized with what was going through with his dad and felt sad during one scene and I liked that Maggie inspired him to be stronger about it. Even with that, the romance wasn't very convincing. It was just really predictable, I guess. Even though I wasn't exactly shipping West and Maggie or really loving the romance, I must admit there were still some lines/gestures that I found sweet.
"I'm going to be the guy you needed. The one you healed. I'm going to sweep you off your feet so fast, you won't know what hit you."
Overall, I did like a few things in Until Friday Night that made it somewhat a decent read, despite my disappointment with the rather two-dimensional hero and heroine. I think I'd still be interested in reading the next books in the series because I want to get to know the other characters in this one, who I'm pretty sure will be the next MCs. Also, despite everything, I'n still waiting for an Abbi Glines book, much like The Vincent Brothers, that can make me swoon completely.