Hello, July
Save-the-date releases
Upcoming events
#StephaniePerkinsinPH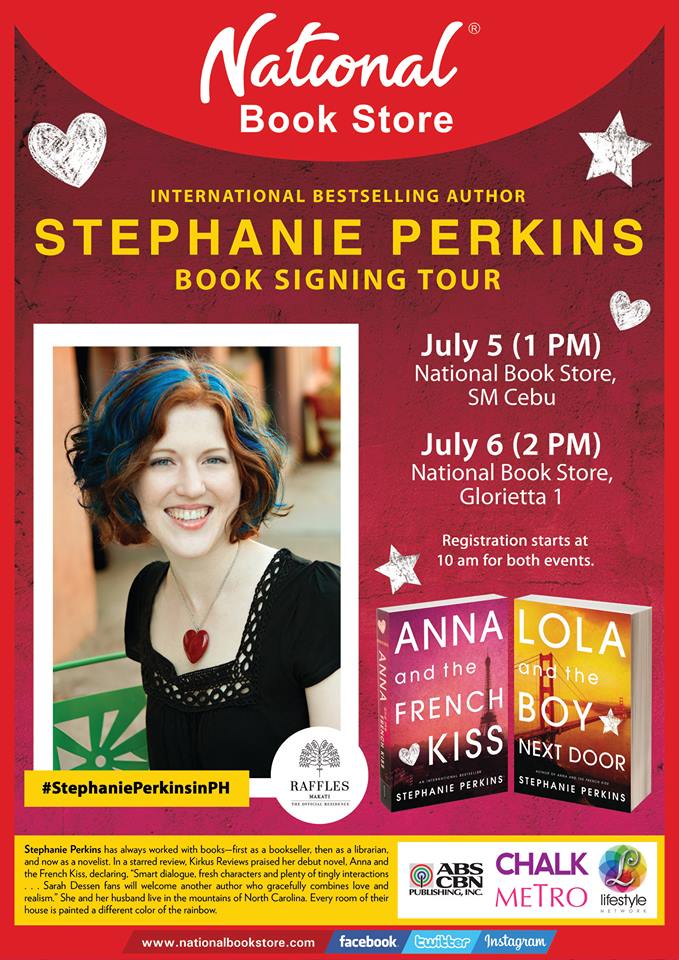 What: Stephanie Perkins Book Signing Tour
When: July 5, 2014, 1 pm / July 6, 2014, 2pm
Where: NBS, SM Cebu / NBS, Glorietta 1
OMFG I'M SO EXCITED!!!!!!!
Join Stephanie Perkins, the international bestselling author of "Anna and the French Kiss" and "Lola and the Boy Next Door" for book signing events on July 5 at 1 pm in National Book Store, SM Cebu, and on July 6 at 2 pm in National Book Store, Glorietta 1. Registration starts at 10 am for both events. These events are made possible in partnership with Raffles Makati, Metro magazine and Chalk magazine. Follow NBS on Facebook, Twitter and Instagram (@nbsalert), and tag #StephaniePerkinsPH for more details.
For more details, visit the Stephanie Perkins Book Signing Tour event page & FAQ page!
#30daysofbookstagrams – July 2014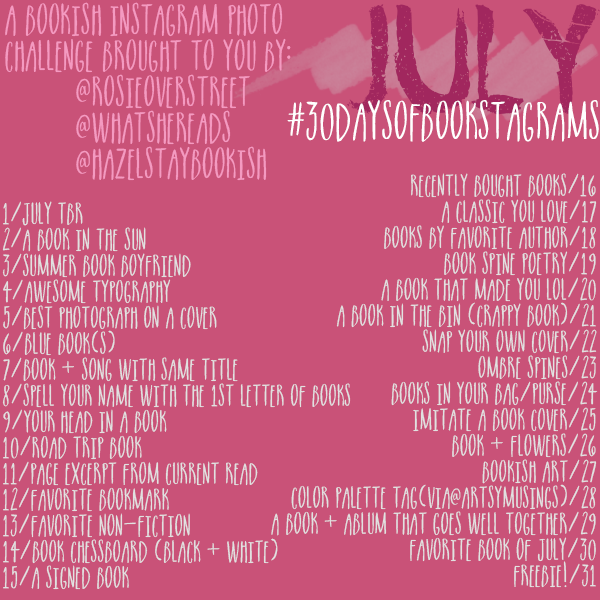 We're having another round of this awesome bookish photo challenge! Georgie of What She Reads, Rosie of Rosie Reads and I, came up with#30daysofbookstagrams last month, and it was a huge success that we're doing it again this July! If you missed last month's challenge or have yet to do one, please join us as we have fun taking more bookish photos! Just repost the photo above and tag your photo entries with #30daysofbookstagrams! :)
To check out all the awesome bookstagrams, search the hashtag or follow our instagrams:
Georgie's Instagram // Rosie's Instagram // Hazel's Instagram
On the blog
I don't have elaborate plans this month but as always, I just hope I can write more blog posts, especially reviews (which I've been so bad at as of late- haven't written a full review in ages ack!). Maybe a book haul too, since it's been so long since my last one!
Things that happened
Stay Bookish turned a year old – So I celebrated one year of book blogging last June 12! I did a flashback on my old designs and talked about how I started, as well as thanked everyone who's supported and inspired me! You can check out my first blogoversary post here.
I watched TFIOS – So many tears OMG. I watched the movie with my mom and sister and we were a huge mess afterwards. I think the movie did justice to the book. And the soundtrack was perfect! Also, my crush on Ansel Elgort grew even bigger after finally watching him play Augustus Waters.
I met Jenny Han – I attended her book signing tour in Manila two weeks ago! I've yet to share about it on the blog, but to those who're curious, the event was great! Really happy to have met her personally and also spend sometime with my awesome fellow Filipino book bloggers!
Renewed love for book photography – If you've noticed, I've been very active on Instagram lately, sharing bookish photos and more! All thanks to #30daysofbookstagrams, I'm determined to take even more bookish photos! I didn't get to finish the challenge (I only reached DAY 26), but that was because I took a long hiatus and was scrambling to catch up during the last few days. Still, it was quitefun and I'm really excited for the next round of the challenge this July!
School started – Another school year has begun for me. Things at school have been lacklustre so I don't have much to say about it. As usual, I spend 50% of my time at the library.
Read only a few books – I only read 8 full-length novels and 2 novellas this month. Weird because I a lot of them were really good books and that would usually get me reading more. Life happens though.
Half month blogging hiatus – I was hesitant whether I wanted to share this personal bit but I wanted to let you guys know why I was on a blogging hiatus. One of my best friends since high school recently passed away due to a tragic accident. This happened on the 12th too, which is why my blogoversary was very bittersweet. (I've already scheduled my blogoversary post beforehand but if that weren't the case, I probably wouldn't have celebrated my blogoversary anymore.) The news was so devastating. It's why I haven't posted anything (except for that one Novel Portraits post which was also scheduled) ever since- I just needed to take some time off to accept what happened and to mourn along with our other friends and my friend's family. Constantly being with the rest of my high school best friends (who also equally felt the pain and loss) has really helped slowly make me feel okay again and now I'm back to blogging.
Books read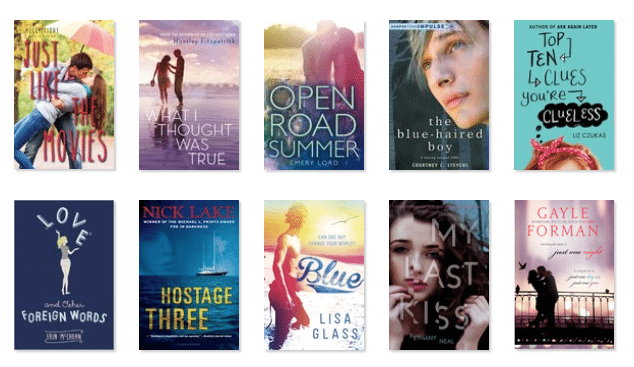 Just One Night by Gayle Forman (5/5)
My Last Kiss by Bethany Neal (3.5/5)
Blue by Lisa Glass (2/5)
Hostage Three by Nick Lake (3/5)
Love and Other Foreign Words by Erin McCahan (4.5/5)
Top Ten Clues You're Clueless by Liz Czukas (4/5)
The Blue-Haired Boy by Courtney C. Stevens (4/5)
Open Road Summer by Emery Lord (5/5)
What I Thought Was True by Huntley Fitzpatrick (4/5)
Just Like The Movies by Kelly Fiore (4/5)
Total books read for June 2014: 10 books
Reading Challenge progress update: 74/150
Blog Posts
Reviews: Hostage Three // My Last Kiss // The Last Best Kiss
Novel Portraits (Behind The Lens): Arie Turner // Cali of Inside The Book Reader
Discussion: Blogoversaries & Blog Celebrations
On replay
Boom Clap by Charli XCX – Fave song from the TFIOS soundtrack. Was my feel-good song of the month!
Not About Angels by Birdy – Listened to this one when I was really down. I cried so much to this song.
Emmylou by First Aid Kit – I was listening to the songs from the playlists in Since You've Been Gone and fell in love with this one!
Lovely words
"Laughter feels like our flotation device- it won't pull us out of the storm, but it might carry us through, if we can just hang on." – Open Road Summer, Emery Lord
How was June for you? What are you looking forward to this July?